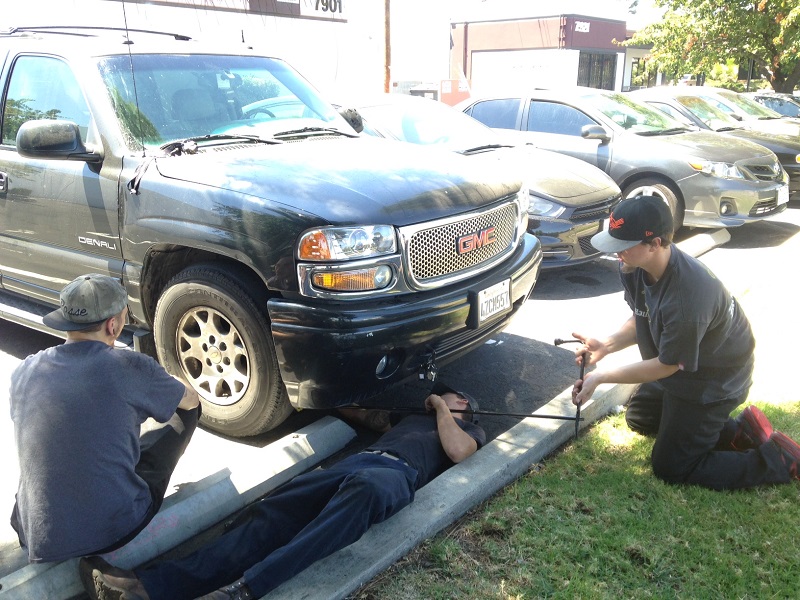 In addition to offering basic academics, Sober College also provides clients the opportunity to attend an auto shop course on a weekly basis.
In this course, clients get hands-on experience by maintaining the fleet of Sober College vehicles. But the work is not confined to just vans and trucks—Sober College also has a few classic automobiles that are currently being restored. From inspections to maintenance to restoration work, the auto shop allows clients to keep themselves busy—and their hands dirty—while learning about cars.
Auto shop gives clients a chance to learn the purpose and function of a variety of tools. They get to work on real cars, which allows them to see how they're assembled, what they're made of, and how they work. Clients are also taught basic car-ownership skills: how to change a tire, how to change brake pads, how to perform an oil change, how to bleed brake lines, how to use a diagnostic tool, and how to polish chrome (very important!).
Working on automobiles is no easy task. Clients learn this by diving head first into the work and seeing just how complicated a car really is. Auto shop is a great place for those who aren't as comfortable in an academic setting. These individuals are intelligent, driven, and creative, but their skill sets largely fall outside of the classroom. Auto shop allows clients to participate in a trade while helping them learn, or relearn, the life skills necessary to be successful and productive members of society. It gives them a chance to learn new things and apply their efforts towards a specific field of work. Perhaps most importantly, clients are taught that there are always multiple ways to approach a problem; by using a hands-on approach, clients are able to decide for themselves which is the best way.
Problem solving is a skill that can never be mastered; only refined. In life, much of our knowledge comes from trial and error—by making mistakes, learning from them, and moving past them with the hope and intention to not make the same mistake more than once. Throughout our lives, we often have guidance from family and loved ones who keep our best intentions at heart. Despite all this, first-hand experience seems to be the greatest teacher. Our guides through life help minimize the mistakes we make by showing us what works and by steering us away from the things that don't. Our journeys through recovery are no different. Many of us have repeatedly relapsed during our attempt to find a way to manage our addictions, only to be brought to our knees, time and time again.
The program tells us that this simple act is what separates us from normal people—we seek to drink and use as our fellow men and women do. Yet while relapse is not a part of everyone's story, it's a part of mine. I came into the program unsure of whether or not I was truly an addict or alcoholic. I wasted many years trying to prove that I could handle myself—that I could manage my using. I learned that one thing always led to another, and that I did in fact suffer from the disease of addiction. Today, my sponsor acts as my guide. By maintaining open lines of communication and by him as a resource, I have learned to remove my ego from the equation. I once sought to prove to someone, whether it be myself or another, that I could figure things out on my own. I now understand that it's often better just to ask for help when I'm in doubt. And sometimes,, it's better just to remain humble.