As a long-term residential program, designed with several progressive treatment phases, Sober College is able to adapt to the changing needs of our clients as they navigate early sobriety and move through different levels of treatment and recovery. Designed specifically for young adults, our drug treatment programs best prepare our clients for long-term sobriety and independent living.
Our one-of-a-kind treatment model is structured around the Five Core Competencies which include sobriety, life skills, productivity, fitness and emotional intelligence. While Sober College offers all the benefits of other traditional residential programs, our unique approach to the recovery process also includes non-traditional therapies, on-site academics, competitive individual and team sports, and extensive creative arts options. The various facets of our program, from the activities and therapies to our expert staff and life skills training program, are designed to help our clients practice develop competency in these five core areas to they are better prepared for life after they leave treatment.
Why Choose Our Residential Treatment Center?
While there are a number of traditional residential treatment centers out there to choose from, few offer a program as comprehensive and unique, or with the same wide range of opportunities Sober College does. Our unique stance on residential life skills training ensures clients develop not only themselves, but their relationships with others as well. With improved communication skills, a better understanding of self and the skills to live independently, the transition from residential living back into the real world is easier and more manageable, substantially lowering the risk of relapse.
We understand the many benefits of residential living,

from the importance of length of stay to 24 hour staff and random drug testing. We believe that traditional, group and experiential therapies are best when helping clients rediscover themselves; in addition, life skills and productivity ensures a well-rounded client with a strong foundation in sobriety.

Our program is progressive

which allows our clients to acquire the tools needed to live happy, sober lives. The phases of our treatment programs include Freshman Phase, Primary, Extended Care, Sober Living and Aftercare.

Residential rehab allows clients to focus on themselves;

by removing them from their using environment, they are able to discover who they are as sober individuals.
Benefits of a Residential Rehab Center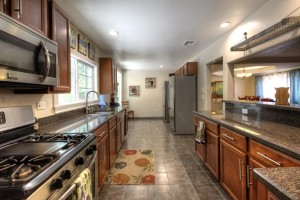 Clients live full-time at Sober College or in Sober College facilitated sober housing, providing them with a safe sober environment, helping them successfully manage both the physical and emotional challenges that arise in early sobriety. Our long term residential option provides clients with the ability to work long-term with peers and staff members that support their progress. This family-style living environment allows clients to develop accountability, independence and confidence; they learn new skills and strengthen their communication which is vital to the development of healthy relationships with peers in a safe and comfortable environment. Available housing facilities are located throughout quiet, upper middle class neighborhoods in the Woodland Hills, California area, a suburb of Los Angeles. Just 30 minutes from both Malibu, our available homes are upscale yet homey and encourage community among clients. Sober College's residential life skills programming is designed to change clients' outlook on drug and alcohol abuse and provide them with the tools and skills they need to manage their sobriety.
Length of Stay Matters
Our program requires a minimum commitment of 90 days and can accommodate involvement of up to one year. Our program is progressive, meaning clients slowly gain more and more freedom as they move through the different phases of our residential program. The National Institute of Drug Abuse (NIDA) also supports the benefits of residential treatment, stating that individuals enrolled in treatment for a minimum of 90 days have a much higher rate of success in achieving and maintaining sobriety.
Staffing and Drug Testing
Clients in Sober College's sober living homes are supported by 24 hour staffing (including an awake overnight staff) and randomly drug tested 3 – 4 times a week. This model works to ensure that our clients are provided with safe environment that supports their growth in sobriety and ensures they have a strong support network to motivate them along the way.
Life Skills Training
In living with others, clients are responsible for various chores in the house and must hold one another accountable to ensure their responsibilities are met. Residential living also enables young adults to develop the life skills they need to achieve successful independent living long after they leave treatment.
Traditional Individual and Group Therapy
Clients participate in a variety of daily individual and group therapies. Group therapies are designed specifically for young adults and to help our clients develop their emotional intelligence, build connections with their peers and staff, and learn to better understand and process their emotions.
Experiential Therapies
In addition to traditional therapies, Sober College engages young adults in a number of experiential therapies that allow clients to develop new interests and life skills to support an independent, sober lifestyle.
Productivity: Academics and Vocational Options
Clients also participate in an academic program as well that gives them the ability to complete high school and take college classes on-site while in treatment. Unlike other residential programs, Sober College uniquely provides clients with the ability earn accredited college credits that can be transferred to colleges and universities across the country, ensuring clients lose no time investing in their futures while receiving the treatment they need.
Phases of Our Residential Program
Sober College's residential treatment program is progressive and adapts to the changing needs of clients throughout the course of recovery. Upon entering treatment, all young adults begin with Freshman Phase; they have limited privileges and must be with a staff member at all times. The first 30 days of treatment are the most crucial because it is the most difficult. New clients may feel vulnerable or out of place in the beginning which is why this phase is designed to allow new clients become acclimated to the program. Clients are moved off of Freshman Phase on a case-by-case basis, but most complete it within 30 days.
Sober College's program consists of three primary segments: men's/women's primary housing, apartment program and extended care. As clients move through treatment, they earn back privileges such as phone and Internet usage, while simultaneously developing skills to support a sober lifestyle. The program is designed to accommodate stays of three months to one year depending on each client's needs; their position in these segments is determined by their progression and compliance with the program. This structure allows clients to create a fulfilling life in and after treatment.
Clients spend their time surrounded by peers in a family-style living arrangement. The households participate in a number of activities together to promote life skills and socialization. The residential homes are where Freshman Phase takes place and serves to assist clients in developing life skills and healthy relationships while managing sobriety. After the primary house, clients move to apartment living, which still has 24 hour supervision from staff, but creates a greater sense of independence. Here, clients can have jobs as they transition into independent living. Finally, extended care serves as a type of outpatient treatment, designed to keep clients in touch with the sober community, able to receive the benefits of treatment while living more independently. In extended care, clients are encouraged to stay active and engaged with the Sober College community—from seeing their counselor or academic coach to attending Sober College events or community service activities.
Why Choose a Residential Rehab Center?
In receiving treatment for drug and alcohol addiction, rehabilitation is available in the form of residential or outpatient treatment. While both programs offer a variety of benefits, the complexity of addiction, behavior and environment must be accounted for when choosing which program is more beneficial. Quality care is available in both programs; however, residential offers unique benefits and advantages.
Clients can focus on sobriety; for many, substance abuse is enabled by peers and environments. Clients are provided a safe place to recover from addictive substances, free from distractions and influences that can negatively impact the recovery process. We encourage individuals to focus on their own needs, while surrounded by peers seeking the same sober outcome.
Offering 24/7 support and supervision. Recovery from drug and alcohol abuse can be complicated by withdrawal symptoms, environmental factors and peers. At all stages of recovery, clients are supported by staff that provide counseling, medical attention and support around the clock. This can alleviate stress and make the journey in recovery an easier and more positive experience.
Structure can create safety for the body and mind. Residential programs provide structure, ensuring clients are engaged in healthy activities that positively benefits them both mentally and physically. Engagement and structure can alleviate withdrawal symptoms and encourage young adults to take these practices with them through life after treatment.
Offering a supportive environment for recovery. Surrounded by others committed to achieving sobriety provides clients with a network of like-minded individuals who share similar experiences and struggles. Knowing the journey is not being made alone creates a feeling of inclusion that increases emotional support throughout the recovery process.
Residential programs encourages clients to focus on themselves rather than the pressure of daily life. They are designed to address addiction and the recovery process free from environments and stressors that may distract recovery otherwise.
Why Choose a Long-Term Residential Program?
Long-term treatment in a residential program provides young adults with a plethora of experiences and opportunities to develop themselves in a way that no other treatment option can provide. In long-term care, clients are an active piece of their own recovery as well as the recovery of others. Clients quickly learn that they are able to have healthy relationships with peers as well as authority figures, making the relationships built in residential living a crucial component of the recovery process.
At Sober College our clients are encouraged to succeed through action and our residential treatment program provides them with the tools they need to manage their recovery and their sober futures. Residential living with other young adults their age provides clients with a safe environment to recover from addiction while simultaneously providing them with the structure they need for the future.
Sources
http://www.recovery.org/topics/choosing-inpatient-rehab-vs-outpatient-rehabilitation/
http://www.promises.com/articles/benefits-of-residential-drug-rehab/