The National Institute of Drug Abuse (NIDA) states that although cases may vary, research shows that "for residential or outpatient treatment, participation for less than 90 days is of limited effectiveness," and that those who stay longer than 90 days are more likely to remain sober. Still the questions remains for many families looking into treatment for a loved one, "Inpatient vs outpatient rehab," which is the right choice for myself and my family?"
Sober College is confident that we have built a stable treatment center for young adults who desire sobriety. With our minimum commitment of 90 days and the competencies we have set tailored for young adults, we have found that our residents can maximize their stay in treatment which leads to independent living. Feel free to read the article below that discusses the importance of long-term treatment.
Inpatient treatment allows clients to focus

solely on their recovery in a safe, supportive environment.

Long-term treatment away from the individual's hometown

forces clients out of their comfort zone while also helping to minimize triggers.

Outpatient treatment should only be considered as an aftercare option;

by attending outpatient after a long-term program, clients have a better chance at maintaining their sobriety while living independent lives.
Different levels of Care Offered at Sober College: Understanding Inpatient vs Outpatient Rehab
Sober College believes in a continuum of care and therefore offers treatment programs for clients at all stages of the recovery process. We offer treatment programs for both men & women ranging from a residential level or care to outpatient and sober living.
More About the Levels of Treatment We Offer
Questions about what program would be best for you or a loved one? Call 800.465.0142 to speak with an admissions counselor today.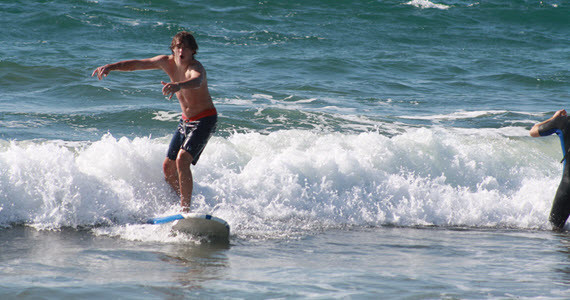 Benefits of Inpatient vs Outpatient Rehab
Drug and alcohol rehabilitation has become a big business and because of the inception of the disease model in 1956, 28 day insurance based programs popped up everywhere. Medical professionals even understand this; however, because of insurance and the inability to self-pay due to the high cost of inpatient treatment centers, most people are left attending short term rehabs or outpatient programs that just do not work.
When analyzing inpatient vs outpatient rehab, inpatient treatment centers are a better choice for newly sober addicts and alcoholics because it takes them out of their normal home environment. While living at home, the person is more likely to return to their old behaviors and encounter their familiar triggers. By attending a residential treatment program they can learn to cope with their triggers in a safe place which helps prevent relapse. Inpatient programs allow newly sober individuals to learn to manage their triggers and emotions before returning home to the environment that they previously frank or used in.
When searching for the right inpatient treatment center always consider 90 days as a minimum. To also increase the success of your inpatient stay, make sure that aftercare is a major component of the decision making process; outpatient care should be considered as a form of aftercare. It is easier to stay sober in rehab than out; therefore, the longer they stay inpatient, and the more solid the discharge plan, the better the outcome.
More About Our Inpatient Residential Treatment Center
Outpatient Treatment: Less Money, Less Results
In most cases an addict would like to handle their addiction with as little effort and disruption to life as possible. In the case of inpatient vs outpatient rehab, choosing an outpatient clinic allows them to continue working, seeing their children and come home each day. But is this a good decision? Unfortunately, the long-term abstinence rate for an individual entering outpatient treatment is only around 0.01 % or 1 addict remaining sober for every 100 attempts.
The harsh reality is that the two primary reasons outpatient clinics exist is for the substance abuser who is not willing to do what is necessary to get sober and secondly, it is only what most insurance companies will cover. The medical community wants to label addiction a disease but the insurance companies do not want to pay to treat addiction properly.
Source:
http://whitetailnursery.com/wp-content/uploads/2014/05/drug-rehab-help.jpg
https://www.drugabuse.gov/publications/principles-drug-addiction-treatment-research-based-guide-third-edition/frequently-asked-questions/how-long-does-drug-addiction-treatment