Long Term Addiction Treatment...

That Actually Works.
Sober College has one of the lowest relapse rates in young adult addiction treatment...
With 83% of our alumni currently working.
Young Adult Specific: Sober College's treatment is scientifically designed for young adults ages 18-26 struggling with addiction. Our programs are designed to achieve long-term sobriety, AND to regain confidence and opportunities that can disappear with addiction.
Take the First Step.
Recovery begins with a Phone Call
800.465.0142
100% Private & Confidential. Toll Free.
Addiction Treatment Programs
Residential Treatment
Early recovery is the most difficult time for those in recovery from addiction. Minimum stays of 90 days are more successful in achieving and maintaining sobriety than 30 day treatment programs.
Dual-Diagnosis
As many as 6 out of 10 addicts also struggle with a co-occurring mental health disorder. Symptoms of mental health disorders and side effects of substance abuse are often worsened by one another.
Gender Specific
Men and women face different cultural and physical challenges. Gender Specific programs provide a uniquely relevant focus, camaraderie and safe environment for treatment.
Outpatient Programs
Continued care and primary care for young adults with strong support systems at home. Sober College offers therapy, counselling, academic support, and more.
Built for Young Adults
(18 - 26 years old)
Our family style living allows young adults to participate in household responsibilities, evening meals, group activities, and outings, learning to be independent and responsible. Each house is gender-specific and has house managers and mentors available for support, guidance and supervision at all times.
Our newly remodeled Therapeutic Learning Center is home to our Academic Department including our Woodbury University Classroom as well as Individual Therapy offices, Visual Arts and Ceramics Studios, Music Department, Professional Grade Recording Studio, Film Department equipped with green screen stage, and the Sober College Stage where family weekend workshops and talent shows appear.
We Treat the Whole Person,
Not Just the Condition
Depression, Anxiety, Bipolar Disorder, Post-traumatic Stress, Mental Health Issues, and Eating Disorders often lead to addictive behavior.
Our integrated approach to treatment, treating addiction along with the underlying causes, increases the chances of getting better and staying sober.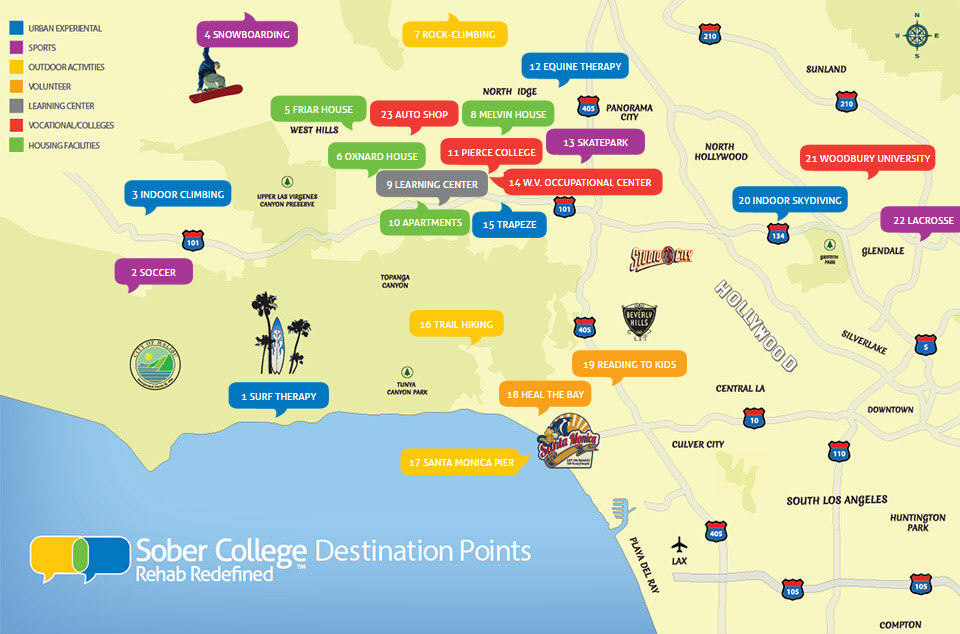 Perfectly Located
Just 30 minutes from Malibu, North of L.A., Sober College is the perfect place for addiction recovery. Our location enhances our Experiential Treatment, Educational and Vocational Programs, putting us right in the middle of everything.
Sober College Main Office
6022 Variel Avenue
Woodland Hills Los Angeles, CA 91367
(Google Maps)
Most Insurance Plans Accepted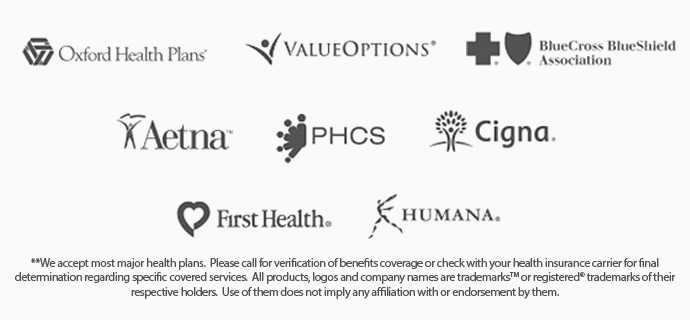 Call for a FREE, No Obligation review of your benefits.
800.465.0142
The First Step to Lasting Recovery is
a Phone Call
800.465.0142