Our drug rehab centers are designed to foster unity and healthy relationships and connections between clients and their peers as well as staff.
Our Therapeutic Learning Center
The Learning Center is the hub of all Sober College's programs. Classrooms, therapy offices, the recording studio and our administrative team are all in the Learning Center. Clients at different phases in the treatment process come to participate in all that Sober College has to offer.
Click here to take a tour of the Sober College Therapeutic Learning Center and see where your son or daughter will spend most weekdays, and some weekends, while at Sober College.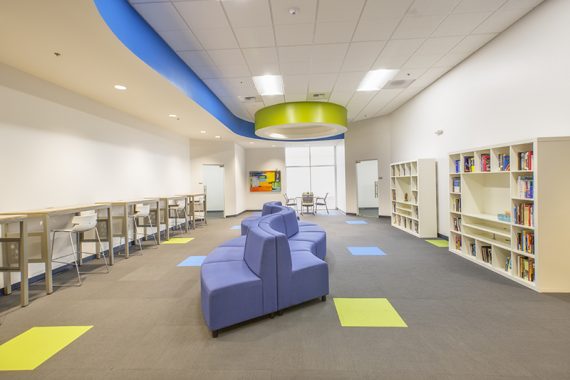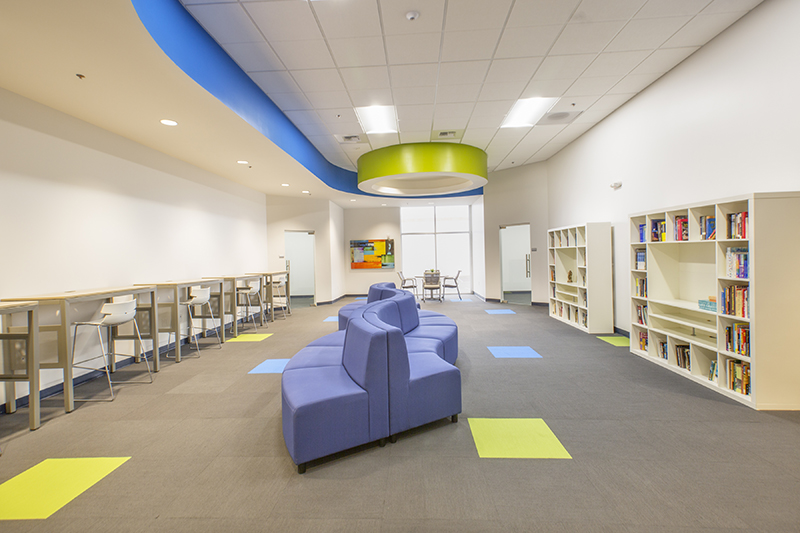 ---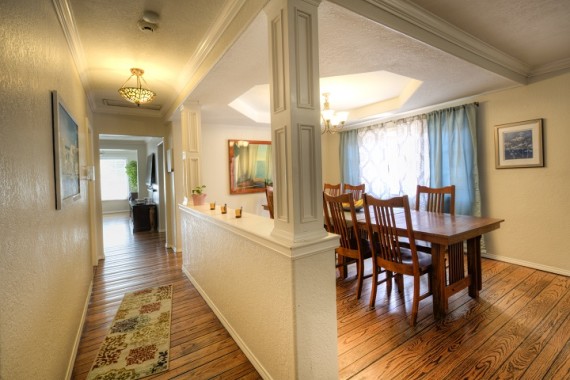 Our Women's Living Facilities: Melvin & The Montecito
Our Women's program facilities offer a peaceful and safe environment for our young women to recover. Montecito Apartments houses our Women's Extended Care Sober Living Program. As our clients progress through the different phases of our treatment program they gain the tools they need to lead independent sober lives long after they leave our care.
Click here to take a tour of our Women's program facilities.
---
Our Men's Living Facilities: Oxnard, Keokuk, Friar & Eaves
Oxnard House, Keokuk House, and Friar House are home to our young men's detox, residential, and extended care programs. All three houses offer a wide variety of amenities for our clients to enjoy while in early recovery. Eaves Apartments are home to our Men's senior phase, and extended care clients. As our client's move through the different phases of our program they learn the skills they need to live independent, successful, sober lives.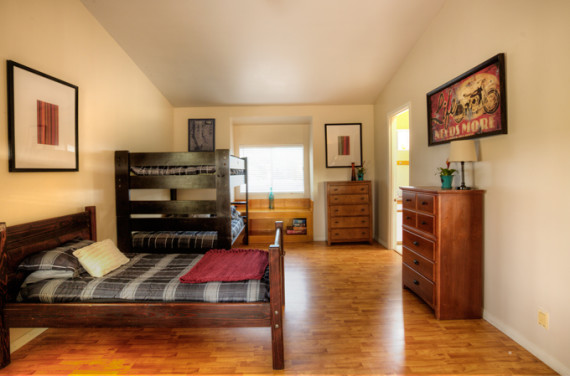 ---
Family Style Living Designed for Young Adults
All Sober College residential & sober living homes are considered family-style. Young adults have the uncanny ability to "fly under the radar" and need smaller, more intimate environments to help hold them accountable and to make sure they get the attention they need. Clients living in one of our facilities have their housemates as well as staff available for support around the clock allowing for increased supervision and participation from clients. These environments include:
24 Hour Support & Supervision: House managers and mentors who are available for support and supervision 24 hours a day.
Consistent Drug Testing to Stay on Track: Random drug testing is done 3-4 times a week and is sent to the lab which tests for levels of 12 different drug panels including spice and other synthetic drugs
Learning Responsibility & Independence: Clients share and assist in household responsibilities, such as cooking and cleaning of the house and grounds
Friendship & Passion Development: Households will often participate in group activities like surf therapy, or trips to the movies. Evening meals are family style, with everyone in attendance. Outings, exercise-related activities and outside 12-Step meetings are attended, promoting core life skills, socialization skills and sobriety
---
Check Out Our Neighborhood: Sober College in Woodland Hills, California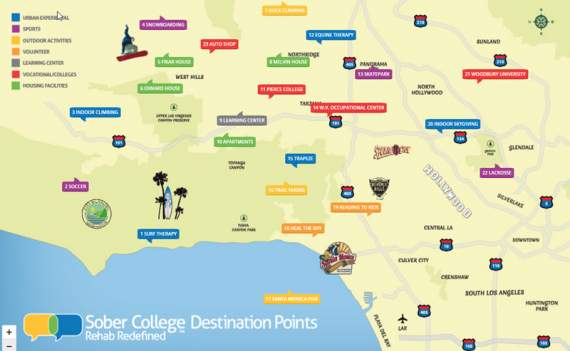 Rehab facilities near major metropolitan areas are able to attract top-notch staff, provide access to young adult specific recovery and activities, and offer proximity to top educational institutions. Woodland Hills, California is such a place. An upscale community, only 15 miles from the Pacific Ocean in Southern California, provides access to a virtually unlimited number of qualified professionals, including academic and clinical staff.
Activities are numerous and varied and include cultural and recreational opportunities. Most importantly, the Southern California area presents one of the most exciting young adult recovery communities in the world. It is the ideal location for a newly sober young adult to get connected.
Sober College also works with places like The Museum of Tolerance to help clients be a part of the larger Los Angeles community, in addition to helping them gain emotional intelligence, an important element of our clinical program.
Get To Know Our "Campus": Interactive Map of Sober College
Check out all of the locations and destination points that Sober College clients visit regularly. From our housing facilities and Equine to Surf Therapy and Magic Mountain. See all that our location in Los Angeles has to offer.
---
Learn More About What Sober College Has To Offer
We are always happy to take you on a tour or talk to you more about Sober College's home. You can click here to get to know our team, call us at 800.465.0142, or fill out a contact form to schedule a visit or ask any questions about our facilities.