"By introducing Sober College, we have set the new standard for both education and addiction treatment for young adults,"-Robert Pfeifer, MSW, Founder of Sober College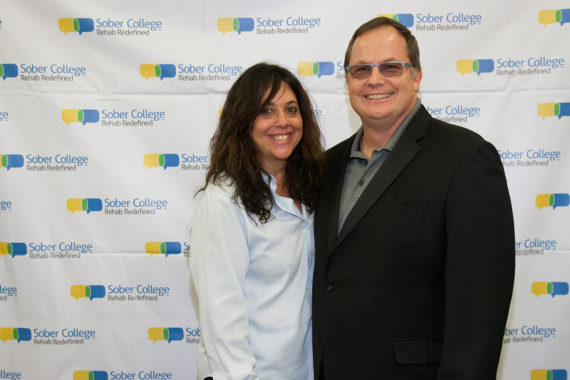 For Founder Robert Pfeifer, Sober College is the culmination of over 24 years of work with young adults in the field of education and chemical dependency treatment. Through experience and extensive research with other treatment professionals, Robert discovered that struggling young adults need to be in environment specific to their age group, where they can get help while beginning, or continuing on a path to educational and vocational success.
Robert explains, "Sober College departs from the traditional treatment and collegiate models that are available to young adults today. Several colleges have sober dorms that are attached to traditional college campuses. Several treatment modalities have young adult offerings that are not focused on education as a primary means of delivering treatment content. Sober College is a program that is entirely dedicated to young adults in need of treatment or young adults that are in need of a sober environment. Sober College brings a recovery-centric curriculum that immerses young adults in treatment-related activities central to their recovery, yet allows them to pursue educational and vocational goals."
Meet Our Founders | About Robert Pfeifer, MSW
A Pioneer in the Field of Young Adult Treatment
Robert Pfeifer is a pioneer in the field of young adult specific treatment. Starting in 1988, he was a founding member and director of numerous clinical programs for the first west coast division of Covenant House International, the nation's largest adolescent and young adult service provider. Covenant House California provides intensive residential and stabilization treatment to 18-24 year olds, through their crisis shelter and transitional programs in Hollywood, California. It was during this time that he returned to California State University at Long Beach to obtain his Masters Degree in Social Work. His thesis on HIV rates among Homeless Youth in Hollywood was published in the Journal of Adolescent Health (the official journal of the Society for Adolescent Medicine), which has been the per-eminent authoritative peer-reviewed journal in the field of adolescent health for over 20 years.
Understanding the Role of Education and Treatment
Aside from his own rigorous college background, Robert's foray into the field of education-based therapeutic and emotional growth programs began during his work with the CEDU Family of Services which provided residential programs to adolescents and young adults through their programs in Idaho, California and Vermont. Over 40 years ago, CEDU founded the emotional growth and therapeutic boarding school movement which introduces core academics and a school-like environment into the treatment setting. Through his role as Director of Business Development, Robert worked first hand with all levels of the CEDU Operation. Additionally, with his social work background, he provided family support groups, interventions and ongoing individual and family support to parents of the young men and women enrolled or considering admission into the CEDU System. All this provided an in-depth understanding of the integration of education and treatment.
The Essence of Chemical Dependency Treatment
Robert's success in the growing therapeutic boarding school industry led him to go out on his own in 2000, He began assisting numerous programs and professionals in the development of their enterprises. Robert is most well-known for bringing young adult treatment into fruition and to the attention of the national and international markets. Introducing Sober College – the nation's first therapeutic and emotional growth college for young adults in need of, or wanting a sober environment to pursue their life's goals. For Robert Pfeifer, Sober College is the culmination of over 24 years of work with young adults in the field of education and chemical dependency treatment.
About Their Innovative Approach to Age-Specific Treatment
Understanding the need for specialized addiction & co-occurring disorders treatment for young adult Robert & Mindi designed a treatment model that not only helps clients get off drugs, but learn to live a successful, full-filling sober life long after they leave treatment. Sober College's Five Core Competency Model is just one of the things that places Sober College on the forefront of addiction treatment for young adults.
More About What Sets Sober College Apart
Questions about what program would be best for you or a loved one?
Call 800.465.0142 to speak with an admissions counselor today.