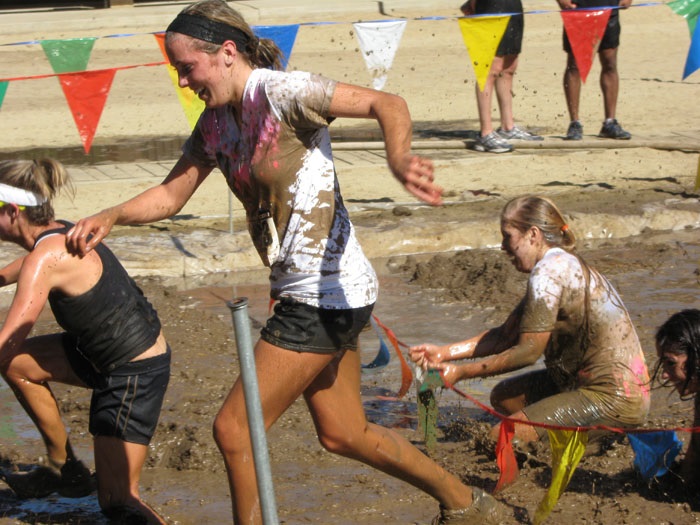 "The Mud Run signifies the best of what Sober College is about. It shows us at our best as a community. Faculty and students alike participate in a single event that showcases SOBER FUN, PHYSICAL FITNESS, and SERVICE WORK." – Robert Pfeifer, MSW – Founder
Calabasas, CA (September 27) – Over one thousand people participated in the Fifth Annual Malibu Canyon Dirt Dash this past weekend. They ran the 5K, 10K, or the 5K Mud Run. Eighteen of the runners in the Mud Run were Sober College students and staff. The Dirt Dash raises money to provide inner city students the opportunity to go to Salvation Army Camps for a week in the summer on scholarship. "It is great to be able to give to those less fortunate to us, and simultaneously have an awesome time," said a student.
The runners looked thoroughly exhausted by the end of the race. They ran a 5K through the canyon and over and under obstacles culminating in a plunge into a giant pit of mud that they had to cross to the finish line. "It was completely exhausting and one of the most exhilarating experiences of my life," panted one of the students, after they finished.
The ability to go to events like this is only one of the ways that Sober College helps to show its students to have fun in sobriety. When asked about fun and sobriety, Robert Phieffer, co-founder of Sober College, said, " We do these things because we can. We do these things because the students realize that sobriety is not a group of old men sitting around in a room talking about how they wish they could drink. Sobriety is jumping out of a plane at 13,000 feet, going to sober dances, basking in the sun at the beach, and running a 5K through Mud."
The top finishers were Will T. and Alex H. . Will took 13th place in the Mud Run as a whole. He recalled, " I used to be way out of shape. One day I decided that I wanted to live a healthier life, and I started to work out. I never thought that it would lead to anything like this."