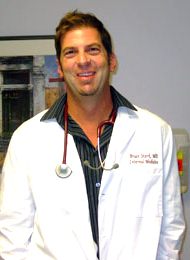 Bruce Stark, M.D. brings a great combination of professional expertise, enthusiastic energy, and a down-to-earth manner that makes him ideal for the Sober College environment. Special interests include medical treatment and evaluation of depression, anxiety, substance abuse, and all aspects of preventative health care.
Dr. Stark is Board Certified in Internal Medicine and also a Diplomat with the American Board of Internal Medicine. He graduated from the University of California, San Francisco School of Medicine in 1990. He has 12 years of experience in private practice and did his Residency Training in Internal Medicine at Cedars Sinai Medical Center.
Dr. Stark is a specialist in non-invasive cardiac testing, headache management, and substance abuse, while he spends most of his time treating a wide variety of illnesses. These include treatment of hypertension, hyperlipidemia, weight loss, anxiety, depression, sleep disorders, preventative health care, and cancer screening. Dr. Stark is committed to treating all aspects of a patient's health, both physiological and psychological.
Dr. Stark, who also is fluent is Spanish, is married and enjoys spending his spare time surfing, skateboarding, playing guitar, and coaching his daughter's T-Ball team.