According to the National Survey on Drug Use and Health, approximately 681,000 individuals abused heroin in 2013. College-aged individuals make up a significant portion of that number. Each year, thousands of college students suffer not only from heroin addiction, but heroin withdrawal as well. Thankfully, heroin addiction treatment designed for young adults is available.
How Heroin Affects the Brain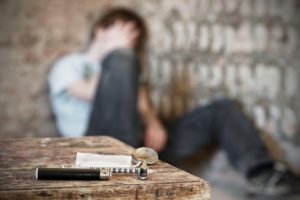 Once it reaches the brain, heroin converts to morphine. The morphine bonds with opioid receptors located around the areas of the brain responsible for recognizing pain and reward. Heroin tricks the brain, which is why so many people develop a tolerance. When users abuse heroin with regularity, it will eventually take larger doses to achieve the same feeling.
Numerous studies show that long-term heroin abuse significantly decreases the brain's white matter. This may affect an individual's ability to regulate behavior or respond to stressful situations.
Abusing heroin may also lead to pulmonary complications and exposure to infectious diseases such as HIV or hepatitis. Many individuals who abuse heroin are also at risk for blood vessel and vital organ damage, as well as various types of pneumonia. It's not uncommon for dealers to lace street-grade heroin with contaminants, making it even more dangerous.
For individuals struggling with heroin addiction, quitting consumption and opting for rehabilitation is a noble choice. However, overcoming the subsequent heroin withdrawal process can be a tough obstacle.
Click to Learn More About Heroin Addiction
The Side Effects of Heroin Withdrawal
Chronic heroin abuse often leads to physical dependence. This occurs when the body becomes used to the drug's presence, creating a physical need to continue abuse. Withdrawal symptoms are often more severe for individuals who have built up a physical dependence.
Withdrawal often manifests as the following symptoms:
Nausea
Abdominal pain
Shaking
Depression
Intense heroin cravings
While individuals may experience other symptoms as well, heroin addiction often leads to bouts of withdrawal when too much time has lapsed in between uses. More intense withdrawal stages can often act as deterrents for many individuals who would benefit from treatment. They believe the process will become too uncomfortable, which in turn could lead to relapse. In these cases, medication may help mitigate the symptoms and make them more bearable.
While quitting is the best choice for a positive future, attempting self-detox can be dangerous. Attending a medically monitored drug detox, followed by a comprehensive rehabilitation program, gives individuals the best chance at recovery.
How Sober College Helps Individuals Recover from Heroin Addiction
Sober College in California offers fully-tailored treatment programs for different types of addiction. College-aged individuals can also work toward sobriety while earning college credits in public speaking, sociology, creative writing, or many other disciplines. Partnered with Woodbury University and offering a community outreach program, Sober College is dedicated to helping individuals aged 18–24 to become sober once more.
Have questions regarding heroin withdrawal for yourself or a loved one?
Call 877.634.7849 to speak with an admissions counselor.