The National Institute of Drug Abuse (NIDA) states that although cases may vary, research shows that "for residential or outpatient treatment, participation for less than 90 days is of limited effectiveness," and that those who stay longer than 90 days are more likely to remain sober. Still the questions remains for many families looking into treatment for a loved one, "Inpatient vs outpatient rehab," which is the right choice for myself and my family?"
Sober College is confident that we have built a stable treatment center for young adults who desire sobriety. With our minimum commitment of 90 days and the competencies we have set tailored for young adults, we have found that our residents can maximize their stay in treatment which leads to independent living. Feel free to read the article below that discusses the importance of long-term treatment.
Inpatient treatment allows clients to focus

solely on their recovery in a safe, supportive environment.

Long-term treatment away from the individual's hometown

forces clients out of their comfort zone while also helping to minimize triggers.

Outpatient treatment should only be considered as an aftercare option;

by attending outpatient after a long-term program, clients have a better chance at maintaining their sobriety while living independent lives.
Different levels of Care Offered at Sober College: Understanding Inpatient vs Outpatient Rehab
Sober College believes in a continuum of care and therefore offers treatment programs for clients at all stages of the recovery process. We offer treatment programs for both men & women ranging from a residential level or care to outpatient and sober living.
More About the Levels of Treatment We Offer
Questions about what program would be best for you or a loved one? Call 800.465.0142 to speak with an admissions counselor today.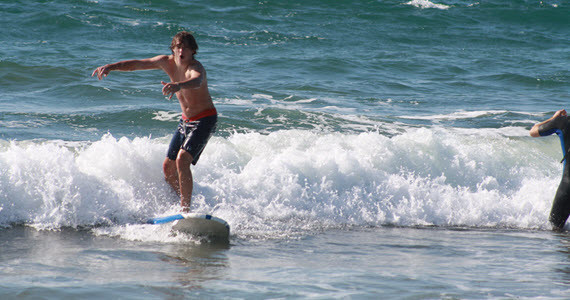 Benefits of Inpatient vs Outpatient Rehab
Drug and alcohol rehabilitation has become a big business and because of the inception of the disease model in 1956, 28 day insurance based programs popped up everywhere. Medical professionals even understand this; however, because of insurance and the inability to self-pay due to the high cost of inpatient treatment centers, most people are left attending short term rehabs or outpatient programs that just do not work.
When analyzing inpatient vs outpatient rehab, inpatient treatment centers are a better choice for newly sober addicts and alcoholics because it takes them out of their normal home environment. While living at home, the person is more likely to return to their old behaviors and encounter their familiar triggers. By attending a residential treatment program they can learn to cope with their triggers in a safe place which helps prevent relapse. Inpatient programs allow newly sober individuals to learn to manage their triggers and emotions before returning home to the environment that they previously frank or used in.
When searching for the right inpatient treatment center always consider 90 days as a minimum. To also increase the success of your inpatient stay, make sure that aftercare is a major component of the decision-making process; outpatient care should be considered as a form of aftercare. It is easier to stay sober in rehab than out; therefore, the longer they stay inpatient, and the more solid the discharge plan, the better the outcome.
More About Our Inpatient Residential Treatment Center
Outpatient Treatment: Less Money, Less Results
In most cases an addict would like to handle their addiction with as little effort and disruption to life as possible. In the case of inpatient vs outpatient rehab, choosing an outpatient clinic allows them to continue working, seeing their children and come home each day. But is this a good decision? Unfortunately, the long-term abstinence rate for an individual entering outpatient treatment is only around 0.01 % or 1 addict remaining sober for every 100 attempts.
The harsh reality is that the two primary reasons outpatient clinics exist is for the substance abuser who is not willing to do what is necessary to get sober and secondly, it is only what most insurance companies will cover. The medical community wants to label addiction a disease but the insurance companies do not want to pay to treat addiction properly.
Which Do You Choose?
The National Institute of Drug Abuse (NIDA) published a survey in 2007 stating that 23.2 million people in the United States, ages 12 and over, require some form of treatment for drug abuse.
Drug addiction is a complex condition comprised of biological, behavioral and environmental factors. In order to provide the most effective treatment for drug addiction, it is important that an person's care is as comprehensive and individualized as his or her experience. Depending on an individual's history and needs in drug rehabilitation, there are two types of treatment available: Inpatient and outpatient. Understanding the differences between these two types of rehabilitation is important in choosing the right treatment for a loved one.
But, regardless of the chosen method, both inpatient and outpatient drug rehabilitation offer a plethora of benefits that will support a sober lifestyle. The longer an individual is engaged with a treatment program, the more likely he or she will stay sober and avoid relapse.
More About Inpatient Rehab
Inpatient treatment often requires an individual to live in a facility 24 hours a day, seven days a week for a fixed period of time (after the withdrawal phase is complete). Different inpatient drug rehabilitation programs vary in their requirements for length of stay. These programs are often most beneficial for those who have an extensive history of substance abuse or may require medical intervention due to the severity of addiction. An inpatient treatment program guards patients from enabling peers and destructive environments and ensures them a safe place to recover.
This type of drug rehabilitation program places staff and patients in a communal environment designed to not only help an individual achieve sobriety, but also to change his or her life as well as attitude and behaviors related to drug use. Inpatient treatment assists patients through the various stages of recovery and helps them become independent, sober individuals.
The unique environment of an inpatient program surrounds patients with others who share similar experiences: People who are all working towards the same goal. Creating a sober community is another therapeutic benefit of inpatient treatment. It is often the most successful method of addressing drug addiction as it helps patients build a new foundation to support a sober lifestyle after treatment.
More About Outpatient Rehab
Outpatient treatment often includes a variety of therapies in which an individual must visit a facility regularly. There are a variety of outpatient programs that address different needs, but many utilize some form of counseling, including individual and group therapies. These therapies are designed to help patients cope with stressors and negative influences while empowering them to avoid situations that may encourage relapse.
Those in outpatient treatment are required to stay sober in order to continue their therapy. Because clients are able to attend sessions are return home afterwards, they are granted greater independence through outpatient treatment and are able to immediately apply lessons learned to the real world.
Outpatient treatment offers many of the same benefits as inpatient treatment, but at a lower intensity. This form of treatment is often recommended as aftercare for those who have already successfully completed inpatient treatment. This form of treatment also tends to be more open-ended as clients attend therapies weekly and work with therapists to determine their needs for continued treatment. Outpatient tends to be more beneficial for those who have obligations they cannot put on hold with inpatient treatment. The flexibility of this program allows clients to participate in therapy and still fulfill their daily obligations.
Source:
http://whitetailnursery.com/wp-content/uploads/2014/05/drug-rehab-help.jpg
https://www.drugabuse.gov/publications/principles-drug-addiction-treatment-research-based-guide-third-edition/frequently-asked-questions/how-long-does-drug-addiction-treatment
http://www.recovery.org/topics/choosing-inpatient-rehab-vs-outpatient-rehabilitation/