Substance abuse and addiction are highly individual challenges. Biology, environmental factors, family history, and the presence of other health issues all play a unique part in the development of substance abuse disorders. While there some influences that are unique to an individual, women in recovery have a unique set of challenges and influences specific to their group. Gender plays a powerful role in the development of addiction and the way it is treated and it is common to find age-specific or gender-specific influences on the development of addiction.
In addition to creating unique treatment plans designed to address individual needs, it is also important to tailor treatment to the needs of a person based on gender experiences. Addiction treatment for men and women may have overlapping areas, but some of the differences in their experiences calls for specialized care.
"Our women's specific programs create a safe space for women in recovery to grow & relate with one another."
Women-Specific Needs in Treatment
Because women's unique experiences play a role in the way substance abuse develops, they need a unique experience in treatment as well. The context of women's experiences must be considered during treatment in order to effectively address these influences. Relationships with family, support systems, social and economic status, and the influence of culture, societal norms, and gender performance expectations can be potential risk factors for abuse.
Women's Rehab Unlike Any Other
Our Women's Rehab Programs, from residential treatment to sober living incorporate our Five Core Competency Model, but look it through a female lens. When women come into treatment, often times their relationships and friendships have suffered. Family-style living environments and women's groups and activities promote friendships with peers and help our female clients learn to live and enjoy life sober.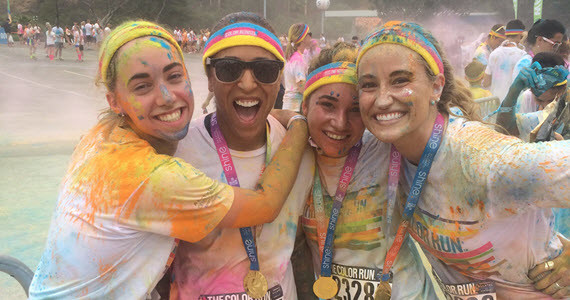 Biological & Social Influences of Addiction
Treatment Plans
Sharing Experiences
Relationships & Treatment
Women in Recovery | The Recovery Timeline
For many, recovery begins with an initial detox phase. This helps clients overcome the difficult stage of withdrawal and allows them to have a clear mind, free from the influence of all mind and mood-altering substances. Once detox is complete, clients then move into a treatment program and the unique needs of the client are determined following a comprehensive assessment. Family history, biology, co-occurring disorders, and other influences are all accounted for when developing an individualized treatment plan.
Clients engage in numerous therapeutic options throughout the recovery process and it is not uncommon for treatment to change along with the client's needs. In treatment, clients regularly attend individual and group therapy to address their individual issues as well as broader topics. For women, gender-specific therapy is a vital part of recovery. Due to the way in which drugs and alcohol affect women's health, it is critical to create a safe space to discuss issues that may be otherwise difficult to address in mixed groups. Through group therapies, women are able to build a network of sober peers who can relate to the experiences of others. The development of this support network is vital to removing feelings of isolation and improving relationships with others.
As women move through recovery, they develop the emotional intelligence and life skills to support sobriety in life after treatment. Rather than relying on substances to manage negative emotions and deal with stressors, women develop healthy coping mechanisms to minimize the risk of relapse. Treatment that is designed to address the unique needs of women also greatly improves success rates in recovery. By continuing to engage in aftercare services, practicing healthy coping skills, and remaining in contact with the sober community, women are better able to resist relapse and continue managing sobriety.
Sources
https://www.elementsbehavioralhealth.com/addiction-treatment/women-have-special-needs-in-substance-abuse-treatment/