A young adult's path to sustainable, long-term sobriety and healthy living requires an approach that is comprehensive, specifically tailored to age and creates an emotional attachment to the idea of being sober. This concept of attraction-based programming is at the core of what sets Sober College apart from other drug rehab centers. Sober College empowers young women and men ages 18-26 to discover their purpose, find true passions and follow a path of excellence. We offer an innovative drug rehab program and one-of-a-kind treatment model built around the Five Core Competencies, seamlessly integrating academics and rehabilitation.
We understand that choosing the right program is extremely difficult. There are, after all, hundreds of programs from which to choose. And, while we encourage everyone to research what is out there and available, we know our unique and innovative approach to drug and alcohol treatment is not only effective, it's simply the best option for young adults ages 18 to 26.
What Makes Us Different?
Many young adults come to Sober College struggling in several aspects of their lives. Our innovative drug rehab program, centered around Five Core Competencies, helps clients develop the tools needed to maintain a sober lifestyle not only while in treatment, but long after they leave our care. Our primary objective is to identify factors that have influenced the development of addiction and help clients learn how to cope with difficult emotions, be successful and live and enjoy life while sober. So, what makes us different?
"Our innovative drug treatment model, centered around Five Core Competencies, helps clients develop the tools needed to maintain a sober lifestyle not only while in treatment, but long after they leave our care."
1. Our program is age-specific, focusing on the unique needs of young adults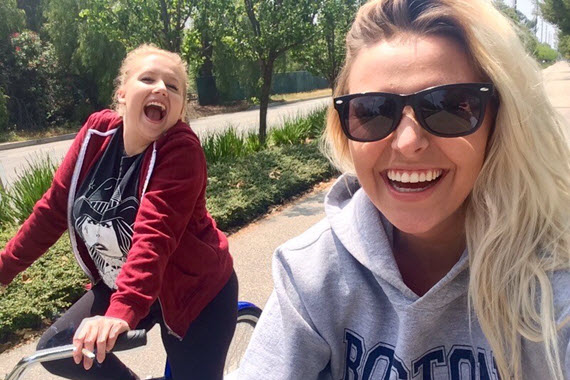 Our age-specific treatment programming is one of the things that sets us apart from other a traditional drug rehab center. More than that, is how we keep our clients engaged in the real world while they work on their sobriety. We only accept young men and women ages 18 to 26.
Offering a program designed specifically for the young adult demographic greatly impacts the experience for those under our care. You or your loved one will have the opportunity to acquire the skills necessary to live a healthy, sober life by recovering with others the same age. Sober College's program is centered on the unique needs of this particular age-group, moving our treatment beyond the traditional in order to embrace the relevant.
More About Our Young Adult Drug Rehab Center
2. We offer individualized, comprehensive treatment
At Sober College we treat the whole person, not just their addiction. We utilizes a comprehensive treatment program that incorporates Five Core Competencies into our client's everyday lives. These competencies are: Sobriety, Productivity, Emotional Intelligence, Life Skills and Fitness. By meeting or exceeding expectations in each area, clients become well-rounded individuals, with a solid foundation of sobriety and the skills they need for independent living. In addition, our individualized care – care, that equips each client with their own treatment team ensures each unique facet and need of our clients is addressed and not ignored.
More About the Five Core Competencies
More About Our Dual-Diagnosis Treatment Program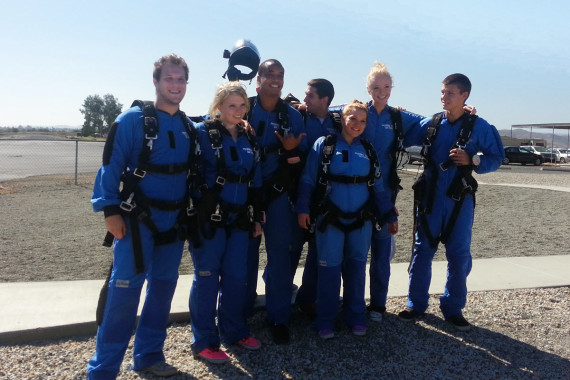 3. We help clients discover their passion
Many young adults think that sobriety is going to be boring. Our music studio, creative arts, competitive sports, experiential surf, trapeze therapy, wind tunnel, and more, help clients discover their passion in order to motivate them and work towards a future that is worth staying sober for. By allowing young adults the ability to continue engaging with real world activities and achievements, they find sobriety to be more enjoyable and look forward to the prospects of a sober lifestyle.
About Our Creative Arts Program
About Our Fitness Program
About Our Experiential Therapy Program
4. We offer long term treatment
To find long-term success, clients must experience long-term treatment. According to the NIDA, people who complete 90 or more days have better outcomes than those who have shorter stays. Committing to a minimum of 90 days allows our clients to take the time they need to fully address their addiction and develop the skills that will help them stay sober long after they leave our program. This can only be accomplished through our transitional program that truly prepares clients for independent living.
As clients progress through each phase of our program, they acquire the skills necessary to live productive lives outside of treatment. And by working on their physical, mental and emotional growth, clients are able to enjoy long-term results from the work they put into their program. Our goal is for our clients to unearth who they are without substance abuse, and to nourish that potential as they evolve into a healthy, sober life.
More About the Different Levels of Treatment We Offer
5. We truly offer "College and Rehab Under One Roof"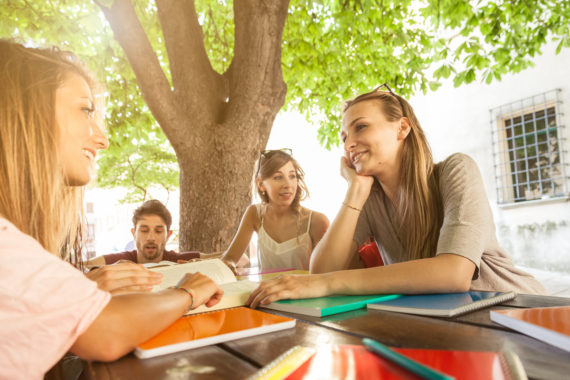 For most of our population, refocusing on their academics and futures is a goal. Combining college and rehab not only gets students back on track, it also helps rebuild pathways in their brains to increase functioning and help the brain heal ultimately reducing the chance of relapse. There's no question that after years of substance abuse, the brain suffers greatly. By encouraging clients to take academic classes or participate in our Occupational Program as part of their treatment and recovery, we're challenging our clients to stay engaged while helping them to heal their brains.
As part of this cutting-edge program, our Academic Department is dedicated to helping clients achieve their educational goals. From taking classes and landing a Sober College internship to partaking in our automotive course or even enrolling in our Occupational Program, we are well-equipped to support our clients as they choose the academic path best suited for them.
Finally, Sober College's one-of-a-kind partnership with Woodbury University puts our program at the forefront of addiction treatment for young adults. We offer WSCUC-accredited courses on-site, and our clients can earn as many as 15 transferable college credits while in treatment.
More About Our One-of-a-Kind College Rehab Program
Have questions about finding treatment for yourself of a loved one?
Call 800.465.0142 to speak with an admissions counselor today.
What to Expect: Treatment Methods
Sobriety may begin with detox services. Depending on the extent of abuse, some young adults may require detox services prior to entering treatment at Sober College. For individuals that use drugs heavily, medical detox is recommended. In a supervised environment, young adults are provided with medications and support to combat the potentially severe withdrawal symptoms they may experience. Medical detox can make the withdrawal process more comfortable and alleviate any discomfort they may experience. Sober College will communicate with or help you arrange for detox services prior to arriving at Sober College to ensure that you or your loved one gets the help they need.
Sober College provides clients with therapies that engage them mentally, emotionally and physically. Sober College engages young adults through variety of therapies designed to help them develop new hobbies and interests that excite or motivate them. Our innovative therapies engage young adults in alternative settings that provide the same benefits of conventional therapy settings. The additional benefits of physical activity and potential development of new interests make our program offerings well rounded and engaging on many different levels. Additionally, engaging in these activities with peers in the same age group allows friendships to blossom and help our clients learn how to have healthy relationships with others. Sober College also utilizes many traditional therapies including one on one sessions and group therapies. These allow clients to develop the emotional intelligence, life skills and healthy coping mechanisms to support a sober lifestyle. By engaging clients in a variety of ways, young adults develop confidence in themselves and their abilities.
Dual-Diagnosis Treatment is effective for most young adults. As many as 6 in 10 individuals struggling with drug and alcohol addiction also have a co-occurring disorder. Sober College works to identify the presence of any co-occurring disorders, whether or not they were pre-existing to drug abuse, in order to provide the most effective treatments. Drug abuse can exacerbate symptoms of mental health disorders and complicate symptoms of both conditions. Addressing co-occurring disorders concurrently with drug addiction makes the recovery process more successful. In providing treatment for both, young adults experience greater success in maintaining sobriety long-term.
Sober Colleges treatment of drug addiction is individualized to ensure clients are receiving the most effective treatment plan.Treatment is designed to address the individual needs of each client and takes a variety of factors into account including history, biological and environmental factors, and the presence of any co-occurring disorders. Our in-depth assessment phase ensures clients are provided with treatment plan that best addresses the needs of each client.
Telltale Signs of Drug Abuse Quiz
If a loved one is struggling with addiction sometimes it can be difficult to spot the signs. This is why we created the Telltale Signs of Drug Abuse Quiz. Take 6 minutes to answer a few yes or no questions and know if you may want to seek help through a drug addiction treatment program for you family or friend.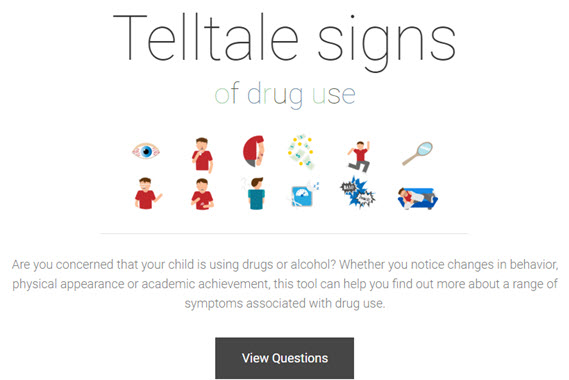 Identifying Drug Addiction
Upon admission into a drug rehab facility many clients have difficulties in school or have problems in relationships with family and friends. In some cases, drugs and alcohol become coping mechanisms to escape their troubles. There are many influences that can cause addiction to develop and all of these unique factors must be addressed in treatment. Early sobriety is difficult and is the point in time in which young adults are most susceptible to relapse. By providing young adults with a safe environment to abstain from drug use and a supportive staff to guide them, sobriety is achievable.
Drug addiction is a serious condition that should not be ignored or minimized. When left untreated, drug use becomes dependency and can be incredibly difficult to treat. While there are many types of illicit substances that can cause any number of side effects, there are several signs and symptoms that commonly occur with most that may alert loved ones to a potential problem.
Drug use can cause apathy and loss of interest in activities. Individuals who are normally active and engaged may begin to lose interest in hobbies upon the abuse of drugs and alcohol. Their lack of interest can include a lack of desire to engage with people they once enjoyed spending time with.
...Read More
Drug abuse can also cause changes in physical appearance.
While different types of drugs cause different side effects, almost all will cause noticeable physical changes. Individuals may go to great lengths to hide these physical signs unless they don't care whether someone notices. Common physical signs include bloodshot eyes, unusual skin color, sniffling, dilated pupils and itching. In some cases, more severe physical changes may occur such as the development of shakes and tremors or frequent nose bleeds. Many drugs suppress appetite leading to rapid weight loss. Eating habits and sleep patterns may change as well.
The presence of drug paraphernalia can indicate a developing problem. Finding wrapping papers, pipes, syringes, bongs, razor blades or burnt spoons are all clear indicators that drug abuse is taking place. While these items are clearly related to drug use, there are other items that may indicate drug use. Copious amounts of eye clearing wash can indicate the presence of drug abuse. Eye clearing wash can help disguise symptoms of drug use such as dilated pupils and bloodshot eyes.
Drug use causes rapid mood swings. If there are rapid mood swings or behavioral changes that are not considered the norm for the individual, may be an indication that something is wrong. Someone who is usually calm may be hyper and out of control, while someone who is normally very happy can be incredibly depressed. Some may even exhibit erratic mood swings from one end of the spectrum to another. Any behaviors that are not considered normal for the individual may indicate there is a developing drug problem.
Drug abuse may lead to reclusive behavior. As a result of using drugs, some may become private and reclusive. Drug addiction can cause individuals to become isolated. They may act as if they are hiding something, always shut and lock doors or spend a lot of time alone in their room. Also, in many cases, drug abuse can cause individuals daily routines to change drastically.
Drug abuse can cause individuals daily routines to change drastically. They may become increasingly absent from school and work, spending their time obtaining and using drugs instead. They may also suddenly cite an increase in medical conditions. This allows individuals easy access to prescription drugs that are commonly abused.
Drug use can cause erratic behaviors. The development of erratic behaviors are typically the most noticeable changes in those abusing drugs. Their behaviors can change drastically, especially in the event that they are experiencing withdrawal. Some may exhibit violent behaviors in these instances. Co-occurring disorders, such as depression and anxiety, are exacerbated by drug use and can cause dramatic changes in behavior.
Signs and symptoms of drug abuse can vary greatly depending on the type of abuse and frequency of intake. In many cases, drug abuse can cause a number of behavioral changes and put many at risk for the development of serious health issues. It is important to intervene immediately you suspect a loved one may be struggling with addiction.>
Show Less.
*NOTE: We are not a licensed mental health or psychiatric facility*
Sources
https://ncadd.org/about-addiction/signs-and-symptoms/signs-and-symptoms