A young adult's path to sustainable, long-term sobriety and healthy living requires an approach that is comprehensive, specifically tailored to age, and creates an emotional attachment to the idea of being sober. This concept of attraction-based programming is at the core of what sets Sober College apart from other drug rehab centers.
Sober College empowers young women and men ages 18-26 to discover their purpose, find true passions, and follow a path of excellence. We offer an innovative dual-diagnosis drug rehab program and one-of-a-kind treatment model built around the Five Core Competencies, seamlessly integrating academics and rehabilitation.
Our young adult centered drug and alcohol treatment program allows your child to seek sobriety in a supportive environment. Use the following links to learn more about what Sober College can offer you and your family, including:
---
Our Treatment Phases
At Sober College, no child has the same treatment program because no child is dealing with the same addiction or mental health challenges. We pride ourselves on understanding your child as a whole person and believe it would be a disservice to provide a one-size-fits-all addiction treatment plan. However, we understand how important it is to get an idea of how your child will move through our program and reach recovery. We also understand how important it is to get a sense of what your child's day-to-day will look like at Sober College.
Read on to find those answers and walk a mile in a Sober College client's shoes.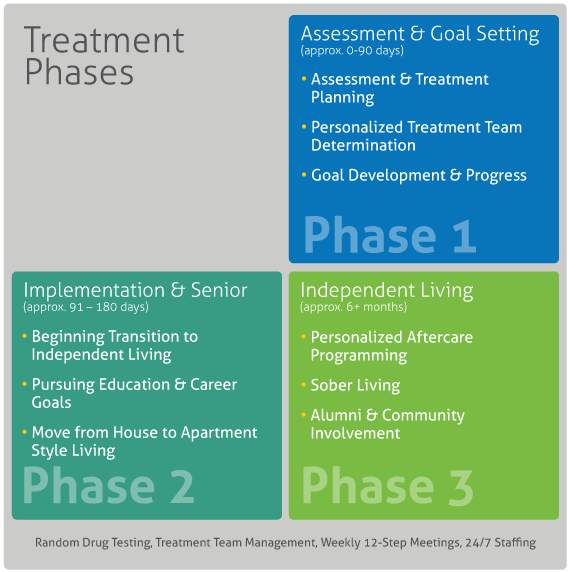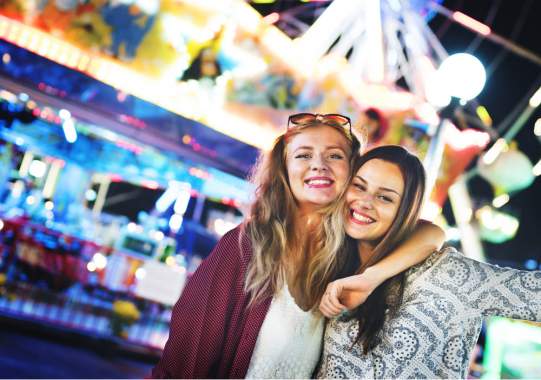 Phase 1: Assessment & Goal Setting (approx. 0-90 days)
Comprehensive Assessment & Treatment Planning.

Assessment begins with our admissions process. We require a detailed application prior to admission that is reviewed by our Executive Team to ensure Sober College is the best fit for every young adult that walks through our doors. Upon admission, each client is assessed in all Five Core Competencies – Sobriety, Emotional Growth, Productivity, Life Skills and Fitness. A plan is developed and short and long-term goals are set.

Hand-Picked Treatment Team.

The application and intake assessments are used to determine each young adult's treatment team. This treatment team stays with your child throughout all phases of our program and ensures that they are succeeding in all Five Core Competency Areas. In addition to their own treatment team, as part of our residential treatment program, your child will live in housing with 24-hour staff and awake overnight staff to ensure their safety and sobriety. Random drug testing is consistent throughout the first six months of the program.

Goal Development, Progress & Success.

In order to move through our program and earn privileges, a client must show progress in all Five Core Competency areas based on their individualized treatment plan. Achieving goals within life skills, productivity, recovery, fitness, and emotional growth helps ensure that clients are learning the tools they need to succeed in the next phase of treatment and life afterward.

24-Hour Staffing, with Awake Overnight Staff & Random Drug Testing.

These are consistent throughout the first six months of treatment.
Phase 2: Implementation & Senior Program (approx. 91 – 180 days)
Beginning the Transition to Independent Living.

Clients have the opportunity to begin taking more responsibility for their schedules, life skills, and planning.

Pursuing Educational and Career Goals.

Clients can continue to take classes on-site at Sober College, a local community college, or a trade school depending on their plans. We can also assist in the college application, transfer, or reintegration process, as needed. If a client is pursuing a vocational track, we assist with resume building, mock-interviews, and career planning, encouraging clients interested in a vocational track to get a job and begin working.

Move from House to Apartment-Style Living.

This transition gives them a feel for what college, or independent living would be like, all while staying within a safe, supportive, and sober environment. Staff is on-hand 24-hours per day in a separate living space and, as in Phase 1, random drug testing is conducted.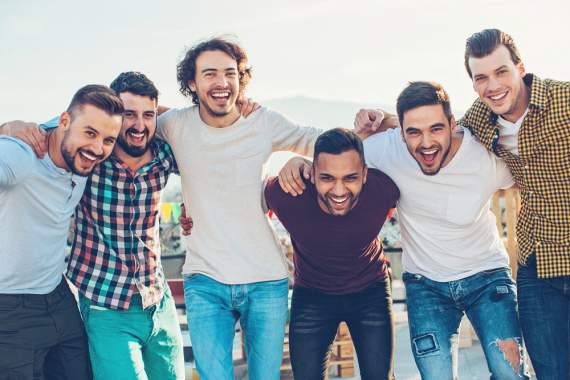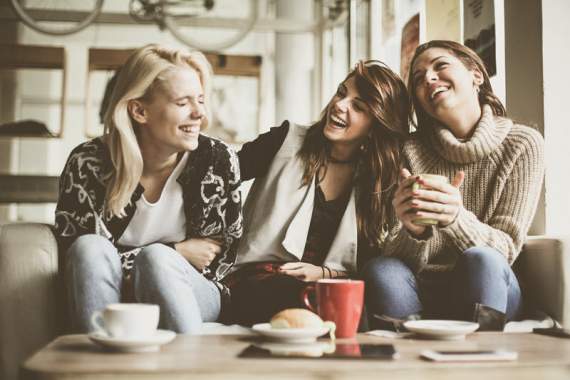 Phase 3: Independent Living (approx. 6+ months)
Personalized Aftercare.

Although clients are living independently during this phase of the program, they can still attend therapy, psychiatry, academic counseling and classes, gym membership and more, depending on their own individualized interests and needs.

Sober, Independent Living.

Our sober living program allows young adults to make their own schedules, giving them greater freedom and an opportunity to exercise newfound life skills, meeting with their counselors and therapists, working and/or attending school, and staying sober. Clients receive little at-home supervision, but are still randomly drug tested while enjoying their new, sober lives and utilizing the tools they learned while in treatment.

Alumni & Community Involvement.

Clients are encouraged to attend Sober College Alumni events and participate in athletic teams.
A Note About Insurance Coverage for Sober College Treatment Programs: Our multi-phased program structure forms a comprehensive treatment program and is not meant to be equated to levels of care with regard to insurance billing. To find out if your insurance plan may cover treatment with Sober College in-part or in-full, please fill out our insurance verification form.
We also offer academic outpatient and outpatient services to clients not living in our housing. Depending on coverage, your insurance plan may help offset the cost of these services.
Have questions regarding how our program works?
Call 800.465.0142 to speak with an admissions counselor.
---
Our Treatment Model: The Five Core Competencies
Our treatment model allows us to treat your child as a whole person — not just their problem with drugs and alcohol. With decades of combined experience from a variety of treatment professionals, we've created and refined our Five Core Competencies that have led to the most successful outcomes for young adults in recovery from substance abuse and co-occurring mental health disorders.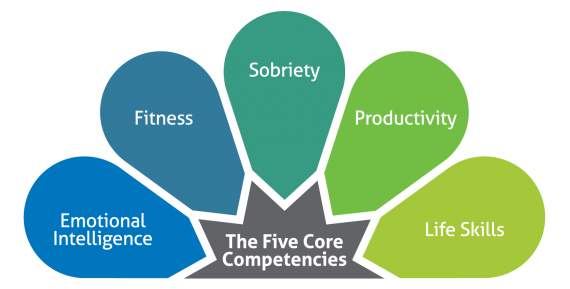 Our innovative drug treatment model, centered around Five Core Competencies, helps clients develop the tool needed to maintain a sober lifestyle not only in treatment, but long after they leave our care.
Sobriety: The Overall Goal of Treatment
Our team of addiction specialists support recovery first, showing young adults that a happy, healthy life free from mood-altering substances is possible and preferable.
Personal, Certified Addiction Counselors.

Each client is matched with their own certified addiction counselor who they can talk to — day and night — to help keep their sobriety on track. We also pair each client with a 12-step sponsor. We provide education to our clients so that they understand the process their brain undergoes when they become sober.

Healing & Re-balancing from Addiction.

Abstinence from illicit drugs and alcohol allows the brain to re-balance itself and heal. While this re-balancing takes place, newly-sober young adults may experience intense cravings and feelings of frustration, grief, and anger. In time, the brain will achieve equilibrium and the client will begin to feel the benefits of sobriety.
Emotional Growth: Managing Life's Stresses Without Harmful Substances
Sober College's dual-diagnosis approach to treatment provides each client with screening by our neuropsychologist, a weekly meeting with our board certified psychiatrist, and sessions with an individual therapist. Our staff is well-versed in evidenced-based treatments for substance and co-occurring mental health issues. All clients participate in group and experiential therapies including surfing, rock climbing, yoga, as well as trauma-based therapies, when appropriate.
Diagnosing & Treating Underlying Mental Health Issues.

One of the first steps on the journey to sobriety is re-learning how to process emotions and increase impulse control. Drug and alcohol abuse may have masked or subdued any underlying mental health issues or emotional symptoms from past traumas or adverse childhood experiences. Sobriety often brings these issues to the surface. These emotional, psychological and interpersonal issues must be addressed for the client to heal and move forward.

Experiential Therapies Designed for Young Adults.

Experiential activities including surf therapy, trapeze therapy, and equine therapy are also incorporated. As an age-specific treatment program, these non-traditional therapies prove to be especially effective in treating young adult substance abuse and engage our clients in new ways.

Trauma Therapy & Somatic Experiencing.

Trauma work is an integral part of the emotional growth competency, as many of clients have experienced trauma in their lives. Clients who are ready to work through their traumas have access to practitioners of Somatic Experiencing, a holistic therapy designed to harmonize mind and body sensations stemming from PTSD or other stressful scenarios.

Individualized Therapy.

Each client is paired with a personal therapist to help them process emotional and psychological issues. These sessions are designed to help your child further develop their strengths, move forward, and build a life worth living. We also have clients meet with our psychiatrist to manage medication needs.

Life Skills: Training for Independence After Treatment
We help prepare our clients for independent living by offering training in both personal life skills (e.g. money management, cooking) and relational life skills (e.g. communication and decision making). We also teach our clients skills to develop healthy relationships with peers that are not centered around drugs and alcohol. Building these relationships is key to their happiness and overall well-being.
Self-Care & Healthy Relationships.

Life skills are an important part of the treatment process at our long-term residential program. Clients must be able to create and sustain healthy relationships with others and be able to provide self-care as part of their long-term healing and overall wellness.

Accountability.

Clients are held accountable for keeping their living space clean and participating in group cooking and house planning. They also are encouraged to practice healthy relationships with other clients and staff and learn how to live in a community.

Supportive Staff & Mentors.

Our house staff and mentors are trained to help clients relate to one another respectfully and compassionately. Staff also help clients learn cooking, cleaning, and self-care skills.
Productivity: For A Passionate Life & Career After Rehab
Getting sober as a young adult means that our clients have their whole life ahead of them. However, preparing for the future can be frightening and challenging. We help them find their sense of purpose by providing them with an Academic and Vocational Coach, allowing them to discover or re-discover their passions.
A Focus on Executive Functioning for Long-Term Sobriety.

Studies show that clients with substance use disorders often show deficits in their executive functioning skills. Focusing on academic work, creative endeavors and productivity skills (including scheduling and self-monitoring) helps increase executive functioning abilities in young adults seeking sobriety.

On-Site Accredited College Courses.

Our rehab program offers college credits in the form of accredited college courses on-site. We offer five, three credit WSCUC-accredited college courses at our treatment center through our partnership with Woodbury University. This allows our clients to jumpstart their productivity goals and start building a firm foundation for their future after treatment.

Healing the Brain Through Creativity.

We offer a Creative Arts program, which includes a full professional-grade music studio, television studio, and art studio on campus. Research shows that creative endeavors help the brain heal and increase productivity. Our creativity in recovery groups introduce or reintroduce our clients to creative pursuits during treatment and encourage them to practice self-expression through music, film, and/or visual arts.

Personalized Academic Coaching.

We pair each client with an individual Academic Coach who creates a specific and individualized productivity plan.
Fitness: For The Mind & Body
Research shows that regular exercise improves brain function and balances the nervous system. Our fitness program works to make healthy living accessible to everyone through outdoor activities, as well as competitive individual and team sports ranging from soccer and lacrosse to Frisbee golf. We also offer nutritional counseling and personal training, as needed.
Creating Lasting, Healthy Behaviors.

Fitness is a mandatory part of each client's schedule. A nutritionist is available as needed for clients who need guidance with their nutritional needs. Healthy diet, regular sleep patterns, and regular exercise are integral to brain health and healing.

Team and Individual Activities.

Sober College offers a variety of activities to engage the mind and body. Gym memberships are included and our fitness director organizes regular sports activities including soccer, football, basketball and more. Clients can also enjoy kickboxing, mountain biking / climbing, surfing and more. Yoga is mandatory once per week, and additional yoga classes and individual yoga instruction is available. Our fitness director organizes regular inter and extra-mural sports activities including soccer, football, basketball and more. Clients can also go kick-boxing, mountain biking, and mountain climbing, surfing and more.
Have questions regarding our treatment model?
Call 800.465.0142 to speak with an admissions counselor.
---
Your Child's Treatment Team
For each competency in our treatment model, your child has a member of our staff assigned to their personalized treatment team. Your child's team is hand-picked based on their individual needs and are there to help them along their journey – mentally, physically, and emotionally. Read below to learn who your child can expect to work with on a daily and weekly basis.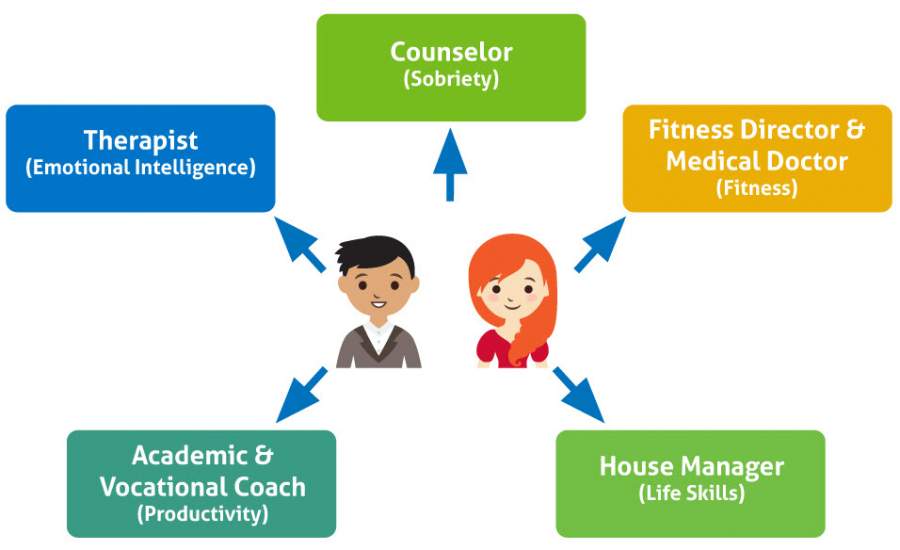 Counselor – Sobriety
Each client has their own Certified Drug & Alcohol Counselor to help guide them through the process of recovery. This relationship becomes a source of support and strength in the recovery process throughout the time your son or daughter is with us.
Individual meetings with their counselor as needed, a minimum of once per week, and sobriety-based groups including relapse prevention and recovery groups several times per week. Offsite 12-step meetings and sober activities.
Your child's counselor is also your point of contact. You will have weekly calls to discuss your son or daughter's progress. You can also contact your child's counselor at any time with questions or concerns.
Credentials: CADC Certified
Therapist – Emotional Growth
The client-therapist relationship at Sober College is considered sacred. Using our admissions application and intake assessments, each client is paired with a therapist that our treatment team believes will be the best fit. Therapists are full-time, on-site, and available to our clients as needed.
Individual meetings with therapist 1-3 times per week, meetings with psychiatrist once per week, meetings with trauma practitioner as needed, group processing and relational groups several times per week.
Credentials: Master's and Doctorate level therapists and psychologists, licensed or pre-licensed through the state of CA
House Manager – Life Skills
House Managers are available 24/7 for our clients. Together with the house staff and mentors, our House Managers ensure that clients are engaging in the community and learning the skills they need to progress toward independent living.
24/7 staff supervision until the client shows enough progress to venture out on their own
Credentials: Mentors and House staff are trained weekly and participate in regular supervision to help them best support our clients
Academic & Vocational Coach and Creative Arts Team – Productivity
Each client has their own Academic and Vocational Coach who works with our Creative Arts Team and the rest of the treatment team to help clients find an outlet and a means of self-expression outside of drugs and alcohol.
Individual meetings with Academic Coach as needed, a minimum of once per week. All Academic coaches are on-site full time and available to provide one-on-one support, as needed.
Throughout their stay, as long as they are on track in all other competencies, the music visual arts and film and television studios and creative arts team are open and available.
Credentials: All Academic and Vocational Coaches are Adjunct Professors for Woodbury University and are Master's or Doctoral level. Learn more about our unique college and rehab program.
Fitness Director, Medical Doctor & Yoga Instructor – Fitness/Physical Health
Our health and fitness team ensures that each client is on a nutritional and fitness plan that fits their needs. Under their supervision, your child will learn and practice healthy habits they can take with them long after they leave our care.
Clients work with the fitness director and counselors to ensure they are keeping up with their fitness regimen.
Our medical doctor specializes in Addiction Medicine and can help clients overcome the challenges that early recovery can have on the body and health.
Our yoga therapist and yoga instructor provides group and individual yoga therapy, as well as other healing yoga classes to help clients practice mindfulness for a healthy body and mind.
Credentials: Our medical doctor is board-certified and specializes in Addiction Medicine. Our Fitness Director is Master's Level, has his Doctor of Chiropractic Degree, and a number of other Certifications. Our yoga instructor is certified in a number of different styles of yoga and works closely with our yoga therapists. Learn more about the team members your child will meet at Sober College.

---
Your Child's Environment: Sober College Facilities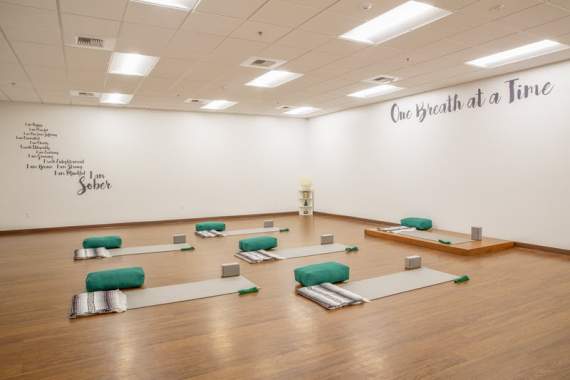 To help visualize your child's life at Sober College, explore photos of our facilities. Not only will they enjoy clean, renovated living facilities, but our therapeutic learning center is equipped with amenities equivalent to that of a university. During recovery, clients have access to:
Individual therapy offices and group rooms
Academic department with classrooms, library, private tutoring rooms, and more
Yoga Studio
Professional-grade recording studio & music department
Broadcast film studio with green screen and editing software
Visual Arts Studio
Auditorium & stage for talent shows & more
Multiple experiential therapies held off-site
---
Words Are Just Words. Hear from Someone Who's Been In Your Shoes
Watch and read reviews from parents and alumni describing their experience at Sober College. We also understand that you might want to talk directly with a parent whose child has been through our program. Let our admissions team know, and they will promptly put you in touch with one.
---
Contact Us and Let Us Help You Find Out If Sober College is The Right Fit For Your Child
If what you've read so far makes you think we'd be a good fit, we'd love to learn more about your child and whether we can help. Give our admissions team a call at 800.465.0142 or fill out a contact form and we'll get back to you within 24 hours.