Physical fitness is an essential part of our comprehensive Five Core Competency approach to addiction treatment for young adults and it is incorporated into each of our client's treatment plans.Sober College offers plethora of fitness options, including extramural sports and personalized fitness plans, to meet each of our client's unique needs. Fitness and recovery from addiction and dual-diagnosis go hand-in-hand. Regular fitness is a critical component of successful recovery and it creates a space for clients to improve themselves presently and set a precedent for fitness in their futures.
Why is Fitness One of Our Five Core Competencies?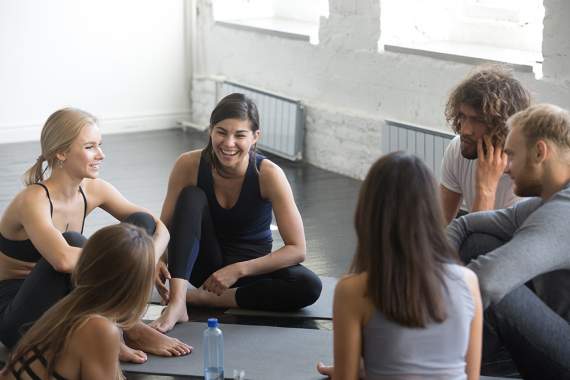 Drug and alcohol abuse take their toll on the body and mind, meaning many entering treatment have sacrificed their physical health for their addiction. The habits built at Sober College extend far beyond treatment and into future practices. Regardless of a client's interest, Sober College makes it possible for our clients to explore and discover the joy of sobriety.
By increasing their physical activity,

clients have a healthy outlet for stress, anxiety and other stressors during recovery.

It combines aspects of the mind and body

to provide our clients with therapy that is as fun as it is influential.

Exercise is a critical component successful recovery

and is essential to a healthy lifestyle.

Regular exercise has been proven to

significantly decrease the likelihood of relapse in young adults.

Establishing a regular exercise routine

will help clients in managing their time, energy and sobriety making it a critical piece of our holistic approach to recovery.
Learn More About Our Five Core Competency Treatment Model
About Our Fitness Program
We Offer Individualized Fitness Plans
Sober College creates fitness programs unique to every individual. Just as our therapies are designed, physical fitness takes into account each individual's needs, providing everyone with a fitness program that accommodates their interests and comfort levels. Rather than focus on a standardized fitness program, our Fitness Director works one-on-one with each client to help them develop a fitness and/or diet plan that works for them. Each client will be exposed to a variety of engaging activities designed to challenge them physically and mentally, laying a foundation for a healthy lifestyle for the future.
Our clients have a variety of activities to explore in recovery and Sober College provides a variety of opportunities for them to discover their interests. We encourage clients to try new things and step outside of their comfort zone to learn how enjoyable sobriety can be. As they work through stressful situations, clients can use fitness as a tool to manage the stress that life brings and relish in their accomplishments as they meet their fitness goals.
Have questions regarding treatment at Sober College?
Call 800.465.0142 to speak with an admissions counselor.
Extramural Team & Individual Sports
As a young adult-specific rehab, our program is designed to meet the needs of the college-age population. Therefore, Sober College gives clients the opportunity to participate in a number of fitness activities, including competitive individual and team sports. Our clients travel offsite to compete with other top athletes. Fitness in early sobriety helps our clients to repair the damage done physically to their body by addiction while teaching them the confidence to accomplish their goals, which encourages continued participation, setting the groundwork for a lifetime of healthy living. We provide a safe environment for clients to regain interest in sports they may have previously played, or to try something completely new and different.
Team Sports
Sober College prides itself on the success of its sports team; clients who participate have the opportunity to travel and compete against other teams in a variety of sports including soccer, football and basketball. Team sports provide an excellent opportunity for clients to build relationships with one another that will help them throughout the recovery process. Teams become a family to clients and provide another layer of support that improves outcomes in long-term sobriety.
Including:
Basketball
Soccer
Lacrosse
Football/Flag Football
Hockey
Softball
Individual Sports
If clients are more interested in individual activities, they have just as many options. Clients can experience surfing, horseback riding or mountain biking. Sober College also participates in 5k races like the Spartan Race and Zombie Run or triathlons. While clients are doing the activity individually, they participate as a group to motivate and encourage one another. It is a great opportunity for clients to push one another and overcome challenges together while simultaneously building and strengthening friendships that will last a lifetime.
Including:
Golf
Tennis
5-k races,Biathlons & Triathlons
Muay Thai Kickboxing
Skiing/Snowboarding
Surfing
Yoga
Racquetball
Outdoor Sports and Activities
Sports and outdoor activities are great options for those who may find these environments more engaging than the gym. It allows our clients the option to explore new areas outside of their comfort zone and potentially discover new interests and passions, while being good exercise and a source of therapy for people in recovery. Clients encourage and push one another to complete a difficult hike or catch a big wave. Together they complete a challenge while individually pushing their own physical limits on trails in the rugged Santa Monica Mountains, overlooking Malibu Beach. Clients have the option to explore sports as another option for their physical fitness needs in recovery.
Including:
Hiking
Rock Climbing
Sky Diving
Cliff Jumping
Mountain Biking
Beach Runs/Walks
Gym Memberships to The West Hills Bay Club
Every client at Sober College is given a gym membership to The West Hills Bay Club and is required to participate in fitness at least five days a week in their first 90 days. Bay Club west hills is a state-of-the-art facility with a number of amenities appeal to all our client's fitness desires. Bay Club offers fitness classes, basketball, racquet ball, an indoor pool, whirlpool and sauna. In addition, Bay Club offers standard cardio and strength equipment and free weights. Fitness Director, Dr. Ken Neiman, gives personal training sessions and accompanies clients to the club to help them become acclimated.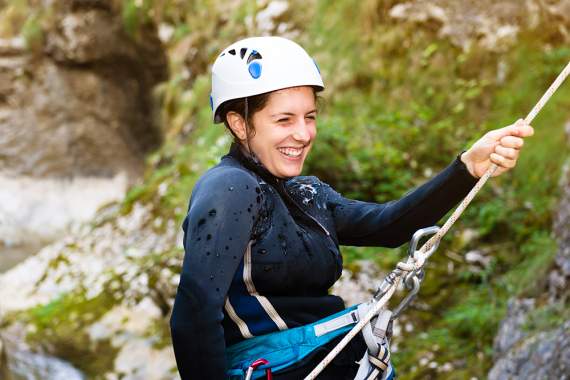 Recovery from addiction is more than the process of abstaining from drug and alcohol use, but also finding ways to manage triggers and time previously used to abuse substances. One way Sober College addresses these challenges is to reengage our clients through physical fitness and health education. Physical fitness provides a number of benefits mentally and physically, including helping our clients gain confidence while reaping the benefits of exercise.
Fitness programs are accompanied by customized diet plans to ensure clients are receiving proper nutrition during their stay. Regular exercise provides a multitude of benefits that will improve physical appearance, self-esteem and overall functioning. Exercise not only improves circulation and strengthens the body, but it also aids in sweating out toxins and increasing energy levels. Since many of our clients struggle with body image and self-esteem, regular exercise allows them to set goals and feel a sense of accomplishment as they are obtained.
Emotional Relief
Fitness is also a great way to deal with anger, stress and other emotions that may have previously driven our clients to abuse substances. Exercise is one method many of our clients choose to use as a means of dealing with stressors in a healthy way. For some, it is also a great way to develop emotional intelligence. Competing in team sports, for instance, allows our clients to develop leadership skills, communication skills and teamwork while staying active. Participating in sports is an experiential therapy in this way, as it provides therapy to our clients without their conscious awareness.
Exercise is an excellent way to heal and strengthen the body and mind. Regardless of the form of exercise our clients choose to engage in, exercise is a vital component of recovery. It provides clients with a sense of structure that encourages them to maintain their practices and committing to a regular workout will take up much of their newfound free time. Exercise can take any form and regardless of its intensity, it is important for young adults to regularly engage in it. Regular exercise has been proven to significantly decrease the likelihood of relapse in young adults. Establishing a regular exercise routine will help clients in managing their time, energy and sobriety making it a critical piece of our holistic approach to recovery.
Meet Fitness Director Dr. Ken Niemann
Why is Fitness Important for Young Adults Today?
Is Sober College's Holistic Treatment Program Right for Your Son or Daughter?
Whether your child was into athletics before addiction or still is, we'd love to hear your story to help you find out if our unique approach to treatment could be successful for them. Give a member of our admissions team a call at 800.465.0142 or fill out a contact form to get in touch, and take the first step towards getting them the help they deserve.
Sources
http://www.helpguide.org/articles/addiction/substance-abuse-and-mental-health.htm