A young adult's path to sustainable, long-term sobriety and healthy living requires an approach that is comprehensive, specifically tailored to age and creates an emotional attachment to the idea of being sober. This concept of attraction-based programming is at the core of what sets Sober College apart from other treatment programs.
At Sober College, we understand that choosing the right program is extremely difficult. There are, after all, hundreds of programs from which to choose. And while we encourage everyone to research what is out there and available, we know our unique and innovative approach to drug rehab and alcohol addiction treatment is not only effective and innovative, it's simply the best option for young adults ages 18 to 26.
What Makes Us Different?
Sober College is dedicated to helping you or your loved one get life back on track. We strive to move beyond traditional treatment in order to fully engage our clients mentally, physically and emotionally. Click an item in the list below to read more about how we do what we do.
Give us a call today at 877.628.6224 to learn more about our one-of-a-kind program and get help for yourself or a loved one.
Age-Specific Programming: Effective Treatment with Peers
One of the many elements that sets Sober College apart is its demographic: We only accept clients ages 18 to 26. This greatly impacts the experience for those under our care … You or your loved one has the opportunity to acquire the skills necessary to live a healthy, sober life by recovering with others the same age. Sober College's program is centered on the unique needs of this particular age-group, moving our treatment beyond the traditional in order to embrace the relevant. 
College & Rehab Under One Roof: Refocusing on Academics
Sober College is just that: College! For most of our population, refocusing on their academics is a top priority. Combining college and rehab not only gets students back on track, it also helps rebuild pathways in their brains to increase functioning and help the brain heal.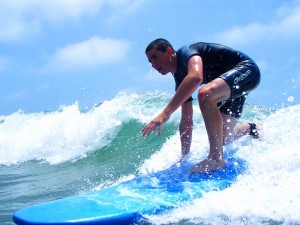 There's no question that after years of substance abuse, the brain suffers greatly. By taking academic classes, however, as part of recovery, we're challenging our clients to stay engaged.
As part of this cutting-edge program, our Academic Department is dedicated to helping clients achieve their educational goals. From taking classes and landing a Sober College internship to partaking in our automotive course or even enrolling in our Occupational Program, we are well-equipped to support our clients as they choose the academic path best suited for them. 
Long-Term Treatment: Longer Stay, Effective Results
To find long-term success, clients must experience long-term treatment. By committing to our minimum 90-day-stay, clients are taking the time needed to fully address their substance abuse and grow. This can only be accomplished through our transitional program that truly prepares clients for independent living. As clients progress through each phase of our program, they acquire the skills necessary to live productive lives outside of treatment. And by working on their physical, mental and emotional growth, clients are able to enjoy long-term results from the work they put into their program. Our goal is for our clients to unearth who they are without substance abuse, and to nourish that potential as they evolve into a healthy, sober life. 
We Treat the Whole client, Not Just Their Addiction: Comprehensive and Individualized Treatment Programming
Sober College utilizes a comprehensive treatment program that incorporates Five Core Competencies into our client's everyday lives. These competencies are: Sobriety, Productivity, Emotional Intelligence, Life Skills and Fitness. By meeting or exceeding expectations in each area, clients become well-rounded individuals, with a solid foundation of sobriety and the skills they need for independent living. In addition, our individualized care – care, that equips each client with their own treatment team ensures each unique facet and need of our clients is addressed and not ignored.
Creative Arts Therapeutic Program: Recovery Through Creativity
The creative arts are an integral component of Sober College's program. There is a direct correlation between creativity and successful recovery. And simply put, we see art as more than painting or singing; we consider it to be a vital part of our clients' recovery. That's why Sober College houses a state-of-the art recording studio where clients can explore their musical talents in a safe, sober environment. We also offer a lyric writing group that helps clients shape and refine their work to more accurately reflect who they are and/or what they're going through. In addition, our visual arts program offers film workshops and the opportunity to explore the world of acting and writing. Our art studio – with every imaginable form of artistic expression from beadwork to paints, to our very own pottery studio and professional kiln – helps clients replace drugs and alcohol with healthy alternatives of self-expression. In addition, as a way to celebrate our clients' recovery through the arts, Sober College hosts Talent Shows every six weeks in order to showcase the artistic work being done in our creative arts department. 
Our Fitness Program: Get Fit, Get Sober
Unlike other programs, our fitness program is mandatory for all clients. We believe that physical recovery is as important as mental and emotional health, which is why our fitness program is widely embraced by all of our clients. Moving past the traditional, our fitness program offers a membership to our local fitness club. Clients are also able to compete on extramural teams such as soccer and lacrosse. Here they rebuild their team-building skills along with their health. From tennis to basketball, skateboarding to rock climbing, Sober College is dedicated to getting our clients out in the fresh air to live and enjoy life in recovery. 
Experiential Therapy: Relapse Prevention and Embracing the Experience
Another element that spotlights the Sober College difference is our Experiential Therapy. By moving therapy out of the group room and into real life, clients can begin to experience emotional growth in alternative ways. They are able to address their emotional needs through fun and exciting ways such as surf, trapeze and equine therapies along with our wind tunnel experience. These therapies force clients outside of their comfort zone, instantly causing a variety of emotions to arise. By processing visceral emotions such as anxiety and fear, clients learn healthy ways in which to cope. Essentially, this provides them with the appropriate tools to deal with life's stresses. Consequently, clients are able to maintain sobriety and prevent relapse in the event of trauma or a life-changing event. Experiential Therapy equips our clients with the tools they need to leave treatment and live healthy, productive lives without relying on substances.