Transitioning back into mainstream life can be difficult for those leaving a wilderness program, even if they plan to enter into a residential treatment environment. Sober College provides a successful long-term transitional treatment option for young adults exiting wilderness therapy and readjusting to normal life.
The urban setting of Sober College provides young adults with a safe environment to acclimate back to society, lessening the culture shock that can occur when a client goes directly back home from wilderness. Building on the foundations established in a wilderness program, clients continue to develop the skills they learned and apply them to academics and other real world situations.
Have questions regarding the next step for you or a loved one?
Call 800.465.0142 to speak with an admissions counselor.
Why Attend Sober College After a Wilderness Therapy Program?
Like most wilderness programs, Sober College integrates family workshops to combat the negative effects drug and alcohol abuse may have had on family relationships. Wilderness programs often encourage family members to participate, as does Sober College, to heal the family structure. Sober College continues this practice through Family Weekend Workshops and close contact between staff and family members to ensure there is constant communication between loved ones. Just as it is important to support loved ones in treatment, it is equally as important to support family members affected by the toll of addiction as well.
Wilderness treatment programs removes clients

from the bustle of a fast-paced world, placing them in nature. By taking them out their comfort zone, they are forced to deal with their addiction and themselves in a safe, supportive environment.

Wilderness treatment encourages

the development of emotional intelligence and confidence in a way that provokes clients to take control of their journey towards achieving sobriety.
What come next for you or a loved one after wilderness?
Adjusting to life after a wilderness therapy program presents a unique set of challenges to those who are early in sobriety. Our drug rehab program, built on our Five Core Competency Treatment Model, is designed specifically to help young adults take the tools they learn in treatment to built a successful sober life.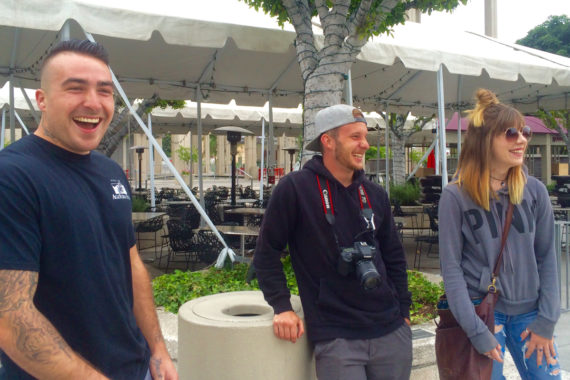 Applying the Skills Learned in a Wilderness Treatment Center
Wilderness treatment programs encourages participants to become self-reliant and develop self-respect through behavior modification. Clients must rely on their peers and themselves to overcome challenges, promoting teamwork and skill development. For many, wilderness allows participants to reflect on their experiences and evaluate themselves in a new light. Wilderness treatment encourages the development of emotional intelligence and confidence in a way that provokes clients to take control of their journey towards achieving sobriety. Nurturing their newly acquired skills and sense of self, clients continue to build a foundation that supports successful sobriety in life after treatment.
The lessons learned in wilderness therapy are applicable to real world scenarios, and Sober College's transitional program encourages young adults to make these connections. As clients ease back into the real world, their growth in wilderness strengthens their development through the recovery process. The therapeutic structure of wilderness programs provides benefits to both physical and mental health, encouraging clients to retake control over their lives and their futures.
Sober College's unique rehab program provides individualized treatment to each resident, ensuring that each client is provided with the resources they need to develop identities that support a newly independent, sober lifestyle. The lessons learned in wilderness programs are expanded on through Sober College's innovative approach to young adult addiction treatment and supported through our ability to adapt to the changing needs of our residents.
What is Wilderness Therapy?
Removing young adults from enabling peers and environments is critical in overcoming drug and alcohol addiction. Not all residents of Sober College begin their journey in our residential treatment program; some begin in a wilderness treatment program.
Wilderness therapy is an experiential program that takes place in an outdoor setting. Young adults are separated from negative influences and placed in an outdoor environment to receive counseling, therapy and leadership training that fosters community and the development of self. Developing these skills in a unique, outdoor environment also allows therapists to address areas that may not be as clearly defined by residential treatment alone. Activities are structured in a wilderness setting, allowing participants to become conscious of the things they may have taken for granted, encouraging self-awareness and reflection.
Participants are challenged by a variety of tasks in a wilderness program. They may learn to build shelters, create fire, cook food, backpack and hike. While learning and engaging in these activities, they must also develop interpersonal skills, such as communication and leadership, in order to succeed. The wilderness environment removes negative influences that can trigger self-destructive behaviors and replaces them with routines that encourage relationships to develop, new skills to be acquired and potential to be discovered. Rather than hiding their true feelings and filling time with meaningless activities, young adults become engaged with one another and themselves. With supervision from healthcare professionals, the wilderness setting creates a space for young adults to develop confidence in their abilities and grow as individuals.
Wilderness treatment programs are highly effective, creating an environment where young adults can focus on behavioral change. Rather than sitting in front of a television or spending time acquiring and abusing substances, participants overcome daily challenges and reap the benefits of nature's therapeutic influence, watching sunsets and reconnecting with simple life pleasures. Wilderness programs encourage young adults to develop healthy coping mechanisms to allow them the ability to regain control of their lives, putting them back on a path of sobriety, success and happiness.
Sources
http://www.crchealth.com/find-a-treatment-center/struggling-youth-programs/help/
http://www.princetonol.com/summercamps/polArticles.cfm?doc_id=1175