As an age-specific treatment provider, Sober College tailors treatment exclusively to meet your child's unique needs. Our treatment program focuses solely on topics that are most applicable and resources that best match the needs of young adults age 18-26. Being surrounded by others who share similar life experiences makes it easier for clients to relate while in treatment and helps them build a support network in recovery that they want to be a part of.
Have questions regarding our one-of-a-kind treatment program young adults?
Call 800.465.0142 to speak with an admissions counselor.
Why Our Treatment Model Will Help Your Teen or Young Adult Achieve Long-Lasting Recovery
We customize treatment exclusively for young adult men and women ages 18-26. Our one-of-a-kind treatment model centered around Five Core Competencies and Passion Development makes sobriety attractive and provides our clients with a treatment experience that reignites their passions for the future, aids in their recovery, and prepares them to create fulfilling, independent lives after they leave treatment.
1. Comprehensive Medical, Therapeutic, and Experiential Treatment
Young adults are still developing physically, mentally, and emotionally. We provide a dual-diagnosis treatment model that incorporates traditional individual and group therapy as well non-traditional therapies to best meet the needs of our population.
"We take the methods of traditional rehab a step further by providing care that is relevant to the specific challenges young adults face."
Staff are Uniquely Qualified to Assess, Diagnosis & Treat Dual-Diagnosis in Young Adults:

Substance abuse can affect the way the brain develops, the way mental health symptoms present, and how your child copes with stress and other challenges. Our expert staff including our psychiatrist, medical doctor, neuropsychologists, and therapists are uniquely qualified to assess and treat substance abuse and mental health disorders in this age group co-currently, better preparing our clients for long-term success.

Each Client has Their Own Individualized Treatment Team:

Each client is matched with an individual therapist, and individual counselor, and an individual academic and vocational coach to help guide them through the recovery process.

Incorporating Experiential Therapies Keeps Clients Engaged:

All clients participate in experiential therapies, like surf and trapeze. By trying something new, young adults are able to experience stress and fear in a safe environment, gain a better understanding of these feelings, and learn to cope with them in recovery. Taking therapy out of the office and engaging clients in unique ways makes our treatment more effective for the young adult population.

Groups Focus Only on Young Adult Concerns & Foster Healthy Peer Relationships:

Especially during the residential treatment phase, being in groups with their peers makes the challenges addiction has caused in their lives and the difficulties they are facing in early recovery more relatable and palatable for our clients. They are able to see other young people overcoming these challenges and living happy successful lives.
2. Cultivating Life Skills and Preparing Young Adults for Independent Living
Preparing young adults for successful independent living is vital to long-term recovery from substance abuse.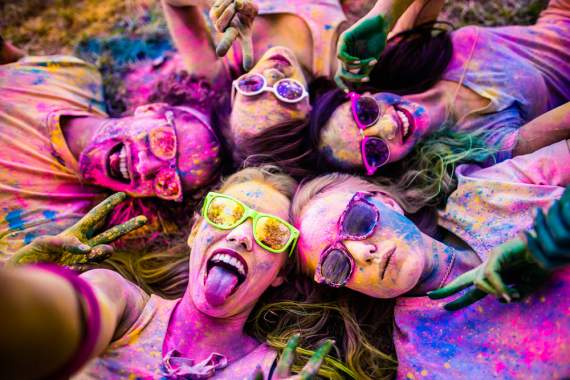 Preparing Clients for Successful, Sober & Independent Living:

Sober College helps prepare clients for independent living by offering training in both personal life skills (e.g. money management and cooking) and relational life skills (e.g. decision making and time management). Clients learn how to care for themselves in a way that encourages a positive lifestyle. The ability to manage all of these responsibilities can minimize stressors that may trigger relapse.

Practice Developing Healthy Relationship Skills:

We also teach clients the skills to develop healthy relationships with peers not centered around drugs and alcohol. Building these relationships is crucial to their happiness and overall well-being.

Having a Full Toolbox Fosters Self-Confidence:

Developing independence is key to fostering confidence and building feelings of self-worth and by learning numerous life skills, your child will develop the ability to function independently throughout the recovery experience and in life beyond.
3. Recovery and Self-Discovery Through Exploring Passions
Our treatment model is both integrated and engaged in order to treat the whole person, not just their problem with drugs and alcohol. We encourage passion development to help our emerging adults participate in and create lives worth staying sober for.
Discovering or Rediscovering Passion is Vital to Young Adult Recovery:

Young adults often lose sight of their passions when they are using drugs and alcohol. Whether your child is or was interested in the music, film, visual arts, sports, writing, or any other activity, Sober College will help your child re-engage with life. By providing a wide variety of amenities that empower your child through action, clients learn how to live and enjoy life without drugs and alcohol.

From Music to Sports to Broadcast Television, Sober College Has It All:

Through our on-site music recording and film broadcast studios, yoga studio, competitive extramural team sports, experiential therapy, classes, and other resources, your child can explore numerous interests. From computer programming to surfing, the possibilities are endless. Developing passion is critical to successful sobriety, and with our wide array of options, your child can try it all.
4. Family Involvement is a Vital Part of the Recovery Process
Loved ones are often deeply impacted by the damage of substance abuse, and we work with families to help the whole system heal.
Receive Weekly Phone Calls from Your Child's Counselor:

Parents receive weekly phone calls from their child's counselor updating them on their loved ones progress in the program.

Family Therapy Workshops Help Families Heal & Move Forward Together:

Sober College hosts family weekend workshops where clients and their families come together to heal. Group therapy and individual therapy are offered independently of these family weekends and can be arranged through your son or daughters counselor when needed.

Parents are Invited to Talent Shows & Community Events Offered at Sober College:

Parents and loved ones are invited to attend community events at Sober College as well including Talent Shows and Community Education events.
5. Stay on Track with Education Goals Through College Classes
Not only does participating in education help heal the damage done to the brain by substance abuse, it helps our clients stay on track or find direction for their lives after they leave our care. Sober College believes that young adults should not have to put their education on hold to get the help they need.
Healing the Brain & Finding Direction Toward a Successful, Sober Future:

By offering educational and vocational training early on in the recovery process, we are helping to heal our clients' brains, reversing the damage done by extensive drug and alcohol use. Involvement in education also helps clients find a sense of purpose and passion, motivating them to work toward a successful, sober future.

Master's & Doctoral Level Professors On-Site & Small Class Sizes:

Our program is the only addiction rehab that offer accreditted college credits on-site. On-site Master's and Doctoral level adjunct professors provide a college class experience in a safe and supportive environment with small class sizes that ensure your child receives the attention they need. Transitioning to college can be stressful and trigger relapse. By experiencing a true classroom experience while in treatment, clients are better prepared for college after they leave treatment.

From High School Completion to Graduation, We Can Help:

Whether your child is in school, withdrew or left due to poor performance, has not completed high school, or just needs direction for the future, Sober College can help. Our unique partnership with Woodbury University and extensive academic and vocational support team helps our clients excel, find direction, and prepare for the future.

Offering a Semester's Worth of Accredited, Rolling Admission College Credit On-Site:

Clients can earn up to 15 accredited college credits from Woodbury University on-site at Sober College while in treatment. By offering rolling-admissions, clients can start anytime.

You Child's Academic Coach Provides Personalized Support Throughout Your Child's Stay:

Each client has an Academic Coach on their treatment team that can help ensure that they stay on track and guide them through the pursuit of their academic or vocational goals.
6. Building Supportive and Sober Social Circles
Social Connections Are a Critical Part of Long-Term Recovery:

By building healthy relationships, your child can develop meaningful connections without drugs or alcohol and receive the support of others who have been in their shoes. Pitfalls are always easier to navigate with the help of a supportive friend.

Learning to Develop Healthy Relationships Without Drugs & Alcohol:

Developing new relationships with peers who share similar experiences is vital to success. In addition to building a sober support group, interacting with other young adults can help your child develop the social skills needed to navigate difficult situations in the future without drugs and alcohol. Your child will be better able to avoid the wrong crowds and connect with others who share similar values.
Let's Find Out if Sober College's Young Adult Rehab is Right for Your Child
Your child isn't like anyone else and their experience with addiction is just as unique. Give us a call us at 800.465.0142 or fill out a contact form so we can get to know your child and find out what they need to be healthy and happy in their life.