Sober College has earned the Joint Commission's Gold Seal of Approval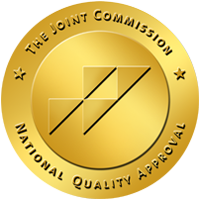 The Joint Commission is an independent organization that regularly grades Health Care facilities, including Addiction Treatment Centers.  Not only does Sober College meet but also exceeds the standards set forth by the Joint Commission, earning the Gold Seal of Approval.
Fewer than 6% of Addiction Treatment Centers nationwide have earned the Gold Seal of Approval.
It's just one more way Sober College demonstrates our dedication to our clients and our Commitment to Excellence in all we do.
Learn more about how Sober College earned this accreditation but taking a look at what it is we do.
Have questions regarding our program?
Call 800.465.0142 to speak with an admissions counselor.