For many people, dorm life is what college is all about. Sharing a bedroom, cooking and socializing with your roommates, learning to clean up after yourself and manage your own time are all aspects that help young people mature into independent adults. But for an addict in recovery, traditional dorm living may not be as fun as most people think.
Housing Option #1: Sober Student LivingBack to Top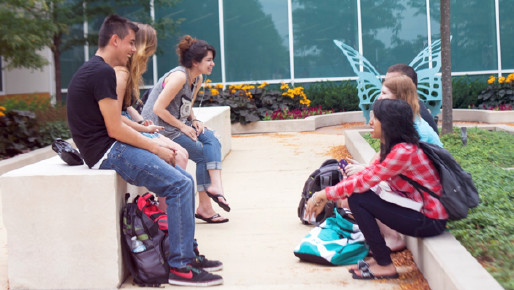 There are many sober living student homes situated off campuses
Image Credithttps://farm3.staticflickr.com/2869/9662006631_e437722d88_k.jpg
While it is entirely up to you whether you decide to inform your college that you are sober, one of the advantages of doing so is the possibility of being housed with other students in recovery. There are currently several colleges in California, New Jersey, Minnesota, Ohio, Texas and Vermont that offer dorms entirely for sober living students, and this is rapidly being emulated by colleges across the country.
Sober living homes may be advisable for those newly in recovery
While your chosen college may not yet offer sober housing, there should be no reason why you can't room with another student who has chosen to stay sober. There are more sober college students than you may think; it's not just former addicts who choose sober living these days. Many young people choose not to drink or use drugs for religious, cultural or health reasons – or just good sense.
There are also sober living homes near campuses that are not always affiliated with the college. These sober living homes are often designed specifically to provide sober college students with a community and support while still giving them the freedom to experience college life. Because these sober homes are close to campus, it's easy for students to get to class, participate in social activities and maintain their anonymity with the college, while still benefiting from the sanctuary of guaranteed sober housing. Research and find out if there are any sober living homes near the college you are going to.
Some students may have a knee-jerk reaction to the idea of "special housing" or become concerned that they'll miss out on important social opportunities. It's key to remember, however, that college life often breeds a culture of excess, where even 'normal' drinkers can become binge drinkers and 'sensible' students experiment with drugs, usually with no understanding or regard for how this can impact students in recovery. Being sheltered from wild partying and destructive behavior can be vital for college success as well as your sobriety.
Housing Option #2: Living with TemptationBack to Top
If you chose to live in standard dorms, you should carefully consider the realities of living with someone whose goal for college may be entirely at odds with your own. Will you resent their 'party' lifestyle? Will you be tempted to join them? How will you feel if they stumble in in the early hours after partying all night? How will you feel if you wake up to your roommate vomiting in your shared sink in your bedroom?
If nothing else, behavior like this can seriously impact your sleep, which is essential for academic success. If you do manage to resist temptation, living among people who use drugs or alcohol can be an extra weight on your shoulders that you just don't need. Establishing an ever-present support network and established coping mechanisms will be more important than ever in this case.
Of course, not all non-sober students are drug-using party animals, and many will be supportive of your goals and try to motivate you and keep you on track. Most students will be more than happy to party it up in another room if you are honest with them and you ask them to. You know yourself and the strength of your recovery and your support network and ultimately, only you can determine whether you are interested in immersing yourself in a world where alcohol and drugs will almost certainly be present, if not prevalent.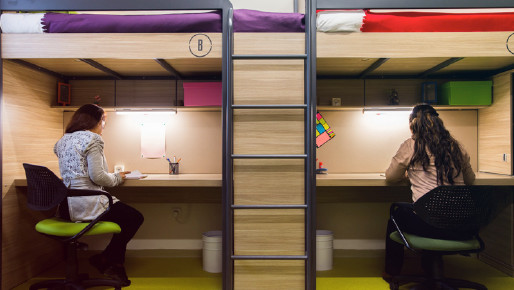 You may want to set aside time for studying, socializing and sleeping
Image Credithttps://www.flickr.com/photos/residorm/14689257123/sizes/l/
Roommates: Set Some Ground Rules
Whatever you decide and whomever you live with, there are several ways you can make dorm life easier for yourself. Speak to your roommates early on about the following matters:
Communication – If there are any problems or issues, how will you talk about these concerns? You should develop clear lines of communication early on about all aspects of communal living. How will you delegate housework? Will you share any electronics or food?
Scheduling – You may want to set aside time for studying, socializing and sleeping. Compare your class, study and social schedules with your roommate and see if you can arrange a rough (but flexible) schedule. What time is it acceptable to play loud music, for example?
Consideration – You should be aware of each other's privacy, personal space and possessions. If you are living with someone who isn't sober, it's usually advantageous to tell them that you are sober so that they can respect it accordingly.
Speaking From ExperienceBack to Top
Jennifer C A criminal justice student who lived in standard dorms despite her addiction and did not relapse.
"My parents were very apprehensive about me living with students who would be partying and drinking and possibly using drugs too. If I'm being honest, I was too, but I decided to apply for standard on-campus student housing anyway. I didn't want to reveal that I was sober to my college by asking to be housed with another sober student, as I saw going to college as a fresh start. Retrospectively, that may have been a mistake.
Though I managed not to be tempted to the point of relapse, it wasn't easy, and looking back now I can see that the worry of whether I could still revert to my old ways was very stressful. I often would feel anxious or uncomfortable when my friends were getting ready to party. If I stayed in my room I could hear them laughing and drinking, and if I went out and did something else, I felt left out when I couldn't laugh about their crazy night with them the next day. Whether I felt envious for not being a part of it or pleased with my strength for staying away just depended on my mood. I think the best way to describe how I felt is that I never truly felt safe.
I don't regret my decision, and I am proud of myself for getting though college without separating myself from 'normal' college life, but I still don't think I would recommend it to other sober students. Don't get me wrong, I had A LOT of fun and I made sober friends through my 12-Step Program and groups on campus but home life was challenging. I feel lucky that I didn't relapse and that I had such a great support network. It was only my reluctance at wanting to disclose my addiction that stopped me asking to be paired with another sober student; I would urge others not to take the leap. If you feel you need to or could benefit from living with other sober students, ask."
Tom B A physics major who also lived in standard dorms. He took time off after relapsing in his first semester, but did not drop out. He returned to college after a month and lived with a sober roommate. He is now in his third year.
"Although I knew I could ask to share a room with another sober student, I didn't. I knew that I would experience temptation in my life regardless, so I had to get used to it. I didn't want to shut myself away from the normal college experience, either. I wanted to be part of the fun and games, even if I wasn't drinking.  Unfortunately I overestimated my own strength at that stage. I just wasn't ready.
I was also just very young. You always think you'll be able to say no to things but the reality is harder. My roommate was a great guy, but he also partied hard. People just can't understand the power of addiction if they haven't experienced it themselves, and he hadn't. Just being in the presence of someone who was hitting it hard helped normalize substance use, which proved to be detrimental to my recovery.
One night I was lured by the 'normality' of having a couple beers and it went downhill from there. Luckily, my college was very understanding. They allowed me some time off to go home and get myself together, and when I returned, I decided that sober housing would be the most sensible step to take. My college didn't have sober-only housing but they put me in touch with a nearby sober living home.
I still felt a bit unsure to start with, but my worries disappeared when I realized the other students there were just like me – just normal guys and girls! We had a lot of fun together, and it was really nice being in the same boat and knowing that someone wouldn't start suddenly smoking pot or drinking. Because it was so close to my college, it was easy for me to still see my non-sober friends and spend most of my time on campus. I still had my old friends, but I also had a retreat where I could separate myself if it got too much. That was what I didn't have before and made a huge difference to how secure I felt."