There's no getting away from the fact that drink and drugs are widespread at most colleges. The issue of peer pressure WILL arise at some point, and underestimating the anxiety of wanting to fit in is detrimental to recovery. Away from home and your family and friends, this pressure can be even more palpable.
Step #1: Find Your People – Source a Support System
Back to Top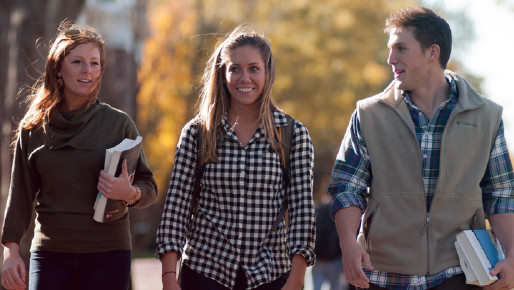 Finding other sober friends is hugely beneficial
Image Credithttps://www.flickr.com/photos/ucentralarkansas/6499720723/sizes/l
Here is where it gets really important to have a support group on campus. Seeking out the recovery programs on campus can singlehandedly be the most beneficial thing you can do to ensure your success at college. The sense of community it will give can serve as a fraternity system too, so when everyone else is binge-drinking, partying and playing all-night beer pong at their frat parties, you'll have your own group of friends to have fun with. Don't think you're missing out; you'll be having fun, just a different kind of fun.
If your college doesn't have a formal, established recovery program there will still be likeminded people who understand your position and want to make contact. Another reason to consider disclosing your addiction to your college before you arrive is so that they can help put you in touch with other sober students. The communities on campus will put you in touch with other people your age who have already made the transition to sober college living. And, if you join these communities, you can be there to help new students who are also looking to have fun and stay sober while in school. You absolutely need support, so don't be afraid to take initiative in seeking it out. The stakes are too high not to.
Don't forget that you don't just have to meet other sober students to find friends who aren't interested in getting drunk and partying all the time. Bear in mind that people who are passionate about sports and are dedicated to their training are unlikely to party as much as others; similarly, students with a hobby they are serious about are less likely to be interested in getting drunk all the time.
Step #2: Stand Your Ground
Back to Top
Sooner or later, other students will ask why you aren't drinking, or try to offer you a beer on the notion that "just one" can't hurt. While it can be tempting to go on the offensive if you are being challenged about something as important as this, it is important to remember that a lot of people may not understand what it is you are doing and you do not need to defend yourself.
Stand your ground as firmly, yet calmly, as you can. Remember "No, thank you" is a full sentence. Whether you want to be open with other students about your addiction is your prerogative, but it can help others to understand your choice, and also often means they will back off with the pressure. Once your friends can see you're having a good time while staying sober, they will be less likely to encourage you to drink.
Remember who you are and why you are sober. Other people's opinions shouldn't factor into it, and if people are giving you a hard time about staying sober then perhaps they're not the right people to be surrounding yourself with. For every one person who pressures you to drink, there's another who will support you and understand. Choose your friends wisely.
Tips: Six Quick Ways to Avert Peer Pressure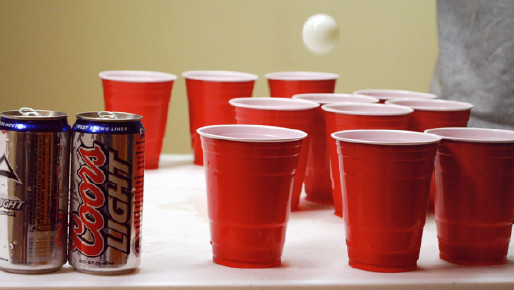 Parties that are centered on drinking may be best avoided
Image Credithttps://farm4.staticflickr.com/3540/3327115153_3b544af09e_b.jpg
While you can't do much to avoid the issue of peer pressure creeping up at some point, (aside from locking yourself inside a sober dorm (which we don't recommend) there are several steps you can take to avert the issue from arising in the first place. Have a look at six quick tips:
Be the designated driver whenever possible. If your friends have a car, offer to be the one who stays sober. They'll be grateful they can drink and won't put pressure on you to do so, too.
If you are sporty or belong to any college teams, tell people you are staying sober to capitalize on your athletic prowess. No one can deny how detrimental a hangover is to any performance.
On campus, when you're hanging out with friends, try to spend time in clubs, cafés or coffee houses that don't sell alcohol. Many student union-based coffee houses or cafés are entirely free from alcohol but still offer an enjoyable and buzzing social atmosphere.
At a party or social gathering, always have a (non-alcoholic) drink in your hand. Whether it's a cup of soda or a bottle of iced tea, other people will be less likely to bother you to drink if they can see you already have one in hand.
Go to parties and bars where there is more than just drinking. Going to a "kegger" where the only activity is drinking may be uncomfortable and, if you are just standing around, people are likely to come up and try and get you to "have fun" and have a drink. Try to find out if the party will have a DJ or a pool. That way, you won't find yourself just standing around alone.
If all else fails, be loose with the truth. Yes, when it comes to addiction, honesty is almost always the best policy, but if you are being challenged to the extent you feel anxious, reaching for a little white lie won't hurt. Whether you say you have to study in the morning, work at your part-time job or visit your grandparents, if it helps people accept that you're not drinking, it's a good thing.
Speaking From Experience
Back to Top
Jennifer C: Law student Jennifer tells us how she handled peer pressure.
"Because I lived in dorms with students who weren't sober, peer pressure was all around me. I think it's essential to remember that peer pressure can be very subtle. Most of the time, I don't even think the other students realized they were putting pressure on me; in fact, many of them would be mortified if they knew I felt they had. It isn't always a case of someone actually coercing you to drink – sometimes, just a casual "Are you sure you don't want a beer?" can provide the same effect.
I shared a room with a girl who liked to party – let's put it that way! That could have been an absolute disaster, but thankfully, because I recognized that early on, I realized I had to be honest with her. She was incredibly supportive, so in that sense, I was lucky. I was open about my past with a couple of my other closer friends too, and that was actually invaluable in helping deflect peer pressure; because there were a few people who knew the truth, whenever anyone pressured me, they would support me.
Having non-sober friends who could support me was so important
If people want to keep quiet about their addiction, I'd still strongly advise them to confide in their roommate at least one close friend they trust, especially if they are living in standard dorms and not sober accommodation. Your sober friends and support network are so helpful but they won't always be around. Having a non-sober friend who knew about my sobriety and who could support me was so important for me."
Tom B: Again, we speak with Physics student Tom about he dealt with peer pressure.
"Peer pressure was definitely a big part of why I relapsed. Though the onus was on me, of course, I don't think it would have happened had my friends not drank in front of me so much or told me that I was "acting like an old man." It was my fault for not being honest with them. When they initially asked me why I didn't drink, I just said that I didn't like it and suffered from excruciating hangovers.
I grossly underestimated the power of peer pressure and I think many young people tend to minimize it, or think that it won't affect them so strongly. Just being in the presence of people who are often drinking normalizes it. You start to rationalize; you start thinking that maybe just one drink isn't a big deal; you think things will be different this time around. You see your friends drinking and taking drugs without any serious consequences and start to question whether they're really as bad as you remember.
Because I'd gone home for a few weeks after I relapsed, most of my close friends found out about my problems with addiction and were very supportive upon my return. For my second time around, I had tactics in place. When we were at parties, for example, I'd usually always have a glass or bottle of water in my hand. In that environment, most people assumed it was vodka or gin so didn't try to get me to drink.
Events where I knew there would be drugs, I tried to stay away from. Don't make the mistake of thinking it's only the wild students who experiment with drugs other than pot – harder drugs like MDMA and cocaine were taken by all kinds of students at my college. There's not really a "type," so bear that in mind when making new friends. It doesn't have to be a deal-breaker either. If you get on well with someone, but later realize they use drugs recreationally, you don't have to entirely separate yourself from them – just don't party with them without someone there to support you. Know your own strength and resolve. I didn't, and that was my mistake."