Partying is part of college life and there's no reason to avoid it entirely. Even if you stay away from the wilder parties, sooner or later there will probably come a time when YOU want to party. Whether you aced that mid-term or just want to celebrate school being out for the holidays, it's important to be able to let your hair down and enjoy the social side of being at college.
Always remember WHY you are sober
When it comes to partying, it's essential for you to plan in advance how you are going to celebrate any successes. How are you going to reward yourself in a meaningful way? If you don't feel rewarded after an achievement or a long period of hard work, you may begin to feel bitter at not being able to raise a glass to your success. This is especially dangerous for recovering addicts; because they are often amazed with their progress, they think they can handle having 'just one' drink. Always remember WHY you are sober.
In addition, though many people think tough times are the most common time to relapse, good times can be just as tempting. As an addict, the link between substance abuse and reward becomes profoundly entrenched, and even if you are now sober, it can be hard to shake. This is why planning ahead is imperative.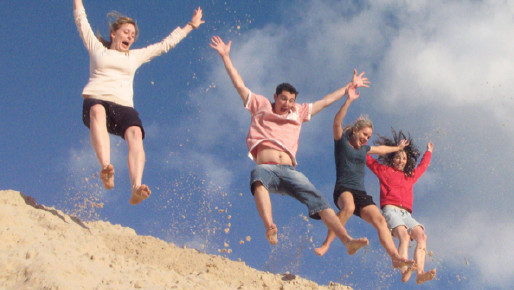 There are many fun ways to celebrate that don't involve drinking
Image Credithttps://www.flickr.com/photos/306/453957521/sizes/l
Section 1: Sober Ways to Celebrate
Back to Top
Alcohol is incorporated into most parties and celebrations in America, and this can cause people who are sober to question whether they'll still be able to celebrate without drinking. The answer is, of course you can – and the celebration can actually be even more rewarding as a result.
Go to a concert. Arrange to see your favorite band with friends. You don't need drugs or alcohol to enjoy the music and have a good time.
Go out to eat. Dinner with friends is always fun, and if you're not drinking you can always spend the money you save on going to a slightly more upscale restaurant.
Go to a live sports game. Who says you need drugs to get a buzz? The electric atmosphere at sports games is contagious, and you can always make it more exciting by placing bets with friends.
Have a barbecue. Everyone loves a barbecue when it's warm. Grab some burgers, buns and ribs and make a big bowl of non-alcohol fruit punch and you're good to go.
Give back. Giving back to someone or something that's helped you is a great way to celebrate, and is also very therapeutic. Volunteer in the community, or treat someone who has helped you.
Host your own party. Themed parties automatically revolve around something other than booze; throw in some fun party games that require thinking and a clear head and some non-alcoholic cocktails and you're winning. Make sure you let people know you will not be serving alcohol in advance so they know not to expect or bring it.
Section 2: Remember to Reward Yourself
Back to Top
People who drink usually become acclimatized to rewarding themselves with alcohol: if they're celebrating, they raise a glass of champagne; if they've had a long, hard day they'll reach for a glass of wine. Sober people must develop new traditions to replace the old ones. Recognizing personal success is very important for those in recovery, and being proud of your achievements, as well as receiving praise for it, is beneficial in reinforcing why you are sober. Would you have aced that exam if you were still drinking or using drugs, for example? It's doubtful. Here are some ideas for sober ways to treat yourself after an achievement:
Stock up on sparkling cider. There's no denying that having something sparkling in a champagne glass instantly makes you feel festive. Purchase some drinks that you'll keep for special occasions (there are many delicious non-alcoholic cocktails you can make) or get some Martinelli's Sparkling Cider and save it!
Treat yourself. Do something that you rarely do that makes you feel truly special. Spend the day at a spa, have a massage, a facial, a haircut, a shave. Pamper yourself; you've earned it.
Indulge your senses. Whether you want to try out a fancy new restaurant and enjoy a decadent meal or would rather buy a luxurious new fragrance, think about the ways you can spoil your senses.
Buy a new outfit, accessory or gadget. Whatever you've been fantasizing about or swooning over in the stores, now's the time to treat yourself to it. You've saved enough money not drinking, after all.
Have an adventure. This can be whatever you want; it just needs to be fun. Explore a neighboring city, be a tourist in your own town, enjoy a boat ride, go to a new event. Change your routine.
Section 3: Don't Be Afraid To Party
Back to Top
This one depends entirely on you. Only you can decide if you're recovered enough to party with non-sober people in an environment where alcohol will be abundant. The important thing to remember is that if you do feel that you're up to it, don't shut yourself off from parties and other social events. You don't have to reject party invitations altogether, but instead, be choosy about which ones you attend or find a sober or supportive friend to go with you.
If you decide that you want to attend non-sober parties, be sure to check the tips for averting peer pressure in the previous chapter. Here are some more party pointers to help you out:
Locate the non-alcoholic drinks as soon as you arrive. If you don't want to be hassled about not drinking, pretend as though you are: if everyone is drinking rum and coke, just have coke – no one will know. If people are drinking vodka and orange juice, just have the juice.
Sip your drink slowly. Chugging your juice or water may mean that people who are trying to be 'helpful' start ordering or pouring you more drinks.
Bring a sober friend with you. If you can't do that, locate the people at the party who you know don't usually get very drunk and hang out with them or, ask a supportive friend to go with you.
ALWAYS keep an eye on your drink. The likelihood of getting spiked is low, but not non-existent. Don't let it happen; don't move away from your drink even for a few seconds.
If you have any thoughts of relapsing, leave the party. It's not worth it. Find a meeting in the area or call your sponsor or a sober friend on campus or at home. Talk to someone about how you are feeling. Chances are they have gone through something like this too.
Set a time to leave – preferably before any drunken debauchery begins. Even if you're only there for an hour or so, you'll still be able to catch up with friends, have fun and enjoy the atmosphere.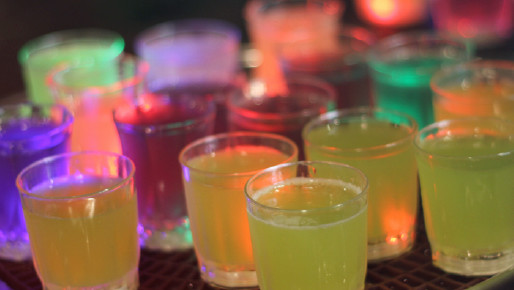 Parties that are centered on drinking may be best avoided
Image Credithttps://farm8.staticflickr.com/7054/6774752302_a2180e5a91_b.jpg
Speaking From Experience
Back to Top
Daniel P History major Daniel, who is now in his senior year, never relapsed despite temptation.
Plan ways to reward yourself that don't involve drinking
"The desire to drink to celebrate really took me by surprise. In the past, I would hit the bottle when I was depressed or worried about something. It was a way for me to escape from my problems and not have to face a reality I didn't want to be in. So when I went to college, that was what I worried about – not relapsing because I was happy or had just aced an exam! But that was what happened.
I very nearly relapsed at the end of my first year. After many months of cramming and worrying, school was out and everyone was buzzing. It felt like everyone wanted to really let loose, and at college, the way a lot of people do that is through drinking. I felt so proud of what I had achieved, and so caught up in the feelings of excitement that I wanted to let loose myself, just like everyone else.
Thankfully, I had the sense to call a friend from home and tell them how I felt. They were understanding, but helped me remember why I was sober. How could I let all my hard work that year be in vain if I relapsed on the last day of school? I called my parents and they said pretty much the same thing. They also promised me I would be rewarded in a different way, and that when I got home we'd look at getting me a car, which they did. My advice would definitely be to plan for that before you almost relapse! That way you also have something to look forward to as well."
Peter J French language student Peter relapsed his first year. He enrolled again the next year and is now in his third year of study.
"The best advice I can give about partying without relapsing is plan, plan, plan. Think about things to do that you'll enjoy and look forward to that don't involve drinking. My mistake was never really thinking about how I would celebrate. I didn't plan a spring break vacation and when the break came around I went to a party on campus. Big mistake.
It was no different to other non-sober parties I'd attended before with no problem, but the atmosphere was what threw me off. Everyone was so excited and happy and it was infectious in a way. I started to think that because I'd made so much progress, I really would be able to have a few beers without having twenty or going to look for cocaine. It was a big wakeup call.
It may sound silly, but if you're into sports that can be a huge help. Exercising is a great way to release tension but it also makes you feel incredible afterwards. After my relapse, I became a lot more active, and whenever I would feel frustrated that I wasn't at some wild party, I would go for a run or go swimming, and hit it hard. It may not work for everyone, but it certainly worked for me."