Alcohol abuse in young adults is steadily increasing, even more so for those approaching the legal age of 21. With the brain not fully developed until age 25, the threat of alcohol addiction is even more dangerous, making it crucial to identify addiction and understand the treatment options available.
We cover the following topics in the guide below. Click to jump straight to the one you want to know more about:
---
Identifying Alcohol Addiction In Young Adults
The legal status and prevalence of alcohol can make it difficult to gauge and monitor the severity of a young adult's alcohol abuse. Typical signs of alcohol addiction in young adults include:
Binge drinking
Declining performance in school, work or extracurricular activities
Violent outbursts or criminal behavior
Unexplained mood changes or general decreased interest in hobbies
---
Types of Alcohol Rehab Programs & How Long They Last
Depending on the severity of a young adult's dependency, alcohol addiction may require several steps in treatment, including any of the following:
Detox
Highly recommended as alcohol withdrawal can be painful, and in some cases deadly
May use medication-assistance to make the process more comfortable
Can range from a few days to several weeks
Learn more about our approach to alcohol detox
Inpatient Treatment or Residential Treatment
May last several months to several years and may be expensive due to cost of living and amenities
Is often staffed 24/7 to respond to crises as they arise and is most effective as young adults have time to learn, then practice coping skills to prevent relapse
May be difficult as it requires drastic lifestyle changes to family, employment, and other areas
Learn more about our inpatient alcohol rehab for young adults
Outpatient Treatment Programs
Regularly meet with groups or therapists for recovery needs
Timeline can vary depending on individual needs, but may not be as effective as inpatient treatment because access to enabling peers and environments is not restricted
Learn more about outpatient treatment as a step in recovery
Sober Living & Aftercare
No definitive timeline – as long as they abide by community rules, residents may stay as long as they would like
Sober community of peers who can continue receiving therapy while working or going to school
Transitional step from recovery into the real world after a young adult has completed treatment
Alternative Programs & Holistic Treatment
Explores activities that provide therapeutic benefits and may evolve into hobbies and interests that support sobriety
Used in conjunction with traditional therapy approaches, but does not function well as a stand-alone treatment option for addiction
Learn more about the alternative and holistic features of our program
Wilderness Therapy Programs
---
Characteristics of Successful Alcohol Rehab Programs
The success rate of treatment varies by individual. However, in our decades of experience, we have found that there are a number of factors that increase success in helping young adults reach sobriety. Consider the following when looking at options:
Age-Specific Alcohol Treatment Programs
When discussing alcohol addiction, generation-specific topics are easier to discuss in age-specific groups
Young adults are more likely to relate to each other in their struggles with alcohol, and combat feelings of isolation together
Learn more about the benefits of our rehab for young adults
Long-Term Programs
Long-term treatment removes a person from enabling peers and environments where they might be tempted by the presence or accessibility of alcohol and allows them to focus solely on their recovery
While more expensive, studies show the longer a person remains in treatment, the less likely they are to experience relapse
Long-term treatment may require a person to be separate from family for a longer period of time, but helps them develop life skills to maintain sobriety.
Learn more about the structure of our long-term treatment program
Alcohol Treatment With Both Gender-Specific & Combined Gender Elements
Gender-specific programs allow for discussion about topics that may be difficult to talk about in mixed groups
Programs that incorporate combined male and female elements help prepare young adults for the real world as they must learn to maintain sobriety while interacting with the opposite gender
Learn more about the male-specific and female-specific elements of our program
Treatment Away From Triggers
Choosing a treatment center that is far away from home can remove the risk of a person returning to enabling peers or environments where alcohol is accessible
While young adults are far away from family and friends, they're able to focus on sobriety with less distractions
Mental Health Focused Treatment
Dual-diagnosis treatment ensures mental health conditions are addressed equally to addiction to reduce the risk of relapse
Treatment also focuses on improving quality of life for clients through nutritional programs and therapies designed to address unique needs
Learn more about our dual-diagnosis approach to treating alcoholism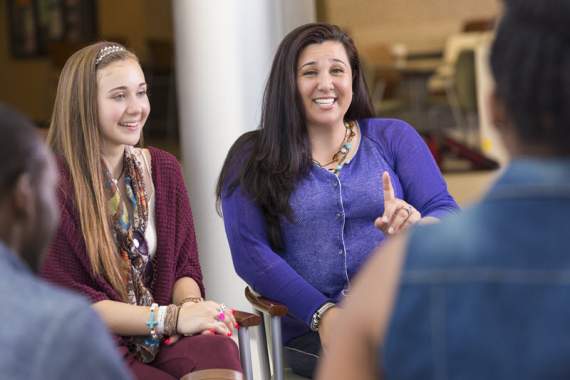 ---
Intervening in a Young Adult's Alcohol Abuse
Before treatment can work for a young adult, they must acknowledge the issue and want to seek help. An intervention can help convey the importance of treatment to an alcoholic. To improve an intervention's success rate, explore our tips for leading an intervention with your child.
---
The Cost of Alcohol Treatment Options
You may have difficulty finding the actual cost when searching for an alcohol treatment program because prices vary greatly based on location, size of the facility, and the level of care. Inpatient programs tend to be more expensive than outpatient programs because of costs associated with housing, food, staffing, and other amenities. However, there are ways to make it affordable.
Many treatment programs work with insurance providers to cover at least some of the costs of treatment. Depending on your coverage, you may be able to have a substantial amount paid for through insurance. Some programs even offer low or no-cost options or a sliding-scale fee that is dependent on your income. It's smart to verify your insurance with every program you're considering to get familiar with your options.
Be aware that while searching for a treatment program you may find fraudulent programs selling themselves as legitimate establishments, while actually pocketing money from services rendered and only providing "treatment" as long as they can turn a profit. You can identify these programs by asking whether or not the location and its staff are licensed, visiting the facility and meeting with staff or family members.
---
Sober College's Alcohol Rehab For Young Adults
At Sober College, young adults are given all the resources and tools necessary to overcome their alcohol addiction safely and comfortably among peers who share the same goals.
Even if you're unsure if a young adult is addicted to alcohol, we can help– call our admissions team at 800.465.0142 or click here to contact us and receive a response within 24 hours. Continue reading to learn more about our unique rehab for young adults struggling with addiction.
Resources:
https://www.rehabs.com/about/insurance-for-addiction-rehabilitation/
http://hms.com/preying-on-the-vulnerable-sober-home-fraud/