Sober College's treatment options for alcohol abuse or addiction are vast because we understand that every individual has different needs when recovering. Clients in our drug and alcohol rehab center are provided with assistance physically, psychologically and academically.
Individual and group therapies provide outlets for clients to express themselves and learn how to cope with their emotions. In addition, these therapies help clients in building new, healthy relationships with others and assist in mending relationships that may be damaged by alcohol abuse. The sober community provides a strong support network throughout the recovery process and can alleviate stress when reentering the world with a new, sober mindset.
…Read More
Sober College utilizes the 12-step program in treatment to help clients heal from the damage caused by alcohol abuse and develop coping mechanisms to prevent relapse. Following the 12-step model gives our clients a concrete plan to follow in order to stay on track with recovery. Sober College ensures clients are provided with the tools they need to address each step at their own pace and provides support to help them overcome challenges. In addition to these proven methods, our individualized therapies are effective in helping our clients obtain and retain their sobriety. Our therapies not only help young adults achieve sobriety, they also prepare them for life after treatment and help reduce the risk of relapse.

Show Less.
Why Choose Sober College's Young Adult Alcohol Rehab Center?
Sober College understands the unique needs of young adults facing addiction. As an age-specific alcohol rehab, young adults are provided with therapies that address the unique experiences and challenges they face in recovery. Clients are supported by a team of professionals that work closely with them and their families to determine the needs of each individual and how to provide the best care possible throughout their stay. Clients of Sober College are successful because we help them learn the tools and build the confidence they need to maintain a healthy and happy sober lifestyle.
Although it can be difficult

to identify alcoholism because drinking is widely accepted in our culture, some young adults are unable to manage their drinking and need help getting their lives back on track.

There are varying degrees of alcohol abuse,

but even in instances where abuse is in early stages, it is important to intervene and assist loved ones in receiving treatment at a qualified alcohol rehab center.

Sober College utilizes

traditional and nontraditional methods to treat alcoholism in young adults including detox, 12-step method and individual assessments.
Questions about alcohol addiction treatment for yourself or a loved one?
We can help. Call 800.465.0142 to speak with an admissions counselor.
About Alcohol Addiction and Alcoholism
With popular media glorifying binge drinking and alcohol consumption, alcohol abuse is an easier trap to fall into than in previous years. Many do not recognize the signs and symptoms of addiction because of attempting to disguise binge drinking as light-hearted fun. Alcohol is a legal substance and easier to obtain than any illicit substances that are abused. The damage alcohol abuse can inflict on an individual is just as dangerous (or deadly) as drugs and the effects can be irreversible when left untreated. Young adults face a unique set of obstacles that differ from adults due to generational experiences and must be addressed in order to most effectively combat the influences that cause addiction to develop. We understand the importance of providing individualized treatments to those who struggle with addiction in order to help them develop the life skills and coping mechanisms needed to succeed in maintaining a sober lifestyle.
Identifying Alcoholism
In some cases, alcoholism is easy to identify due to frequent intoxication, but in other cases, some individuals are good at hiding their use. While it can be difficult to identify an alcohol problem, there are several signs to be aware of if a problem is suspected.
Alcohol negatively impacts a person's life slowly over time.

As alcohol abuse begins to take its toll, individuals may begin to have trouble keeping everything in order. They may begin to miss work, school and other commitments because of drunkenness or hangovers. When alcohol begins to dominate someone's life, they may begin to isolate themselves from loved ones in order to hide that a problem is developing.

Alcohol abuse can cause emotional ups and downs.

Alcohol can also cause mood swings; individuals can change from happy to depressed or angry in a short amount of time. Often this may occur when they are nostalgic or if they feel as if their present life is worse. Alcohol abuse can be stressful to hide and reminiscing about better times or feelings of negativity about the present or future can cause a never-ending emotional roller coaster.

Alcoholics may avoid situations where they cannot use alcohol.

Extensive alcohol abuse can cause many negative withdrawal symptoms. Without drinking, those with alcoholism may begin to feel nausea, sweating or anxiety. They may avoid situations where consumption of alcohol is not acceptable in order to avoid being overcome by these symptoms.

Those who abuse alcohol may physically hide it.

In addiction, in order to create the illusion that an alcohol problem does not exist, some may resort to physically hiding evidence of it. They may even go so far as to sneak alcohol into places where it should not be in order to feed the addiction.

Alcohol can begin to take priority over everything else in life.

Their sense of judgment may be frequently distorted, causing individuals to put themselves into dangerous situations. They may drive while under the influence or engage in other risky behaviors because they cannot control themselves.

Frequent consumption of alcohol leads to increased tolerance.

As tolerance builds, they require more in order to experience the same effects. Those who struggle with alcohol abuse often have high tolerances that lead to consumption of large amounts of alcohol.
Telltale Signs of Drug Abuse Quiz
If a friend loved one is struggling with substance abuse it can be difficult to spot the signs. This is why we created the Telltale Signs of Drug Abuse Quiz. Take 5 minutes to answer a few yes or no questions and know if you may want to seek help through a drug addition treatment program for you family or friend.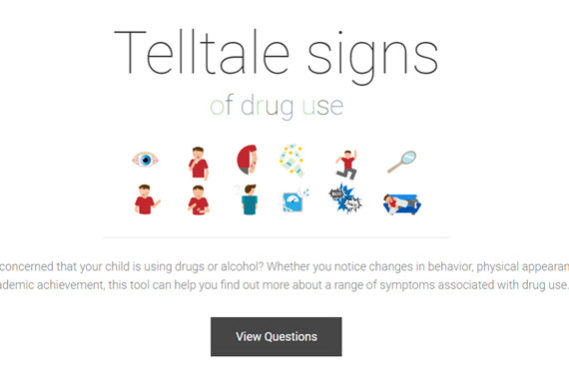 About Our Alcohol Rehab Center: Methods of Addressing Alcoholism
Detox is often the first step in treating alcohol abuse; it often occurs under medical supervision and can last for several days. Although Sober College does not offer detoxification services onsite, we are able to assess and arrange for detox both prior to and after a client enters our alcohol rehab program. During detox, all traces of alcohol are removed from the system. Withdrawal symptoms can vary and some may be severe; for example, some symptoms of withdrawal also commonly occur with hangovers and include nausea, headache, diarrhea and anxiety. In some cases, more severe withdrawal symptoms may present themselves, such as high fever, seizures, disorientation and heart palpitations. For those who are extremely heavy drinkers, medical supervision is critical in making sure the detox process is safe. Medical detox provides individuals with medications that can minimize the effects of withdrawal symptoms and help individuals stay comfortable throughout the process.
Sober College provides alcohol rehab through traditional and non-traditional methods. Using several different treatment methods, clients develop a well-rounded and balanced sobriety and prepare themselves for life after treatment. Traditional methods of individual and group therapy alongside a 12-step model help young adults develop themselves and provides them with a support network to aid them in their recovery. Therapy settings allow clients to work through their own emotional well-being and develop their understanding of relationships and how to interact with others. In addition to these traditional settings, we provide innovative therapies that allow young adults to work on these same skills in non-traditional environments. By addressing emotional well-being in non-traditional environments, the lessons they learn are put into real-world settings to further emphasize the importance of transitioning these skills into their lives after treatment.
Alcohol rehab requires special attention as many who struggle with addiction have co-occurring disorders as well. Sober College provides trained staff that can address any needs of an individual as they move through recovery. We help our clients detoxify from any substances and provide them with a variety of treatments that enable growth and development. Our ability to treat alcohol addiction and any co-occurring addictions and disorders allows us to help young adults more effectively achieve sobriety and maintain it long-term. By diagnosing clients correctly and uncovering their needs, our alcohol rehabs provide treatment options that captivate and motivate young adults. Coupling our innovative therapies with age-specific treatment, long-term sobriety is more successfully managed.
Sober College's alcohol rehab center is individualized to ensure clients are provided with the most effective treatments based on their history and needs in maintaining sobriety. An initial assessment is conducted at the time of admittance to determine the need for detox services and history of abuse as well as biological and environmental factors that may have contributed to the development of alcohol dependency. By taking into account individual factors, clients of Sober College are provided with a treatment plan that addresses each individual's needs throughout the recovery process.
Do we sound like a good fit for your son or daughter? Feel free to take a look at our facilities or give us a call at [number] or fill out a contact form and we'll get back to you within 24 hours.
About the Addiction Treatment Programs We Offer
*NOTE: We are not a licensed mental health or psychiatric facility*
Sources
http://www.treatmentsolutions.com/six-ways-to-identify-an-alcoholic/