According to recent reports, the number of college students meeting the criteria for Alcohol Use Disorder is approximately 20% nationwide. Fortunately, more young adults than ever have the potential to benefit from curbing alcohol addiction through effective treatment. While the causes of alcoholism vary, available treatment resources have increased over recent years as well.
The Causes of Alcoholism: Your Upbringing
Alcoholism is one of the worst types of addiction because it can easily become a learned behavior. Many individuals currently struggling with an alcohol addiction grew up in a household where one or both of their parents suffered from alcoholism. Because of this substance's ubiquitous nature, constantly being around abusive behavior makes it easier for children to develop harmful habits.
Additionally, research has proven alcoholism to be genetic to a substantial degree. While researchers have been unable to isolate a specific gene related to alcoholism, children with parents who suffer from alcohol abuse are 25% more likely to suffer from alcoholism themselves at some point.
Causes of Alcoholism: Adhering to Societal Norms
In addition to a troublesome home life, social surroundings may also be one of the causes of alcoholism. College binge drinking has become widely accepted as normal behavior in the United States. Nearly 2,000 students between the ages of 18–24 die each year due to unintentional, alcohol-related injuries.
Alcohol Use Disorder may present itself with any of the following characteristics:
Consistently drinking more than you meant to drink
Strong alcohol cravings
Continuing to abuse alcohol in spite of harmed personal relationships
Avoiding activities you used to enjoy
Failing to cut back drinking on your own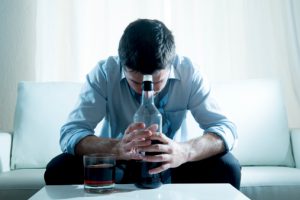 Unaddressed Mental Health Disorders Are Likely Related to Many of the Causes of Alcoholism
According to a National Institute on Alcohol Abuse and Alcoholism study, many clinicians found that heavy drinking may be the result of different psychiatric syndromes. Nationally, young adults ages 18–24 show some of the lowest rates of seeking assistance when they feel their mental health is in jeopardy. For many individuals, self-medication often transforms into alcohol abuse. Furthermore, this patterned abuse has a high likelihood of developing into an addiction.
Sober College in Los Angeles, California, is a unique rehabilitation facility fully committed to helping young women and men discover sobriety. With an age-specific program focusing on the unique needs of young adults, Sober College can provide individualized, comprehensive treatment.
Sober College focuses on treating the whole person while ensuring that young adults in treatment have the ability to pursue higher education. With long-term treatment options that can help individuals in need to discover their passion, Sober College may be the perfect facility for you or a loved one.
Have questions regarding the causes of alcoholism for yourself or a loved one?
Call 877.634.7849 to speak with an admissions counselor.