Diet pills have become popular among young adults in college– with every one craving a slim look. An unfortunate consequence is diet pill addiction.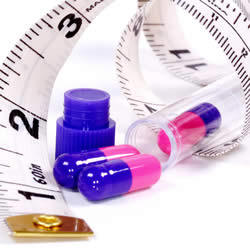 With more than 60% of America getting fatter by the day, diet pills have boomed into a multi billion dollar business. How effective these drugs are still remains a question even today but they are definitely associated with heart problems, health related issues, and in extreme cases have resulted in death.
Diet pills are available in many ways such as prescription drugs, over-the-counter weight loss pills, and the latest herbal supplements. Different diet pills work differently depending on the ingredients they contain. Some weight loss pills may contain appetite suppressants like phentermine, affecting the appetite-regulating region of the brain, called hypothalamus. Mainly they work by blocking out certain chemicals like norpinephrine, serotin and by creating a false impression of a full meal. Thus you tend to eat less. Recent studies have revealed that these diet pills work only when assisted with a certain amount of lifestyle changes.
Understanding Diet Pill Addiction
Many of these weight loss diet pills such as Orlistat, Xenical work by blocking the fat absorption. If more fat is consumed in the diet, the fat is blocked from being digested and is directly excreted. You may experience loose stools and often cannot control your bowel movements. Another drug quite popular is Endocannabinoid, which is very similar to the active ingredients present in marijuana, and has the same high effect on young adults taking the stimulant drugs. Another popular stimulant is Acomplia, which when consumed by obese people was successful in helping to shed 10% of body weight, and keep it off for almost two years.
However, these stimulants are not without negative side effects. Diet Pills containing fen phen and ephedra are similar to amphetamines. They dramatically increase risk of heart attacks and stokes. It was found that people taking these drugs suddenly developed heart problems. The FDA soon banned over the counter drugs containing ephedra such as Acutrim, Dexatrim and soon began to remove ephedra from diet pills.
Even though diet pills are popular with young adults, prolonged use takes its toll and often people develop other physical problems such as erratic heartbeat, sweating, high blood pressure and diet pill addiction. Nothing is better than a healthy life style which includes diet and exercise.