Hallucinogens are mind-altering drugs that distort an individual's perception of reality.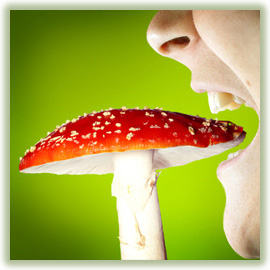 The compounds are often found in plants and mushrooms and act on a person's Central Nervous System (CNS) causing them to hallucinate. Hallucinogens are not limited to one particular drug and actually make up an entire category of substances. The drugs that fall into this category are highly addictive and can potentially lead to severe psychological or physical dependence.
Hallucinogens generally fall into 1 of 3 categories:
Psychedelics: LSD, "magic mushrooms", peyote and PCP (also known as Angel Dust)
Dissociatives: Ketamine and laughing gas
Deliriants: Benadryl and Dramamine
Hallucinogens are abused in a variety of ways. For example:
LSD is sold in tablets, capsules and liquid form. The liquid form is often added to a decorative, absorbent paper and ingested.
Peyote is part of a cactus cut and dried. It is often chewed or soaked in water to produce an intoxicating drink. Some even prepare it in tea because the substance is so bitter.
Mushrooms are taken orally. They are often brewed as tea or added to other foods because of its bitterness.
PCP is a white powder that is soluble in water or alcohol and has a distinct, bitter taste. It is often mixed with dyes and sold in capsule form, smoked, orally ingested or snorted. Sometimes it is mixed with mint, parsley or marijuana.
Signs & Symptoms of Hallucinogen Addiction
Under the influence of hallucinogens, individuals may hear sounds, feel sensations and see images that do not really exist. They may also experience sudden, intense emotional swings. Often, hallucinogens can produce "bad trips" which can cause individuals to mutilate their own bodies or commit acts of violence. Often, bad trips will cause people to have flashbacks later in life that suddenly place them back into the grips of a terrifying trip for minutes or even hours.
Because the drugs impact the Central Nervous System, individuals are at risk of developing life-long complications. The side effects of hallucinogens vary from use to use making them incredibly unpredictable and dangerous to both the individuals abusing the substance and those around them.
Individuals who abuse hallucinogens may exhibit any of the following symptoms:
Dizziness
Paranoia
Tremors
Hallucinations
Violent/aggressive behavior
Sudden mood changes
Psychosis
Acute pain
Insomnia
Hallucinogens produce a number of side effects that can negatively impact an individual for the rest of their life. Many hallucinogens can damage the brain and enable the development of mental health disorders. In some cases, hallucinogens have been known to cause seizures, coma and even death.
Many who abuse hallucinogens become physically and psychologically dependent on them. Individuals may begin to abuse the drug regularly believing it is the only way they can manage to make it through the day.
Are you or a loved one struggling with hallucinogen abuse or addiction?
Call 800.465.0142 to speak with an admissions counselor.
Hallucinogen Addiction Treatment
While hallucinogens are not considered an addictive drug, they can easily build dependencies that make it difficult for users to stop. Treatment of addiction to hallucinogens is primarily psychological because many of the withdrawal symptoms are associated with the Central Nervous System. Individuals under the influence of hallucinogens are an incredible danger to themselves and those around them. It is highly recommended that those under the influence of hallucinogens are kept under medical observation to monitor their physical and mental state until the effects of the drug have worn off.
Dual-diagnosis is an important component of treatment because of hallucinogens effects on the brain. Many already have or develop co-occurring disorders as a result of drug abuse and require special attention in addressing their needs. By helping young adults develop emotional intelligence and healthy coping skills, they are able to better resist temptation and the triggers that may spark relapse. Experiential therapies are also utilized to help young adults gain confidence in themselves while developing interests in activities outside of drug use. Developing interests in activities that are enjoyable without the assistance of hallucinogens help young adults find delight in sobriety and build a desire to maintain it.
Individual and group therapies work concurrently with dual-diagnosis to help individuals identify what may have led them to begin abusing hallucinogens and how to combat those triggers in the future. Because of the effects hallucinogens have on the brain, it is important that psychological therapies are utilized to prepare young adults for the possibility of flashbacks and other side effects that may unexpectedly resurface.
Dual-Diagnosis Treatment Information
Sources
http://www.crchealth.com/addiction/hallucinogens-treatment/
http://www.drugbeat.org/Facts&Effects/hallucinogens.html
https://www.drugabuse.gov/publications/drugfacts/hallucinogens
https://www.recoveryconnection.com/substance-abuse/drug-classes/hallucinogen-addictioin-treatment-withdrawal/