Heroin is one of the most popular college drugs that have created many problems to the life of the young adult college students. In 2013, 500,000 Americans admitted to using heroin in the past year, which represents a nearly 150 percent increase over the past six years. It also highlights the need for individuals to seek professional heroin addiction treatment.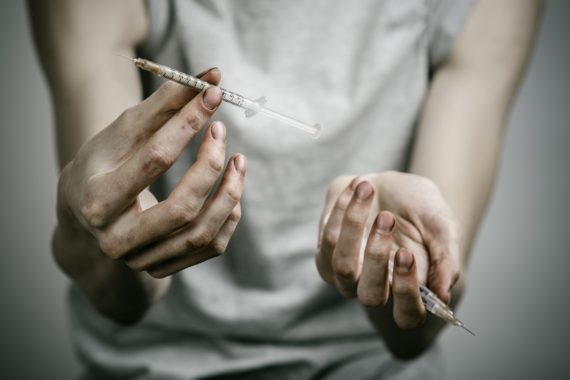 Heroin is a drug that is physically addictive and it is generally prepared from morphine. This drug usually appears in brown or white powder. It sometimes is black and is a very sticky substance. There are numerous ways of consuming this drug. A heroin addict might choose to snort it, smoke it or even inject it into the veins with the help of injections. It has numerous street names like smack, ska, junk and even H. this drug is one of the most popular college drugs that have created many problems to the life of the young adult college students.
Heroin Addiction | A Growing Concern
This drug has many dangers associated with it. There are both long term and short term effects of this drug that has devastated the lives of numerous people. The short term effects of this drug include euphoria and loss of concentration. Most of the heroin addicts complain of clouded thought after the intake of this drug. There are also instances of drowsiness that the heroin addict might feel after prolonged use of this drug. Heroin is also known to depress breathing and therefore an overdose of this drug can prove to be fatal as well. The other danger that this drug can cause is the occurrence of infections due to the usage of needles. Several diseases like HIV and hepatitis are easily spread through the needles that are used for the consumption of the drug.
Heroin addiction is one of the major challenges that the society is facing right now. Recent surveys conducted by the drug authorities have shown that close to 500,000 Americans between the age of 12 and 24 have used heroin at least once in a year. Apart from having disastrous effects on the health of the user, this drug also causes many problems to the personal, professional and family life of the users and creates many problems to the people who are around the user. There are numerous movies like Trainspotting and Basketball Diaries that reveals the effects of this dangerous drug on the family life and the personal life of the users.
Heroin addiction treatment is not easy due to the very strong withdrawal symptoms that the user exhibits when discontinuing the drug. As this drug belongs to the group of opiates, the tolerance to this drug develops fast making it really important to control and monitor the usage during the early stages of heroin addiction treatment.
Are you or a loved one struggling with heroin addiction?
Call 800.465.0142 to speak with an admissions counselor about heroin addiction treatment.
How a Student Sought Heroin Addiction Treatment
The story below was written by a Sober College student about her struggles with heroin addiction prior to coming to Sober College, and her experience, strength and hope now that she has found sobriety following heroin addiction treatment.
"As an adolescent, I was always taught that drugs were bad, especially heroin. When I thought of heroin addicts I always thought of someone that was homeless and had terrible track marks all over their bodies. However, when I had to leave college and go into treatment for cocaine addiction I was introduced to heroin. My name is Emily and I am a heroin addict.
"All opiates are very addictive and I find this to be very true. No matter if you are taking pain killers, such as morphine, it is all the same. They are narcotics and people become not only mentally addicted but also physically addicted. Heroin is becoming very popular with teens and many won't stop because they do not want to have to kick. When someone abuses opiates they become very physically addicted and therefore when they do not have it, there body goes into withdrawal. This is why heroin addiction is so bad. When a person is addicted to heroin and does not it have their bodies literally ache. I have felt this pain and it is miserable. I would have done anything to get heroin no matter, if that meant demoralizing myself, robbing, stealing, pawning, whatever it took.
"Heroin is a very powerful drug. It takes over a person's life and becomes their life. Heroin is killing people left and right. People do not realize how strong it is and can overdose very easily. Many young adults are dying because of heroin addiction. There is also a stigma associated with heroin. Many people see it as terrible thing, so instead they abuse other opiates because they think it is not as bad, such as pain killers. However, what happens to most people is they start out doing pain killers, such as oxycontin and they can no longer afford it and switch to heroin.
"Many people cannot stop doing heroin by themselves and must go to heroin addiction treatment or detox. This was very true for me. I cannot express how many times I wanted to stop but I could not do it on my own. I did what any other addict would do. I would pick days when I was going to stop, buy detox meds, buy enough to last me for however long, etc. However, none of these ways worked and I had to get help. Anybody with a substance addiction problem and needs help to stop should not be embarrassed and should get help. Millions of people struggle with addiction and a lot cannot stop on their own. Addiction does not care who you are or where you come from. It is affecting millions of people's lives. I was raised in a very nice family, went to good school and still became addicted to heroin. I never could have imagined being a heroin addict and going through some of the things I went through. However, I am now doing something about it and getting my life back together. I would not have necessarily picked this life, but it is what it is. I am not heroin addict but a recovering one."
By Emily H.
Sources
http://www.theverge.com/2015/7/7/8908073/heroin-abuse-deaths-united-states-cdc