Marijuana, weed, or pot, as it is commonly called, has become increasingly common among young adults. In fact, people indulge in the drug like it is just a simple cigarette they are smoking. However, just like cigarettes, repeated use can lead to marijuana addiction.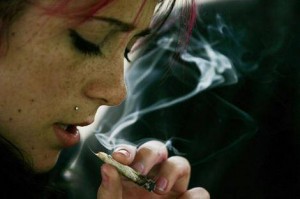 Also known as cannabis or ganja, marijuana is a drug that is psychoactive. It is commonly used in the dried form, where it is powdered and mixed with nicotine, to roll up into a cigarette. The major compound in marijuana cigarettes is cannabis, which is considered illegal, in most parts of the world.
About Cannabis and Hashish
Hashish is a more potent form of cannabis, which is a resin that is highly concentrated, and obtained from the cannabis plant, Cannabis sativa. Cannabis is consumed in a number of ways; it is most commonly inhaled through bubblers, one-hitters, or even consumed orally following sufficient heating of the extracts. Cannabis has a number of psychological effects when taken in, that vary from person to person. There is a change in perception and the mood of the people taking it. They suffer from increased heart rate, and lowered blood pressure. These form the basic addiction symptoms of Marijuana addiction or substance addiction.
Are you or a loved one struggling with marijuana addiction?
Call 800.465.0142 to speak with an admissions counselor.
Marijuana Addiction: The Gateway Drug
There are a number of studies conducted that indicate that cannabis use among young adults will eventually be the pathway to trying harder drugs. It is one drug that builds up tolerance first, and then people end up trying different drugs, in search of new experiences. Most teens and young adults struggling with marijuana addiction have trouble stopping. They are, generally, afraid of the repercussions of telling their parents they are into drugs. Some people are too addicted, and cannot do without their daily fix. They tend to be belligerent about rules, authority, will miss classes, and important occasions, to smoke pot with their friends. They will tend to lose the connection to their regular life, which will seem boring in comparison. They tend to be against normal and routine activities. Even when it interferes with their functioning mentally and psychologically, they still continue to do the drug and cannot wean themselves off it. This is a serious condition in addiction. Marijuana addiction must be dealt with proper counseling and treatment procedures.
Useful Information on College Marijuana Abuse
A Story of A Student and Marijuana Addiction
When i was 14 I tried smoking marijuana for the first time. I was a regular teen, with many insecurities trying to fit in with my friends. It was hard for me to socialize and feel part of the group, but whenever i smoked marijuana I felt completely confident and laid back. As I learned my way around the marijuana culture, I realized that nearly all the other kids and young adults were smoking weed.
Pretty soon I was smoking every day. I thought it was normal, and many of my friends smoked as much as me or more. I didn't know I subconsciously surrounded myself with other potheads. My parents were starting to get worried about me, but they did not know the extent of my addiction to weed. Nevertheless they looked into various marijuana rehab programs and looked into marijuana rehab statistics. Over the next few months it became obvious I was controlled by my cravings to smoke marijuana. I spent as little time with my family as possible and avoided hanging out with people who didn't smoke weed. My parents caught on after I on numerous occasions returned home with red eyes and they found marijuana in my room. I was doing poorly in school, and my parents knew i was almost never happy, and only content as long as I was high.
One day my parents told me i was going to a marijuana rehab center. I laughed at them, and when I told my friends they replied "whoever heard of a marijuana rehab?!" Little did I know that my parents where serious, and that I seriously needed to get my life back on track. At this point I had been smoking marijuana steadily for over 2 years. Because all my money went to drug dealers, I had gotten into the habit of stealing all the other things I needed. This made me want to smoke weed even more, to reduce the stress and the shame I felt subsequently. I talked to my parents and they were going to throw me out of their house if I didn't go to treatment. I was dumbfounded.
Hours later I was on a plane with my mom, on the way to marijuana rehabilitation. I hated it at first and couldn't understand why I was there. I didn't seem to be like any of the other people there. But after one month I knew that I had more similarities with the marijuana addicts around me than differences. We went to 12 step meetings every evening, and I began to understand the message from the rooms of marijuana anonymous (MA). Talking to other addicts who had years of sobriety under their belt really inspired me as well. These people seemed to lead amazing lives, and there I was, wanting to go right back to failing grades, a criminal record and marijuana smoking. I have had many revelations mentally and spiritually while in this marijuana treatment center. This is my third month here, and I am soon returning to my parents house. I am nervous to go back, because I fear relapsing and falling back into my old habbits. But I am being prepared for that, and my life has changed for the better already, whether or not I relapse. I have learned so much about myself.
By Peter A.