Crystal meth is a highly addictive stimulant that is sometimes referred to as ice, glass or Tina.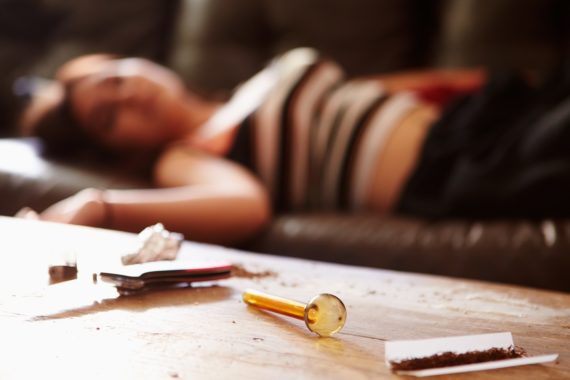 It is quickly becoming one of the most commonly abused substances in the United States and has even surpassed cocaine as the drug of choice among young adults. A 2007 survey conducted by CBS News confirmed that an astonishing 1 in 33 teens have tried crystal meth and many are not aware of the severe consequences associated with crystal meth addiction.
Created in homemade laboratories, crystal meth is more accessible than many other dangerous narcotics. It is concocted from household ingredients and prescription medication. During manufacture, it assumes a crystalline form that is most commonly smoked in a glass pipe; however, it can also be taken in pill form, snorted or injected. In more extreme cases, users of crystal meth may insert it into the anus or urethra.
Methamphetamine is available as a prescription for narcolepsy, obesity and ADHD, but crystal meth is created by chemically altering the prescription medication. The mixture also involves components of cold and allergy medicine. Making crystal meth is incredibly dangerous as the chemicals involved can create other lethal substances and can even lead to an explosion.
Are you or a loved one struggling with a crystal meth addiction?
Call 800.465.0142 to speak with an admissions counselor.
Crystal Meth Symptoms & Signs of Addiction
Methamphetamine addiction develops quickly and is incredibly destructive both physically and psychologically. Because of the way it is made, it is never "pure"; crystal meth symptoms and side effects can range greatly from each batch and the dangers can extend far beyond the common, immediate effects of the drug. The side effects of crystal meth range greatly because of the way it is created. As a stimulant, the drug produces a sense of euphoria that may last up to 12 hours and improves energy and alertness while suppressing appetite and fatigue.
Those who abuse crystal meth may exhibit any of the following effects of crystal meth:
Loss of Appetite
Violence
"Meth Mouth" – teeth decay rapidly & fall out
Weight loss
Insomnia
Fascination with repetitive tasks
Increased blood pressure
Agitations, irritability & panic
Tremors
Overdose can create even more alarming effects such as muscle breakdown, hallucinations, sensations of flesh crawling (where they may pick at their skin causing sores and open wounds), brain damage and death due to stroke, cardiac arrest or hyperthermia.
The drug can also affect the skin by creating abscesses that often become infected. Crystal meth abuse can also lead to long periods of sickness and prolonged use of the drug can cause blindness, kidney failure, internal bleeding and brittle bones.
Treatment for Crystal Meth Addiction and Abuse
The first step in treating crystal meth addiction is detoxification. It is highly recommended that detoxification takes place in a rehab facility due to the intense nature of withdrawal symptoms. Without a strong support system, many quickly succumb to the drug again.
Because methamphetamine is a stimulant, treatment is needed to address co-occurring disorders that may have previously existed or developed as a result of abuse. Depression, narcolepsy and attention deficit hyperactivity disorder are common disorders that accompany crystal meth abuse. Treatment may involve both psychological therapy as a well as medication to treat symptoms.
Dual-Diagnosis is an important component of treatment for crystal meth addiction because many are driven to the drug due to underlying psychological issues. Without proper treatment of these issues, many may use the drug again upon leaving treatment. Crystal meth has one of the highest rates of relapse and is an incredibly difficult addiction to overcome.
Dual-Diagnosis Treatment Model
Inpatient treatment proves to be incredibly effective for those struggling with crystal meth addiction. An environment free from access and temptation allows users to work their sobriety in a safe, stable environment. Residents are provided a number of outlets that allow them to develop interests in activities without the aid of drugs for enjoyment. In conjunction with individual and group therapies, residents are provided a multitude of options in recovery that ensures they receive the most effective treatments.
Our program is designed to help young adults develop into healthy, happy, sober individuals.
Sources:
http://drugabuse.com/library/crystal-meth-abuse/
http://chemistry.about.com/od/medicalhealth/a/crystalmeth.htm
http://drugabuse.com/library/how-to-help-a-crystal-meth-addict/
http://www.narconon.org/drug-abuse/signs-symptoms-meth-use.html
http://www.cbsnews.com/news/1-in-33-teens-admit-trying-meth/