A nurse practitioner has to be thanked more than the doctor because the nurse practitioner implements the doctor's instructions. A nurse is somebody who should be given high respect and regard.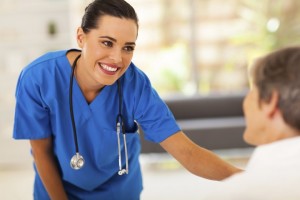 A doctor's work would never go smoothly without a nurse. A nurse is the contact point between the patient and a doctor. A nurse practitioner is responsible to answer patient calls, make the patients feel at ease by consoling them, and give them confidence. The nurse practitioners are responsible for collecting the family history of patients, diagnose acute and chronic illness, and do physical examinations. A nurse practitioner has to report to the concerned doctor about the patient's responses and status. A nurse practitioner, also, has the responsibility to give the medicines prescribed by the doctor to the patient.
A nurse practitioner should have a Bachelor's degree, and a nursing certificate. Additional training and a master's degree will help them get rewarding and good jobs. Licensed nurse practitioners are always in demand and enjoy ample promotion possibilities. Well-experienced nurse practitioners can quickly move up the career ladder as they just do not possess the ability to diagnose illnesses, but do have a lot of experience. A nurse practitioner can do more than just what a registered nurse can.Nurse Practitioners
A nurse practitioner can provide more intense care than other nurses to meet the health care needs of the patients. Sometimes these nurse practitioners also counsel patients on how to address some illnesses, and how to prevent them. A nurse practitioner is allowed to practice some of the service that a physician does. Most of the nurse practitioners are required to get at least one year practical experience as a registered nurse. A Family nurse practitioner enjoys a rich and varied work environment because they are closely associated with the patient's family. They exist as one among the family. They will have many opportunities for personal growth and get competitive salaries.
To become a family nurse practitioner you have to do further studies in addition to being a registered nurse. In addition, a family nurse practitioner specializes in family medicine, and provides a wide range of patient care. Also, for people suffering from psychiatric problems there are psychiatric nurse practitioners who will closely take care of such patients. These nurses will try to console them, and give them the necessary attention they need. A Mental health nurse practitioner is like a counselor who will give moral, and emotional support to people who are mentally unstable.
Source:
http://www.snap-online.org/wp-content/uploads/2013/08/nurse-appreciation.jpg