Oxycontin, or Oxycodone, is a potent painkiller prescribed for those who suffer with moderate to severe pain. As a member of the opiate family, Oxycontin addiction often leaves users experiencing withdrawal symptoms even when taken as prescribed.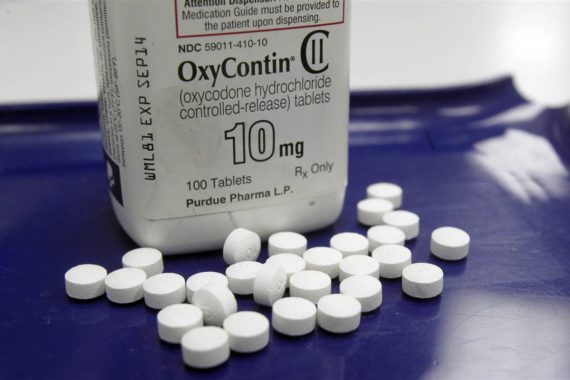 The drug is intended to be taken orally and is a slow-release drug prescribed to deliver relief from pain over a long period of time. Because of its slow-release design, Oxycontin contains larger amounts of Oxycodone in each pill. When abused, Oxycontin is crushed and snorted or chewed. It is also highly soluble in water which leads many to inject the drug. This method of abuse combined with the design of Oxycontin's release into the system means abusers are able to get larger quantities of the drug in their system with less effort.
In 2010, the formulation of the drug was changed to make it more difficult to crush and slower to dissolve. While this dissuades some from using the drug, more often, it pushes users into alternatives that provide the same high. Many have switched from Oxycontin to heroin as a result of this change. The shift from Oxycontin to heroin has caused more fatalities due to overdose.
Are you or a loved one struggling with an oxycontin addiction?
Call 800.465.0142 to speak with an admissions counselor.
Signs & Symptoms of Oxycontin Addiction
Often, those who begin using Oxycontin develop tolerances quickly and abuse larger amounts of the drug in a short amount of time. There are several symptoms associated with Oxycodone abuse that can be used to identify addiction. Many begin to neglect their responsibilities, family, health and work to feed addiction. Because it is a prescription drug, some may resort to "doctor shopping" to obtain more of the drug. They may steal to support their addiction as well.
Those who abuse Oxycontin may exhibit any of the following symptoms:
Sedation
Lightheadedness
Nausea & Vomiting
Respiratory suppression
Dry mouth
Low blood pressure
Constricted/Dilated pupils
Overdose
Overdose commonly occurs due to respiratory suppression. Because it is an opiate, like heroin, Oxycontin addiction escalates quickly and often leads to overdose due to increased tolerance. Without increasing doses, withdrawal symptoms may make the user agitated and restless. Often withdrawal includes depression, insomnia, vomiting, nausea, muscle and bone pain.
Oxycontin Addiction Treatments
Oxycontin addiction is incredibly dangerous and escalates quickly due to its addictive nature. Without timely intervention, many suffer from long-term physical dependence on the drug. Because Oxycontin is a prescription drug, it can be easier to obtain than many other illicit substances and many do not recognize the dangers associated with improper use of the drug.
More On Our Dual-Diagnosis Program
Treatment for Oxycontin addiction is vast and includes a number of different options to engage young adults at multiple levels. In addition to random drug tests, Sober College provides individual and group therapy. An initial assessment combined with our Dual-Diagnosis Program allows young adults to receive treatment for the varying factors that may have led them to begin abusing Oxycontin. Treatment is available for co-occurring disorders including mental health issues and other addictive or compulsive behaviors. Experiential therapies are designed to engage young adults in environments outside of traditional therapy settings. These innovative therapies allow young adults to relate real world experiences to their physical, mental and emotional reactions to situations. These settings allow students to develop healthy responses to stressful situations and better coping mechanisms in order to prevent relapse. In addition to these therapies, Sober College's long-term residential treatment provides a safe environment for young adults to recover from addiction. Our program offers support for family members as well.
Sources
http://www.narconon.org/drug-abuse/signs-symptoms-oxycodone.html
http://drugabuse.com/library/oxycodone-abuse/
http://oxywatchdog.com/wp-content/uploads/2011/07/headache1.jpg
Image: http://media4.s-nbcnews.com/j/newscms/2015_33/1172011/150813-oxycontin-cover_4d55ad2c8aae27bfaaca1e496c37b26d.nbcnews-fp-1200-800.jpg