Prescription drug abuse can often be one of the most difficult forms of addiction to address. The prevalence of misuse and widespread availability are a dangerous combination. This, in conjunction with misconceptions surrounding the safety of use, puts many young adults at risk for addiction.
We cover the following topics in the guide below. Click to jump straight to the one you want to know more about:
---
Prescription Drugs Frequently Abused By Young Adults
In almost every home across the country, you can find prescription drugs in easily accessible locations. It is not uncommon to find young adults sharing prescriptions with friends to "help" them, and many believe that because a doctor prescribed the drugs, they are safe for anyone to use. There are three categories of prescription drugs that young adults frequently abuse including:
Opiates: Also called narcotics and prescribed for severe or chronic pain. Examples are:
Stimulants: Used to treat attention deficit hyperactivity disorder (ADHD). Examples are:
Sedatives: Benzodiazepines used for sleep and to treat anxiety disorders. Examples are:
---
How Pain Pill Dependency Can Turn Into Addiction In Young Adults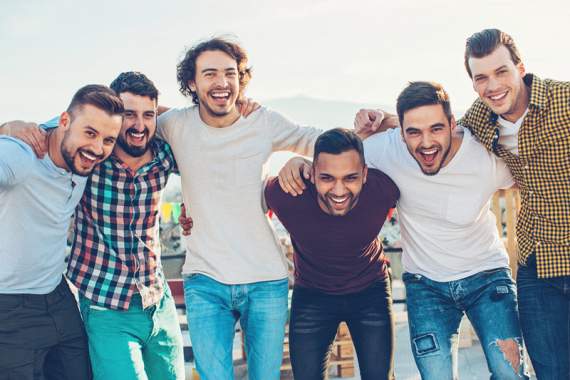 Pain pills and other prescription drugs have incredible relaxation effects that can numb the greatest physical or emotional pain. Once a young adult begins to rely on a drug to get through the day, fear of pain returning increases the likelihood that the dependency turns into an addiction. Coupled with the body's increased tolerance for pain pills over time, the growing number of young adults stumbling into addiction is on the rise.
For this reason, it's crucial to monitor prescription drug use and identify signs of abuse, which can include:
Asking for early refills of a prescription, losing it or consuming it faster than indicated by a doctor
Taking or borrowing medications from family or friends
Crushed or broken up pills that can be identified by powder residue
Multiple visits to different doctors
Forging or stealing prescriptions
Inconsistency of responses when asked about prescription drug usage
Changes in normal sleeping habits
Mood swings and irritability in the absence of access to prescription drugs
Increased alcohol dependency
---
Prescription Drug Abuse Treatment Options
Treatment for prescription drug abuse will vary greatly depending on the type of drug a young adult is abusing, but typically includes both therapy-based and medication treatment throughout the following stages:
Detox
Detoxing from pain pill addiction can be sickening and life-threatening making it crucial to find a treatment program with medically trained chemical dependency specialists
Can last from several days to a few weeks, which can be much more comfortable if medically-supervised
Learn more about our approach to prescription drug detox
Inpatient & Residential Treatment Centers
Inpatient/residential treatment can last anywhere between 90 days to over a year and provides young adults with the time needed to learn and practice coping skills to maintain sobriety can be more expensive, but clients have access to 24/7 care from professional staff who can support them at a moment's notice
Learn more about our residential rehab for young adults
Outpatient Treatment Programs
Young adults meet with a therapist or support group regularly to maintain sobriety, but may continue to encounter stressors, triggers, and enablers that discourage sobriety
While typically a less-expensive option, is usually not as effective as inpatient treatment on it's own
Learn more about outpatient treatment as a step in recovery
Sober Living & Aftercare
Sober living communities allow clients to have jobs, work on their education, and live independently
Best suited for after a residential program so the young adult has had a chance to practice using coping skills away from triggers
Holistic Programs & Alternative Treatment
Wilderness Therapy Programs
An immersive first step in recovery that removes clients from familiar environments and forces them to focus on their sobriety as they learn survival skills while completing therapy
Generally last a couple of weeks and are immediately followed by treatment
Learn more about wilderness therapy as a first step in recovery
---
Features of Successful Prescription Drug Addiction Treatment Centers
Young adults are unique and require unique treatment programs. In our experience, programs that incorporate the following provide the best shot at long-term sobriety:
Age-Specific Prescription Drug Treatment
Age-specific groups make it easier for young adults to open up and express themself, thus combatting feelings of isolation or loneliness
Learn more about how we tailor prescription drug treatment to young adults
Long-Term Addiction Treatment Programs
Long-term treatment is proven to be more successful in helping clients maintain sobriety from substances like prescription drugs and helps them develop skills to keep it up independently
While there are greater costs associated, young adults are removed from friends and family for long periods to reduce the risk of relapse in early sobriety due to negative influences
Learn more about the structure of our long-term treatment program
Prescription Drug Treatment With Gender-Specific & Co-ed Elements
Gender-specific treatment can create a safe space to discuss sensitive topics related to prescription drug addiction and can help build a support network of peers who easily relate to one another
Combined groups allow young adults to get used to communicating with and being around the opposite gender just as they will have to in real life
Learn more about the male-specific and female-specific elements of our program
Treatment Away From Triggers
Being far away from home removes the influence of enabling peers who may share prescription drugs and environments where they are easily accessible
While young adults are removed from the comforts of their home, they're less likely to experience triggers that could threaten sobriety
Treatment With A Mental Health Focus
Dual-diagnosis addiction treatment addresses the underlying causes of addiction and ensures mental health conditions are equally treated
Clinical treatment ensures clients get in-depth physical and mental care which may include drug testing, nutritional plans, and multiple therapies
Learn more about our dual-diagnosis treatment, which includes neuropsychology, individual and group therapy, experiential therapy and more
---
Intervening In A Young Adult's Prescription Drug Addiction
Prescription drug abuse can become dangerous quickly. In some cases, it can lead to abuse of other illicit substances such as heroin that elicit a similar high. While it may be difficult to detect, it is important to intervene as soon as you realize a problem may be developing.
Specific abuse characteristics of opiates are:
Low blood pressure
Depression
Constipation, diarrhea or vomiting
Disorientation or confusion
Learn more about opiate addiction treatment
Specific abuse characteristics of stimulants are:
Confusion, drowsiness, or appearing intoxicated
Poor decision-making and memory
Rapid eye movements
Specific abuse characteristics of sedatives are:
High blood pressure
Irregular heartbeat
Irritability, hostility, or agitation
Seizures
Unexplained weight loss
For a more effective intervention, explore our tips for leading an intervention with a young adult.
---
The Cost of Prescription Drug Addiction Treatment Centers
Costs can range depending on the type of program, the location, the size of the facility, and the duration of your stay. For instance, inpatient treatment programs tend to be more expensive because they typically require longer stays and include housing, food, and cost of amenities. Other treatment programs have low-cost options to ensure clients still have access to the treatment they need. Some have even introduced a sliding-scale fee that is based on income levels. It's best to verify your insurance with every program you're considering to get familiar with your options.
While exploring the potential cost of treatment, be aware that there are fraudulent establishments as well. You can usually identify the frauds by asking if the facility or staff members are licensed, visiting facilities in person, and speaking with parents of clients who have been through the program.
---
Prescription Drug Treatment At Sober College
At Sober College, young adults have access to an extensive team dedicated to helping them overcome their prescription drug addiction. Whether you are or aren't yet sure that a young adult is dealing with addiction give the Sober College team a call at 800.465.0142 or send us a message. If you don't hear from us immediately, you will within 24 hours.
Continue reading to learn more about our innovative rehab for young adults struggling with addiction.
---
Resources:
https://www.rehabs.com/about/insurance-for-addiction-rehabilitation/
http://hms.com/preying-on-the-vulnerable-sober-home-fraud/