Moderate social drinking isn't usually a problem for most adults. When moderate drinking gets out of control, however, it's a cause for concern. Knowing how drinking progresses can help social college students and their loved ones determine if they need treatment. Learning the signs and effects of out-of-control drinking is also helpful.
From Social Drinking to Problem Drinking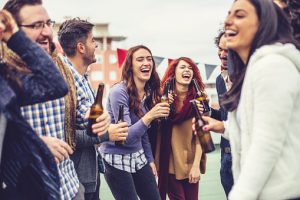 The first stage of drinking is general experimentation with alcohol. This usually happens in high school and college. Students often try different types of alcohol and binge drink to test their limits. They might not drink regularly, but when they do, they may consume large amounts.
The next phase involves drinking more frequently. Rather than only drinking at parties, students might drink every weekend. This means that they're consuming alcohol more regularly.
Regular drinking can turn into moderate drinking. Although not yet a major problem, regular drinkers have more of an emotional attachment to alcohol. They might drink a beer, cocktail or glass of wine with meals to enhance the experience.
As young adults continue to increase alcohol consumption, it could get out of control. This is when social drinking becomes a problem. The uncontrolled habit begins to cause problems in their personal lives and education. This puts them at risk of developing addiction.
According to the National Institute on Alcohol Abuse and Alcoholism, severe problem drinking is called alcohol abuse disorder (AUD). In 2012, about 7.2% of adults aged 18 and older were diagnosed with AUD.
Click to Learn More About Alcohol and Addiction Treatment
Signs of Problem Drinking
When college students have a drinking problem, they may become anxious, depressed and sleep deprived. They often enjoy the effects of drinking alcohol more than feeling sick the following day. At this stage, they are more likely to have legal troubles such as driving under the influence.
Socially, problem drinkers encounter trouble in their relationships and start hanging out with different people. They might also have trouble talking to strangers, and their bizarre behavior could cause them to become less socially active.
Health Effects of Out-of-Control Social Drinking
Excessive drinking has serious health consequences and is the top preventable cause of death. It can lead to liver disease and increase the risk of breast, esophagus, liver, mouth and throat cancers. Along with increasing the risk of car accidents, it increases the likelihood of drownings and suicides.
How Alcohol Treatment Helps
Medically, alcohol is a drug because it suppresses the central nervous system. It can hinder mental and motor skills, harm internal organs, and be economically and physically disruptive.
College students with drinking problems should get treatment before it turns into an addiction. Even if they have AUD, there are many options available. Their treatment might start out with detox if they suffer from withdrawal. Afterward, they can get counseling, see a therapist, take meds to prevent relapse and go to support groups for encouragement.
Getting Help at Sober College
At Sober College in Los Angeles, California, students can get the help that they need for different types of addiction. We use a multi-tiered approach that emphasizes Five Core Competencies:
Emotional intelligence
Fitness
Life skills
Productivity
Sobriety
Students don't have to worry about missing college credits, either. As part of our addiction treatment program, we offer five college courses with transferable credits.
Have questions regarding social and problem drinking for yourself or a loved one?
Call 877.634.7849 to speak with an admissions counselor.