MDMA, or Methylenedioxymethamphetamine, is commonly known as Ecstasy. It belongs to the amphetamine and the phenethylamine group and has been widely used by young adults. There are many common ecstasy side effects.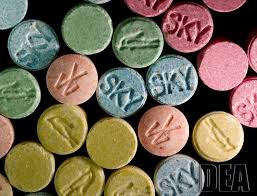 The drug induces euphoria with a diminished sense of depression and anxiety. Ecstasy pills were often used to aid cognitive therapy sessions, and had therapeutic benefits in certain individuals suffering from cognitive behavior disorders. MDMA is also used to treat posttraumatic stress disorder, and the anxiety and depression associated with terminal cancer.
Ecstasy Side Effects in Teens
Due to the ability of the drug to induce euphoria, Ecstasy has been widely abused by the young adults and the teens as a stimulant and recreational drug. It is commonly used in dance parties with electronic music. The Schedule I drug induces a high effect in the user which lead the user to be in a kind of trance as if the soul was withdrawn from the body. Ecstasy has often been abbreviated as X, E, EXT and is widely available in powder, capsule, pure and crystalline forms. Recently the drugs are referred to as Thizzles or Thizz.
Ecstasy side effects are somewhat similar to ephedrine and have psychotropic effects on humans. They experienced an altered state of consciousness with sensual and emotional overtones. In this respect, the drug can be compared to the hallucinating effects of marijuana. Sometime in the late 1980, Ecstasy was widely used in USA, Europe and UK by young adults in colleges and universities as part of the rave culture, and the psychedelic-influenced music prevalent at the time. MDMA was soon associated with other illegal drugs like cannabis, cocaine, heroin, marijuana and most recently Molly, which is considered a modern-day variation of Ecstasy.
The therapeutic use of Ecstasy however could not be ignored.-It is used in psychotherapy and in mild psychiatric disorders and to relieve severe pain in terminal cancer patients. Studies have revealed that these drugs have their maximum effect in the humans 2 to 3 hours after consumption. The neurological effect of the drug on the brain is very damaging. Once consumed it mixes in the blood and act as stimulants to the neurotransmitters in the brain colloquially referred to as an Ecstasy trip.
Ecstasy is often referred to as a Club drug because of where it is used.