Young adults use alcohol more often than they use any other mind-altering substance. In fact, teens even try alcohol more than they try cigarettes. This means that many college freshmen are already drinking before the legal age. Because of this, many schools use a range of tactics to combat underage drinking on their campuses.
Facts About Underage Drinking at Universities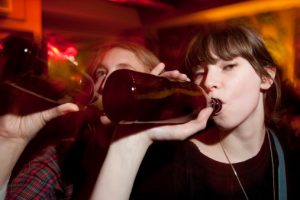 In 2014, 58% of high school seniors admitted to drinking alcohol in the year prior to the national study. Another 38% admitted they had gotten drunk at least once during the year. Furthermore, underage students at four-year colleges drink about half of the alcohol that all students consume.
In another 2014 study, 33% of female university students and 44% of male students aged 18–22 binge drank in the last month. Of those, 9% of female and 15% of male students admitted to heavy drinking.
Students who binge drink put themselves and others around them at a higher risk of harm. This could be in the form of sexual assaults or car accidents. In fact, alcohol contributes to about 1,825 deaths every year.
Click to Learn More About Alcoholism
What Some Universities Are Doing
To combat underage drinking, colleges and universities from coast to coast have programs that address the issue. A 2010 survey of 351 four-year college programs showed that 98% offered substance abuse education. Additionally, 50% offered effective interventions for students at a high risk for problem drinking. However, only a few schools reported that the community provided strategies to control alcohol use.
In California, a study involving 14 campuses found that environmental strategies greatly reduced the likelihood of college drinking. These interventions included DUI checkpoints, media awareness, minor decoy operations and nuisance party enforcement.
In 2015, some universities in North Carolina teamed up with a substance abuse and underage drinking task force. The purpose of this partnership and others was to provide alcohol prevention and treatment. The universities aimed to change the belief that substance use is a rite of passage.
Steps That All Universities Can Take
There are many other steps that schools can take to curb underage drinking among college students. Health services centers can screen all visiting students for alcohol abuse. Schools can also screen students through online surveys. Students at high risk or already abusing alcohol should receive access to counseling resources.
Another method is getting the surrounding community involved. This might consist of setting up neighborhood conflict resolution programs and limiting the number of bars near campuses. Other options include increased monitoring of off-campus parties and teaching students how to be good neighbors.
How to Get Help
College and university students who want help but can't get it from their schools can visit Sober College in California. Our treatment center offers therapy for alcoholism and other types of addiction. With a dedicated staff, some of our program options include:
Have questions regarding underage drinking for yourself or a loved one?
Call 877.634.7849 to speak with an admissions counselor.