Vicodin is a commonly prescribed medication that is designed to relieve moderate to severe pain by blocking pain receptors in the brain. Concurrently, it produces a sense of euphoria that often leads to misuse and Vicodin addiction.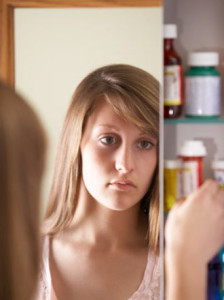 It is composed of the painkiller Hydrocodone (a strong opiate painkiller) and Acetaminophen (a milder painkiller). Hydrocodone is the particularly addictive component of the drug which results in the development of physical dependence. As tolerance builds over time, abusers of the drug require more of the substance to produce the same level of euphoria.
Vicodin addiction often develops as a result of taking prescriptions incorrectly. Prescriptions are written with varying dosages and are designed to be taken as directed for the individual it was prescribed for. Once addiction develops, Vicodin is abused in a variety of ways including snorting, injecting and ingesting. Often, those addicted to the substance neglect all other areas of life to satisfy their addiction.
Are you or a loved one struggling with Vicodin abuse or addiction?
Call 800.465.0142 to speak with an admissions counselor.
Signs & Symptoms of Vicodin Addiction
Because Vicodin contains an opiate, the signs and symptoms of abuse are similar to the abuse of other opiates. Many become dependent or addicted to Vicodin because it was prescribed to them and taken incorrectly. Tolerance to Vicodin develops quickly and with improper usage, many begin to take more than what is prescribed to them in order to ease the pain.
Because Vicodin is a prescription drug, many may begin "doctor shopping" in order to obtain more of the drug. Addiction interferes with work, health and relationships with friends and family. Some resort to crime in order to feed their addiction.
Those who abuse Vicodin may exhibit any of the following symptoms:
Drowsiness
Inability to focus
Severe mood swings
Nausea
Vomiting
Anxiety
Paranoia
Obsessive interest in obtaining and consuming Vicodin
More severe symptoms include seizures, convulsions and slowed heartbeat. Consuming too much Vicodin can cause a person's heart to slow to the point of death. Some may slip into a coma.
Signs and symptoms can reveal the severity of addiction to Vicodin. Physical complications and mental disturbances can develop as a result of abuse. Some develop co-occurring complications with eating disorders or mood disorders.
Vicodin Addiction Treatment
Vicodin addiction escalates quickly and can be incredibly difficult to overcome. Prescription drugs are easier to obtain than many other illicit substances and many do not recognize the dangers associated with improper use of the drug because it is commonly prescribed. With timely intervention and proper care, many who suffer with Vicodin addiction can receive the help they need to overcome withdrawal symptoms and recover from addiction. Vicodin addiction may require detox services prior to entering treatment to stabilize health as well as improve their chances of maintaining sobriety.
Sober College offers a wide range of treatments to engage young adults in multiple facets of life. Our residential treatment program ensures young adults are provided a safe environment to recover from addiction. With trained staff supervising residents 24/7, there is always some available to provide support.
Our initial assessment of each individual's needs ensures everyone receives treatment catered to their specific experiences and motives. By uncovering the particular needs of each individual, Sober College provides more effective treatment that addresses not only addiction, but also co-occurring disorders and the factors that may have led to substance abuse. Our Dual-Diagnosis Program engages young adults on multiple levels to treat mental health issues and other addictive and compulsive disorders. Many who develop addictions to substances such as Vicodin do so as a result of unresolved trauma or other psychological issues. Sober College's treatment program ensures all of these possibilities are addressed to better prevent relapse.
In addition to random weekly drug tests, Sober College residents participate in a variety of therapies, including individual and group. Our experiential therapies take rehabilitation one step further by engaging residents in environments outside of the traditional therapy settings. Young adults are encouraged to engage in activities that help them develop physically, mentally and emotionally. The experiences in these activities relate to real world experiences and help our residents develop healthy responses to stressful situations. The development of better coping mechanisms helps prevent relapse.
Sources
www.drugabuse.com
www.narconon.org/drug-abus
www.addictionhope.com
http://sunnyfloridatreatmentcenter.com/wp-content/uploads/2014/04/Oxycontin-Roxicet-Vicodin-Addiction-Center-Jacksonville-Beach-Florida.jpg