The medical community acknowledges that mixing Xanax and alcohol can be a deadly combination.
When doctors initially prescribe Xanax, they warn individuals not to take Xanax while drinking. However, for the person who takes the medicine in an off-label way, alcohol use may be part of the experience.
What is Xanax?
The brand name form of alprazolam, doctors rely on the substance to treat generalized anxiety disorder and panic attacks. Side effects include sleepiness, slowed breathing and impulsivity. Despite being Schedule IV drug, there's definitely potential for abuse and addiction.
Why is the Combination of Xanax and Alcohol Deadly?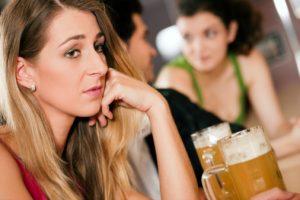 In moderate doses, alcohol is a depressant that leads to euphoria and lowered inhibition. In higher doses, it can cause intoxication and unconsciousness. Both alcohol and alprazolam are depressants that act on the central nervous system. As a result, the combination of Xanax and alcohol leads to more pronounced effects.
The strength of those effects depends on the individual's physical condition, weight, and quantity of drug dosages. Obviously, the more alcohol someone mixes with Xanax, the more pronounced the result, and vice versa. Combining the substances could cause drowsiness, vertigo and fainting. However, the real danger is that it slows vital functions.
For instance, slowed breathing may deteriorate into apnea. The pulse slows, and the heart beats irregularly. Organs may not receive sufficient oxygen and gradually shut down. The dangerous cocktail can also cause individuals to slip into a coma.
Click to Learn More About Alcohol Addiction
Why Would Someone Take Both Substances Together?
Like with many other types of addiction, the unhealthy craving for alcohol results in far-reaching efforts to hide the condition. It's possible to fool physicians by not disclosing the full extent of your alcohol use. Similarly, seeking out non-prescribed Xanax can also cause problems. Since it artificially supports dopamine release, the resulting euphoric experience reinforces use.
Experts understand that those abusing one drug don't usually stick to just that one substance. However, while some actively seek polysubstance abuse, sometimes individuals use Xanax and alcohol once as a result of peer pressure or to try something new. Even if an alcohol addiction is not present, the effect of both substances combined can be lethal. Whether it's a one-time event or a consistent habit, it's a dangerous combination.
Additionally, other drug combinations can have a similar effect. Examples include opioids like OxyContin or Vicodin, sedatives like Ambien and barbiturates such as Seconal.
Getting Substance Abuse or Addiction Treatment
If you suspect a loved one needs help, or if you know you've fallen victim to addiction yourself, Sober College offers a way out. Treatment options at our rehab for young adults in California include:
When you're dealing with multiple drug addictions, starting the process with a medically supervised detoxification is crucial. Because withdrawal side effects can include severe adverse physical reactions that require intervention, don't try to go it alone. Moreover, if you need medication for panic attacks, the attention of trained medical personnel assists you with handling the withdrawal.
Have questions regarding Xanax and alcohol use for yourself or a loved one?
Call 877.634.7849 to speak with an admissions counselor.