Combining college and rehab reflects the uniqueness and innovation of our unique young adult treatment program; one that offers an on-site collegiate experience away from the stressors and triggers of a traditional college setting. The opportunity to earn up to 15 transferable credits from Woodbury University, an accredited institution of higher learning, truly reflects our dedication to helping young people acquire and maintain sobriety while renewing academic focus. Sobriety is and will always be the most important of the Five Competencies however, in order to achieve long-term sobriety and healthy living our rehab for college students allows young adults to engage in a one-of-a-kind treatment experience that reignites their passion for the future, aids in their recovery and prepares them for life after they leave treatment.
How is Sober College Truly College & Rehab Under One Roof?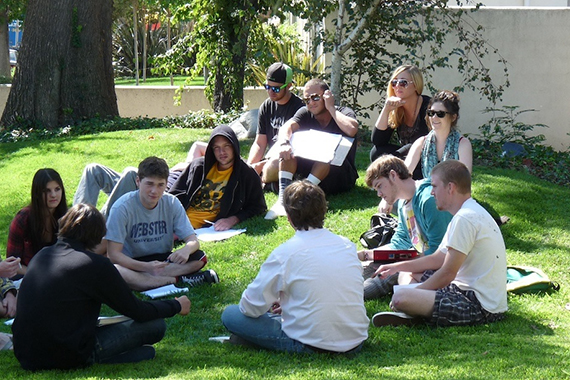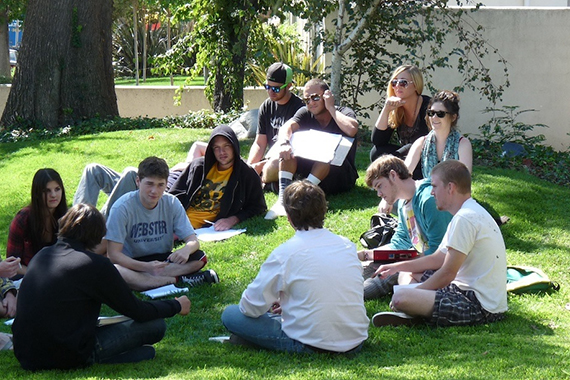 All of our courses are centered on an aspect of recovery. Students are able to take classes that are relevant to them, while also refocusing on their education. For example, our Sociology course focuses on drugs and alcohol in popular culture while Creative Writing engages their creativity in a structured environment. Regardless of which course they choose to take, each student is challenged to think critically by engaging in rigorous coursework created to help stimulate their minds.
More About Our Partnership & Courses Offered Through Woodbury
Rolling Admissions
Sober College accommodates rolling admissions. This means students can immediately start school as soon as they arrive. This structure works well for our community because when students begin class, they are not behind. In addition, they are greeted by a group of eager peers who are excited to have a new person in the classroom. This fosters a sense of belonging for our students while also easing them back into coursework. Even if they begin to feel overwhelmed, they are supported by peers who empathize with them and who are more than willing to lend a helping hand.
Questions regarding admission or our rehab for college students?
Call 800.465.0142 to speak with an admissions counselor.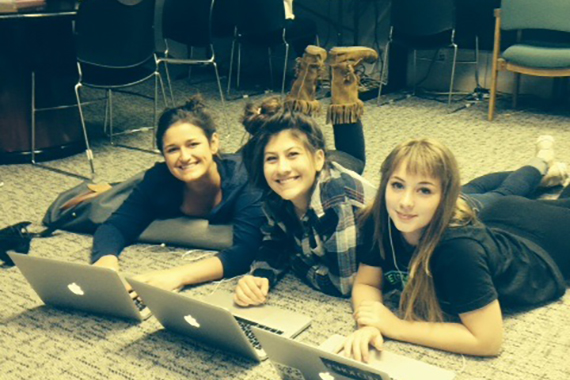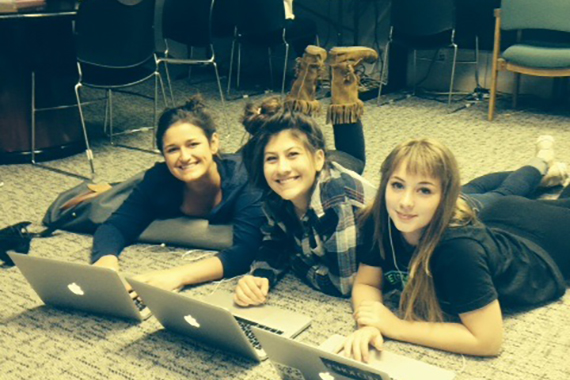 Personal Attention from On-site Instructors
While all of our courses are taught by Woodbury University adjuncts, these instructors also serve as our Academic Coaches; therefore, each student is able to build a meaningful relationship with their instructor. This is important, especially for a newly sober, college student who may be apprehensive about returning back to school. By having their instructor available to them they are able to get the personal attention needed in order to ease back into academics.
...Read More
Our instructors are passionate about education and our student body. They go above and beyond in order to ensure their students receive everything they need in order to be successful. This is important because in early recovery, there are times when students are faced with stressful situations; for example, medical adjustments, a tough week in treatment or bad news from home, impacts their motivation and ability to complete their homework. By having onsite instructors who are in constant communication with their student's treatment team, they are able to provide the support and flexibility necessary to facilitate their success.
Show Less.
Education & Early Recovery
Sober College believes that treatment infused with college courses is the best answer for young adults. There are those who believe otherwise, stating college and treatment should be separate but we feel otherwise. It has been noted that continuous drug use negatively affects the brain. For example, according to Get Real Recovery, Inc., long-term marijuana use shrinks the amygdala, hippocampus and slows brain function. More importantly, the shrinking of the hippocampus actually impacts one's memory which in turn makes school that much more difficult.
...Read More
At Sober College, we are determined to help our students strengthen their brain which is why the academic component to our program is so vital. It has been proven that studying actually activates pathways in the brain; simply put, it helps to increase memory and brain function. This is why we are dedicated to helping students regain their academic focus; as they find physical and emotional strength, they also find mental strength. By taking courses, students slowly but surely rehab their injured brains, causing them to regain memory and motivation. We take pride in watching our students excel in our program, especially in academics; this leads to growth and self-confidence. Their brains buzz with new pathways, their memories improve and they regain their academic focus. We beam with pride when a student who hated school upon arrival to Sober College decides to further their education upon leaving our treatment facility. It is proof that our program is life changing. Moreover, the United States Patent and Trademark Office (USPTO) has trademarked Sober College; this reflects our uniqueness and diligence to young adult recovery. In addition, it demonstrates how special our program truly is.
Show Less.
Sober College is Rehab & College | Good Day LA
Watch the video to the right and see Sober College's one-of-a-kind college rehab program on Good Day LA. Marla Tellez did a health segment on Sober College for Good Day LA because of our unique partnership with Woodbury University and all that we offer. Marla says, "Like many of you, addiction runs deep in my family. So, my health segment this week on Sober College means a lot to me. It's the only rehab in the country that combines college and addiction treatment. Andy's success story speaks volumes… thanks for watching."
Innovative Treatment for Young Adults
Our specialized approach to young adult addiction treatment helps teach our clients the tools they need to lead happy, successful and sober lives for years to come. In addition to being the only program to offer on-site WASC accredited college courses, our well-rounded approach to addiction treatment, centered around Five Core Competencies, allows our clients emerge with goals and plans for a future free from drugs & alcohol.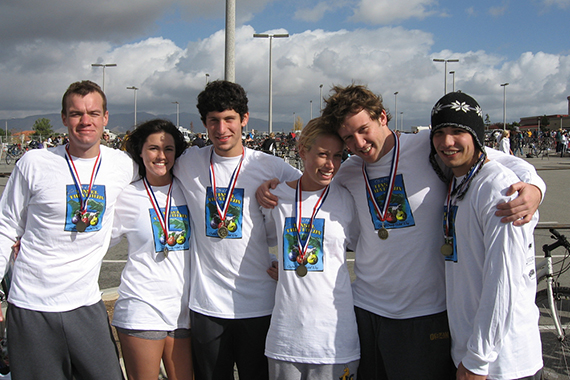 Woodbury University: A Unique Partnership
Sober College's Partnership with Woodbury University allows clients to further their education while still in residential treatment. Wherever clients are at with their college education, our partnership can work for them.
Upon completion of all five Woodbury courses,

Sober College students earn a Certificate of General Studies from Woodbury University.

Students can take their 15 transferable credits

with them to other college/universities.

Students who finish their courses with a 3.0 or better

are given automatic admission into Woodbury University.

Students who finish their courses with a GPA between 3.25-3.5

are eligible for a $5,000 scholarship toward their Woodbury University tuition.

Students who finish their courses with a GPA between 3.5-4.0

are eligible for a $10,000 scholarship toward their Woodbury University tuition.
About the College Experience | Rehab for College Students
Each class offered in our rehab for college studentsis taught by a Woodbury University professor. Students have access to their professor and the academic coach throughout the week; therefore they are constantly provided academic support. The courses are modular based; they are designed to accommodate rolling admissions, so students are able to start their schooling immediately. Smaller class sizes allow students to receive personal attention during and outside of class. Professors are in constant communication with the client's treatment team; this ensures students aren't forced to drop classes due to clinical issues that may arise in early sobriety.
Woodbury Course Offered at Sober College
Upon completion of the five courses, Sober College students can earn a Certificate of General Studies from Woodbury University. This provides students with 15 college credits from Woodbury University to take with them when applying to colleges and universities. With in-class instruction, online assignment submission and an involved work load, students are able to experience and prepare for a collegiate setting outside of Sober College.
1. Public Speaking
Public Speaking is designed to provide an overview of the fundamentals of human communication, focusing specifically on public communication and presentation skills. The format of the course includes in-class lectures, group activities and speeches to be delivered in a peer-reviewed, constructive environment.
…Read More
Students have the flexibility to choose speech topics that interest them, while improving their research skills and strengthening their confidence in front of an audience. This course fulfills Woodbury University's communication objective and aligns with Sober College's life skills competency.

Show Less.
2. Sociology
The goal of this course is to help students develop a sociological perspective on drug and alcohol use and addiction through the lens of American popular culture. Students enjoy in-class lectures, group activities and classroom discussions
…Read More
Through analyzing a popular television episode or examining the effects of alcohol advertisements on teens, students are encouraged to become critical thinkers. This course fulfills Woodbury University's transdisciplinarity objective and aligns with Sober College's sobriety competency.

Show Less.
3. Health & Wellness
This course challenges students to approach social, environmental, political and economic issues of wellness from personal, communal and global perspectives.
…Read More
Students enjoy dynamic in-class lectures, classroom discussions and learn how to strengthen their physical, mental and spiritual health. This course fulfills Woodbury University's personal and social responsibility objective and aligns with Sober College's fitness competency.

Show Less.
4. Creative Writing
Creative Writing introduces students to the elements of fiction, creative nonfiction and screenwriting. Class work includes reading the work of established writers in three different genres, and personal reflection through creative writing. …Read More Students participate in a variety of activities including in-class writing, peer edit workshops, reading and group discussion, and more. This course fulfills Woodbury University's creativity objective and aligns with Sober College's productivity competency. Show Less.
5. Psychology
This course focuses on specific components of interpersonal relationships, such as power dynamics in communication, boundary setting and conflict resolution. In addition, the course helps students develop strategies to express shame, vulnerability and self-control. …Read More The course also considers the communication barriers addiction may present in personal relationships. Through in-class lectures, classroom discussions and presentations, students learn how to successfully transform communication with others. This course fulfills Woodbury University's integrated student objective and aligns with Sober College's emotional intelligence competency. Show Less.
Benefits of Education in Recovery from Addiction
Sober College offers college courses on-site not just to help them work towards their academic goals, but their recovery goals as well. Academics helps heal the brain after being damaged by drug and alcohol use by improving executive functioning and memory. Clients are benefiting physically, and emotionally from our partnership.