Everyone who comes to Sober College has unique skills, goals and interests in. Here, we build upon those academic and vocational goals and interests by creating individualized learning experiences for each client. Whether it is helping further their education, gaining important high school or college credits or looking into and/or securing job opportunities or job training, each client will work with their Academic Coach to help discover what they are interested in and/or design a plan to reach their goals.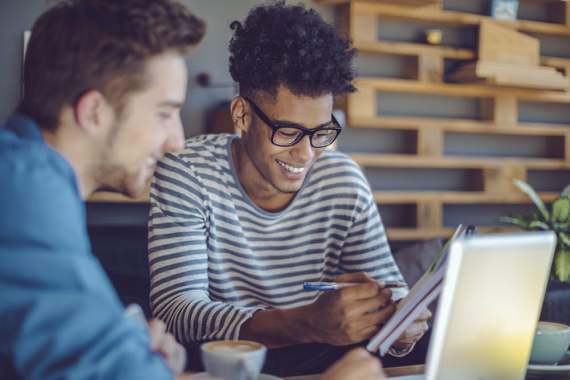 By reintroducing clients to academics they are able to regain their focus and motivation; they can experience college in a safe, supportive environment while learning skills to become successful individuals in school or the workforce. The courses we offer on-site through Woodbury University are designed with Sober College clients in mind; they are engaging, relevant and cater specifically to our clients' emotional, educational and personal needs.
If a client is interested in getting a job or pursuing a vocation, their academic coach will help them determine a plan of action for this. If they need education or a specific training they can help them find a program that works for them. In addition, our Occupational and Internship Programs help clients build skills like interviewing, resume building, time management and more so they are better prepared when they enter the workforce.
Have questions regarding how our Academic and Vocational Programs can work for you?
Call 800.465.0142 to speak with an admissions counselor.
College and Rehab
This unique partnership with Woodbury University redefines rehab, placing Sober College on the forefront of young adult addiction treatment.Sober College offers an on-site collegiate experience where clients can earn up to 15 transferable college credits from a WSCUC accredited institution. Clients have the opportunity to take five Woodbury University courses on site: Public Speaking, Creative Writing, Sociology: Drugs and Alcohol in Popular Culture, Civic Engagement and General Psychology. Each course aligns with both Sober College's Core Competencies and Woodbury University's Basic Learning Objectives. This particular blend of recovery and academics provides our students with the skills necessary to transition out of treatment and into larger institutions of higher education.
"We offer an on-site collegiate experience where clients can earn up to 15 transferable college credits from a WSCUC accredited institution."
High School Completion
Many clients come to Sober College without having completed high school. We know that earning a high school diploma or GED, provides students with the platform necessary to enter into college, vocational training, or the career field. Through our partnership with Woodbury, some clients are eligible for dual-enrollment so they can earn credit for both high school and college by taking our courses on-site. It is Sober College's goal to set our students on the optimum path for success, starting with high school completion. We offer numerous options for students seeking high school completion, including:
Sometimes students only need a few classes to graduate; in situations like this, we reach out to their high school to create a graduation plan.
If they need more classes or the school is unwilling to partner with us, students have the option to finish high school through online courses.
We also offer GED preparation with pre-tests and tutoring. We also register and transport students to GED testing facilities in order for them to take their test.
Vocational Training
For those clients who plan to pursue a vocational track or specialty we have our Internship and Occupational Programs. We offer workshops ranging from resume building to how to keep your job. Our Internship and Occupational Programs are also available to clients who plan to work part time after they leave. Our Academic Coaches will also help clients find trade school or certification programs in a vocational field they are interested in. 
More About Our Internship and Occupational Programs
Academic Groups Offered
During Academic Block, students have access to academic groups that help facilitate their success. Each group is run by capable academic staff and focuses on topics including occupational, time management and study skill building. Clients are given personal attention during group and are able to vocalize their academic concerns and needs.