Obtaining your substance use counseling certification online is the ideal choice for working professionals who need their schooling to work around their schedule. Sober College School of Addiction Studies (SCSAS) is a NAADAC and IC&RC approved online school for substance use counseling and meets both state and national-level requirements. To provide the most flexibility without sacrificing academic excellence, SCSAS offers multiple online counseling programs to accommodate those interested in becoming Certified Substance Use Counselors. Upon completion of either our Self-Paced or Accelerated Program, students will have earned the 315 hours of approved education required, including 255 supervised practicum hours. Learn more about our accelerated and self-paced programs to determine which one would work best with your lifestyle.
Accelerated Online Substance Abuse Certification Program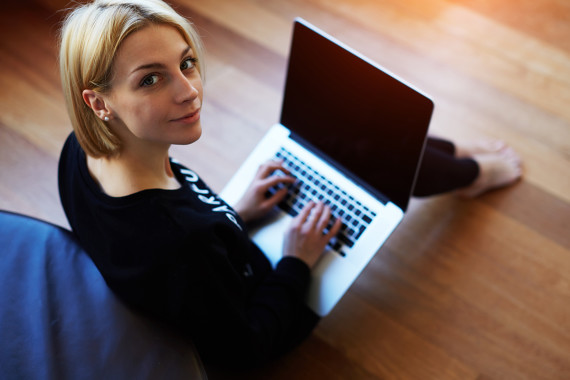 Our Accelerated Online Counseling Program offers flexibility so students can work within their own schedules, but has benchmark goals to help keep students on track. There are no in-class meetings with an instructor, however, students engage in weekly online discussions with their classmates and instructor. This learning format is best suited for students who:
Enjoy working at their own pace toward short-term goals
Who thrive on continued engagement
Our Accelerated Online Counseling Program allows students to complete the 315 hours of required education to obtain their certification in just six months. Our program consists of six courses (one course per month); concurrent enrollment in practicum courses start in month two.
Instructors are available as needed and provide detailed feedback to students on all assignments within one week of submitting, allowing for continual improvement. Online discussion forums facilitate engagement, enhancing the connection between student and instructor and also peer to peer.
More About Our Course Curriculum
Self-Paced Online Substance Abuse Certification Program
Our Self-Paced Online Counseling Program was created specifically for those with busy lifestyles or those looking to complete their education as quickly as possible. Like our Accelerated Program, our Self-Paced Program is offered entirely online and designed for students who want to work within their own schedules.
Our Self-Paced Program is the same as our Accelerated Program but students receive all coursework upon admission and can complete the course and practicum course in anywhere from 3 to 18 months. Students have access to all coursework as soon as they enroll and are able to set personal goals for program completion.
Students will meet learning objectives on their own timeline with the help of SCSAS instructors and support staff. Those enrolled in the Self-Paced Online Counseling Program have 18 months to complete all courses, but can finish in as little as 3 months, depending on the time they can dedicate to program completion.
More About Our Course Curriculum
Have questions about how to get your counseling certification online?
Call 866.615.3276 to speak with an admissions counselor
What You'll Learn From Our Accelerated & Self-Paced Online Programs
Students are provided with the skills to work with individuals, groups, and families, in both theory, and through practical application. Upon completion of our Self-Paced or Accelerated Program, students will have earned the 315 hours of state board approved education, including 255 supervised practicum hours.
...Read More
Our curriculum is made up of eight different classes. A few examples of things you'll learn include:
The physiology and pharmacology of alcohol and other substances
Ethics related to clients and you, as a counselor
How to conduct an initial intake assessment and manage cases
How to develop treatment plans based on goals and the client's history
How to conduct counseling with special populations, groups and more
How to recognize your own strengths and weaknesses in the field in order to continue growing professionally
More About Our Course Curriculum
Show Less.
Other Benefits Of Our Online Substance Use Counselor Training Program
We Use Moodle, A Personalized Learning Environment: The counseling course material is delivered via Moodle, an online learning platform. Since all coursework is submitted on Moodle, students can trust that all work is organized, secure and visible to their instructor in real time. Moodle also offers time management tools and interactive assignments, catering to the varying needs of students trying to earn their counseling certification online.
We Offer Rolling Admission: Whether you're ready to start today, tomorrow, next month or next year, you don't have to worry about aligning your professional or extracurricular schedule with when you start our program. Whenever you feel it's time to start your journey towards a better career, give us a call and you can start the next day.
We Employ Real World Instructors: Many of our instructors are still in the workforce, meaning their lesson plans include the most up-to-date information and instructors are easily able to relate curriculum back to real and recent experiences. This also makes them a great resource for students looking for professional advice.
Accessibility of Instructors: Our dedicated and experienced instructors are available to assist students daily. Instructors can be reached via email 24/7, with a 24 hour turnaround time for emails. They are also available for support over the phone by appointment. There is a "General Questions" discussion forum where students can post questions regarding assignment requirements and/or course concerns and receive a response within 24 hours.
An Approved Education Provider Across the Globe: Our online substance use counseling program will prepare you for a career wherever you want to go next. We are an International Certification & Reciprocity Consortium (IC&RC) member as well as an approved education provider in multiple states across the country. This means that our online counseling courses are transferable in 47 states, countries and territories and can help you receive the education and training you need to become an addiction professional or substance use counselor, depending on what your goals are. Hours in the field will vary from state to state. Ultimately, students who take our courses will be prepared to sit for the IC&RC exam and depending upon hours worked in the field will determine their credentialing. Learn more about the counseling requirements in your state
How to Enroll in Our Online Program for Drug and Alcohol Counseling
Enrolling in our online counseling courses is simple. We work with you to ensure that you have everything you need to get started. You will need:
High School Diploma/GED/College Transcript(s)
Student Payment Plan (to be discussed with an Admissions Representative)
Criminal History Standards (statutes vary depending on state)
Access to internet and word processing program 4-5 days per week
To continue learning about whether our online substance use counselor training program are a good fit for you, give our admissions team a call at 866.615.3276 or leave us a message to learn if our program could be a good fit.
Have questions about our pursuing your counseling certification online?
Call 866.615.3276 to speak with an admissions counselor and start working toward earning your counseling certification online.