With a curriculum designed by "real world" addiction professionals and both online and in-class hybrid options that can be completed in six months, Sober College School of Addiction Studies (SCSAS) counselor certification program offers flexibility without compromising academic excellence. With just a High School Diploma or GED, for most states, you can become a substance use counselor and take the first steps towards a rapidly-growing and fulfilling career path as a Certified Substance Use Counselor.
A Program Designed to Fit Your Schedule | In-Class Hybrid and Online Programs
Sober College School of Addiction Studies is designed for working professionals. By taking our classes online, or in-class one weekend a month, you will complete 315 educational hours (including practicum hours) in just six months.
In-class/Hybrid Program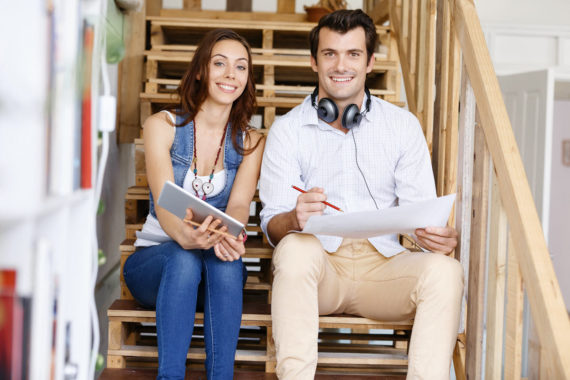 Our In-Class Hybrid Program is perfect for students that would benefit from having face time with their instructor. With benchmark goals, hybrid students complete coursework the month before meeting with their instructor for one weekend (two in-class meetings). The significance of in-class meetings are to review important material, engage in discussions with peers and their instructor, and to prepare for the final exam.
More About Our In-Class Counselor Training
Online Program
Our Online Program also offers flexibility and has benchmark goals to keep students on track. There are no in-class meetings with our instructor; however, students engage in weekly online discussions with both classmates and their instructor. This learning format is best suited for students that enjoy making their own schedule as they reach short-term goals and who thrive on continued engagement.
More About Our Online Counselor Training
Questions about which program would work best for you?
Call 866.61.LEARN to speak with an admissions counselor.
How is Our Program Different from Other Programs?
The course material for both hybrid and online formats is delivered via Moodle, an online learning platform that provides a personalized learning environment for our students. Since all coursework is submitted on Moodle, students can trust that all work is organized, secure and visible to their instructor in real time. Moodle also offers time management tools and interactive assignments, catering to the varying needs of students.
The Format, Length and Grading

Our hybrid in-class program, like our online program takes 6 months to complete 6 courses (one course per month); concurrent enrollment in practicum courses starting in month 2. Students receive detailed feedback on all assignments within one week of submitting, allowing for continual improvement. Students receive a letter grade for each course and must earn a C or better in each course to graduate. Student who choose the hybrid learning format will complete coursework the month prior to meeting in-class with their instructor.

Our in-class hybrid program, located in Southern California is aligned with all CCAPP learning objectives and requirements. However, both our in-class and online formats offer students the same curriculum and meet all the necessary learning objectives in several states across the country.

Instructor Support

Instructors are available to assist students daily. Instructors can be reached via email 24/7, with a 24 hour turn around time for emails. Instructors are available for support over the phone by appointment. There is a "General Questions" discussion forum located in Moodle where students can post questions regarding assignment requirements and/or course concerns and receive a response within 24 hours.

Students meet with their instructor two days each month for in-class instruction. This is also a great time to ask for clarification and review important material for the final exam.

Requirements for Enrollment

Enrolling in our substance use counselor training is simple. Our dedicated Admissions Counselors can help ensure that you have everything you need to get started. You will need:

High School Diploma/GED/College Transcript(s)
Student Payment Plan (to be discussed with an Admissions Counselor)
Criminal History Standards (statutes vary depending on state)
Access to internet and word processing program
Ability to attend the required two class meetings per month