Studies show that focusing on academic work actually helps heal the damage done to the brain by drug and alcohol abuse. Studying activates neuropathways in the brain; simply put, it helps to increase memory and brain function. This is why the academic component of our program is so vital. At Sober College, we are determined to heal the damage done to our clients' brains by drug and alcohol abuse and dedicated to helping clients regain their academic focus; as they find physical and emotional strength, they also find mental strength.
We are the only drug and alcohol treatment program that offers accredited, rolling admissions college courses on-site. By taking courses, clients slowly but surely rehab their injured brains, causing them to regain memory and motivation. We take pride in watching our clients excel in our program, and success in academics leads to further growth and self-confidence. Reigniting a passion for academic excellence offers long-lasting benefits for recovery and in a client's future and academic career.
Individualized Academic Planning Based on Your Child's Needs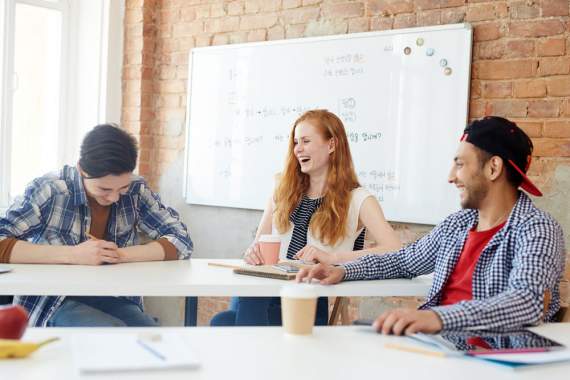 We are able to accommodate your child's educational needs regardless of where they are in their academic journey. We customize plans to address your child's goals and aspirations through a variety of methods:
Your child will have a designated academic coach to develop a personal plan based on their educational history
If your child wants to work with their current school, we will do whatever we can to make that possible
If your child has not yet graduated high school, we can help them get their diploma and start the process of taking college courses simultaneously
Your child's journey in recovery is personalized, and so is their path to academic achievement
Benefits of Our One-of-a-Kind College Rehab Program | About the Woodbury University & Sober College Partnership
Combining education with rehab ensures young adults lose no time while in recovery. Academic achievements can boost confidence and create additional goals for clients to strive towards, which can serve as an excellent motivator in recovery.
Balancing Recovery with Academic Success
Professors are in constant communication with the other members of each client's treatment team; this ensures clients aren't forced to drop classes due to clinical issues that may arise in early sobriety.
Rolling Admissions to Keep Your Child on Track
Clients can start school as soon as they arrive. This structure works well for our community because when clients begin class, even if they feel overwhelmed, they are supported by peers who empathize with them and who are more than willing to lend a helping hand.
Transferable, Accredited College Credits
Clients can take their 15 accredited credit while at Sober College that they with them to other colleges/universities.
Academic Support from On-Site Woodbury University Professors
Each class offered in our rehab for college clients is taught by a Woodbury University professor. Clients have access to their professor and the academic coach throughout the week. Smaller class sizes also allow clients to receive personal attention during and outside of class.
Earn a Certificate of General Studies
Upon completion of all five Woodbury courses, Sober College clients earn a Certificate of General Studies from Woodbury University.
Guarenteed Admission to Woodbury University
Clients who finish their courses with a 3.0 or better are given automatic admission into Woodbury University.
Scholarships from Woodbury University
Through our partnership, clients who finish all five courses with a GPA between 3.25-3.5 are eligible for a $5,000 scholarship toward their Woodbury University tuition. Clients who finish all five course with a GPA between 3.5-4.0 are eligible for a $10,000 scholarship.
Offering an Engaging Curricullum
Regardless of which course they choose to take, each client is challenged to think critically by engaging in rigorous coursework created to help stimulate their minds. Some of these include:

Public Speaking: The Public Speaking course is a great way to build confidence and develop communication skills.
Sociology of Drugs and Alcohol in Popular Culture: This course highlights the way pop culture influences our perception of drug and alcohol use.
Civic Engagement: This course invites clients to explore issues of public concern to identify ways the community can work together to improve circumstances.
Creative Writing: This course provides a creative outlet for clients to explore various methods of self-expression and engage with others.
Psychology: Studying psychology can help clients better understand the nature of addiction and their own needs in recovery.
Begin Your Child's Bright Future with Sober College
Your child's potential is limitless. They can do anything they set their mind to including college and recovery. Give us a call at 800.465.0142 or fill out a contact form so we can help your son or daughter reach their academic and rehabilitation goals.