Substance use counseling is often a natural fit for those who have experienced addiction or run-ins with the law. This provides them with the opportunity to make a change and give back to their community. Finding a career with a felony or misdemeanor on your record can be challenging, but with addiction counseling, it is possible.
Can You Be a Substance Use Counselor with a Misdemeanor?
It is possible to become a substance use counselor with a misdemeanor, but there is varying criteria that may determine if you can practice in specific states. While you may be tempted to lie about a conviction, it will likely turn up in a background check which constitutes fraud and may lead to further legal trouble.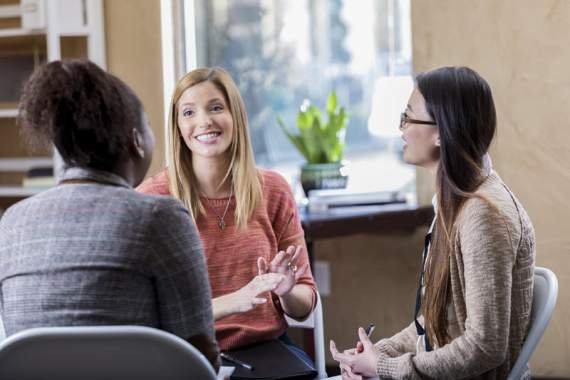 The factors that may be considered when determining if a person with a misdemeanor can become a substance use counselor include:
The nature/seriousness of the crime
Relationship between the crime and the role of an addiction counselor
Extent of past criminal activity
The age of the person when the crime was committed
The amount of time since the last instance of criminal activity
The amount of time since release from last incarceration
Conduct and work history before/after crimes
Evidence of rehabilitation
Letters of recommendation from law enforcement or employers
Can You Be a Substance Use Counselor with a Felony?
Every state has different policies regarding licensing and felonies. There are multiple factors to consider when determining if obtaining licensure is possible.
You will be required to indicate on forms whether or not you have a criminal record. If you answer 'yes' to this question, additional forms may need to be completed and fees may be associated with them. It is also possible you will be required to provide documentation related to the offense as well as rehabilitation steps taken following it. In some cases, you may be required to interview with the board.
Other factors that will influence licensing include:
Type of felony:

Some states may prohibit a person from becoming a licensed counselor depending on the nature of the crime committed. For example, those who have committed murder or sexual assault may be unable to practice as a licensed counselor.

Amount of time in rehabilitation:

Some states may only approve a person for licensure following an extended period of rehabilitation. They may require a significant amount of time to pass between when the crime was committed and when licensure is granted. In some cases, it may be several years before it can be approved.

Licensing with contingencies:

In some states, a person may be granted licensure with a contingency in place. For example, someone with a felony conviction may be required to have another person monitor their work as a form of ongoing accountability.

Type of licensing:

Some states may have more leniency regarding the type of licensing that can be obtained. This is often rooted in the belief that those who have struggled with addiction or who have criminal records and have overcome hardships are effective counselors due to their ability to connect with clients who share similar experiences.
Why Substance Use Counseling Work Might Be Good for Those with a Record
A substance use counselor wears many hats in their role. In addition to providing support to those in treatment, they may also help a person manage their physical and mental health, assist them in developing goals, and work to identify behaviors or patterns that disrupt positive growth.
Substance use counselors can work in a variety of fields as they help both the person with an addiction and their loved ones navigate the recovery process through the development of healthy coping mechanisms. Working with those who struggle with addiction can be difficult making it important for counselors to have specific skills that make them more adept at connecting with clients and forming meaningful connections.
Those who have a history of substance abuse and even those with a criminal record can be especially suited for this type of work. Because of their intimate understanding of the process from a client perspective, they are better able to navigate difficult conversations and explore topics that others may not be able to. They also have the ability to put themselves into another person's shoes and can more readily relate to their experiences. This can make it easier to break down barriers and form meaningful relationships with clients. Learn more about recovering addicts becoming counselors.
Steps to Become a Substance Use Counselor with a Record
If you have a record and are interested in becoming a substance use counselor, it is important to start gathering information early on. Before beginning the process, reach out to schools you are interested in attending to get a better understanding of the requirements. Some schools will review criminal records and may not admit someone into the program for that reason.
It's a good idea to start building strong relationships early on in your education and work experience. Letters of recommendation can play a major role in your ability to network and obtain jobs down the road. Strong recommendation letters can help speak to your character and your ability to meet the requirements of the job.
Additionally, if you do have a criminal record, you may be required to submit documentation related to your criminal history. You may be asked to document the circumstances of your criminal record. This will include having a good understanding of your case and the facts around it, the charges, and any sentencing. If you present discrepancies in this information, even if unintentional, it may lead to you being perceived as dishonest.
Due to some of the extra steps, it may take a little longer to hear back on your licensing status. Additional paperwork, in-person meetings, and reviewing your history can all contribute to this.
Supporting a Felon in Becoming a Substance Use Counselor
If someone you know is pursuing a career in substance use counseling, it is important to support them in any step they take to improve their lives. While they may have made mistakes in the past and served time as a result, it is important to not hold those mistakes against them and not define their character by their past.
While the path to achieving a career in substance use counseling may be a bit more difficult, you can help encourage them and support them in their efforts to make a sincere change. Your loved one can change and grow from past experiences. Often times, those who have walked this path have the unique ability to connect in meaningful ways with others who share similar experiences. Their past experiences can be a valuable tool and resource to use in helping others.
In addition to being encouraging and present in their journey, you can provide additional support throughout the educational process. Helping them study, practice for exams, and engaging with them about topics they are exploring will help them perform better academically.
Do You Have a Criminal Record and Want to Become a Substance Use Counselor?
If you are interested in exploring the field of substance use counseling, give us a call at 866.615.3276, send us a message, or visit our program overview page for more information. We can help you navigate the requirements for the field while simultaneously helping you determine if this is the right field for you.
Sources
https://www.jobsforfelonshub.com/can-felon-become-addiction-counselor/
http://work.chron.com/can-person-felony-become-licensed-counselor-23948.html