If you are looking to explore the field of substance use counseling, you may be wondering what it takes to be successful in the role. While there are numerous trainings, educational options, and resources available to empower someone in the field, some characteristics or skills a person possesses can be valuable in making them an exceptional substance use counselor.
Valuable Skills for Substance Use Counselors
Employers look for both hard and soft skills in potential employees.
Hard Skills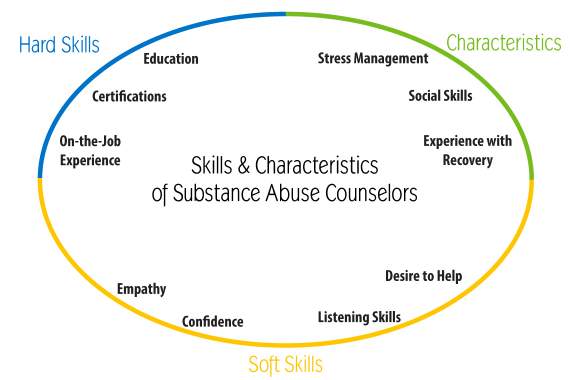 Hard skills are tangible evidence of a person's experience and ability to perform specific tasks. These skills include:
Education
Training
Certifications
On-the-job experience
Soft Skills
Soft skills are equally important, are generally described as interpersonal skills. While they are not job-specific, employers look for individuals with soft skills that align with their company's values and needs.
In the field of substance use counseling, important soft skills include a combination of personality traits, communication abilities, and the ability to pick up easily on social cues to improve communication with others. These include:
Confidence
You will encounter a variety of personalities and must regularly adapt to new challenges – confidence will allow you to navigate difficult situations
Confidence is key to taking control of the conversation and guiding it down the right path
Great listening skills
Working one-on-one with clients to better understand their experiences help you determine the most effective treatment methods
Engaging with clients about their past experiences, family history, and other unique factors help you make better recommendations
Active listening help clients feel heard, understand, and validated – this is critical in providing effective therapy to clients
Empathy
While you may not be able to personally relate to the experiences of clients, empathizing with their experiences help you form meaningful connections
Expressing empathy makes it easier for clients to open up and engage with you without fear of feeling judged
A desire to help others
Sincerity is critical in providing effective treatment – a client will know whether or not you are truly engaged with them
Substance use counseling is hard work and not for the faint of heart – having a strong desire to help people in addition to other interpersonal skills makes the job incredibly rewarding
Additional Characteristics of Great Substance Use Counselors
In addition to the above-listed attributes, there are other skills and characteristics that can make a person successful as a substance use counselor. This includes:
Stress management skills
Substance use counseling is a tumultuous line of work. You will encounter a wide variety of personalities who struggle with numerous mental, physical, and emotional conditions.
It may be difficult sometimes to reach your clients and there will be successes and pitfalls – learning how to manage the stress that will undoubtedly accompany the job will help you avoid feeling overwhelmed or burned out.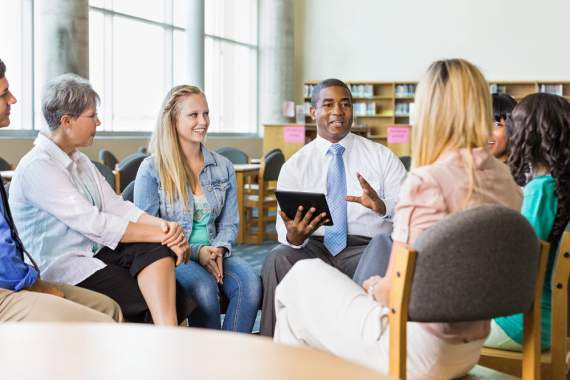 Ability to maintain boundaries
Throughout the recovery process, you will develop meaningful relationships with your clients. There may be situations in which you will go above and beyond to help them; however, a lack of boundaries will lead to the development of enabling behaviors.
While you may be in a situation where you help your clients by driving them to interviews or ensuring they are able to make recovery meetings, you will need to ensure firm boundaries are set. It can be easy to get caught up in wanting to help someone succeed, but you must establish boundaries to protect the integrity of your relationship and ensure you are not taken advantage of.
Personal recovery
While it is not required to be successful as a substance use counselor, those who have experienced their own road to recovery can often connect with those in treatment in a way other people cannot.
Experiencing the recovery process can make it easier for you to relate to those you are working with and providing valuable insight into how to manage triggers and avoid pitfalls. Learn more about recovering addicts becoming counselors.
Social skills
Developing meaningful relationships with your clients is critical to success and establishing trust early on can help you connect more easily.
In substance use counseling, it is important to be non-judgmental and to avoid criticizing mistakes from a client's past. Being understanding and empathetic, even if your client has experienced relapse, will make it easier for your clients to open up to you and will be beneficial to their recovery experience. There must be a balance, however, in which you still hold your client accountable for behaviors in order to enable success.
Formal Requirements for Substance Use Counselors
Becoming a successful substance use counselor requires more than just a specific set of characteristics. There are formal training requirements that must also be completed in order to practice. These requirements vary from state-to-state making it imperative to research prior to starting a program. Sober College's School of Addiction Studies allows students to complete the educational requirements for the state they wish to practice in.
While there are differences from state-to-state, in general, if you are pursuing a career in substance use counseling, you should expect some of the following requirements:
Have an accredited counseling certification or degree
Acquisition of supervised clinical hours
Passing a felony and child abuse background check
Pass a licensing or certification exam
Depending on the state you are in and the level at which you are looking to practice, you may need to complete higher forms of education in order to work in substance use counseling. Be sure to review our comprehensive list of state-by-state requirements for substance use counselors.
Interested in Becoming a Substance Use Counselor?
If you are interested in pursuing a career in substance use counseling, you may review our program overview or reach out directly to Sober College School of Addiction Studies for more information. We can discuss your unique situation with you and make recommendations for pursuing a degree in this field.
Sources
https://www.thebalancecareers.com/what-are-soft-skills-2060852
http://substanceabusecounselor.com/about-substance-abuse-counselors/substance-abuse-counselor-qualifications/
https://www.allaboutcounseling.com/library/drug-rehab-counselor/