Marijuana is one of the most popular drugs in the United States among college students, and it's no surprise that weed addiction is prevalent in that demographic as well.
It is similar to hashish or hash. It is an illegal drug in most states, yet it still manages to circulate around the world. Slang names that are used for Marijuana include ganja, weed, grass, dope, Mary Jane, cannabis, and pot. There are marijuana laws that have been created in every state! It is one of the most illicit drugs smoked in the United States.
What is Marijuana?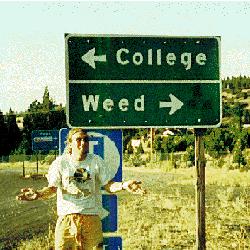 Marijuana is a mind altering drug. It has a main component called cannabis which is a psychoactive. A 'joint' is a cigarette that is made from Marijuana. Marijuana is made up from the dried up plant Cannabis. THC and active cannabinoids are main components of cannabis, which are psychoactive. It is a mix of the stem, leaves, flowers and seeds of the hemp plant. These plants are grown naturally in Central Asia in Afghanistan, but its growth has spread to different countries. The amount of THC present in Marijuana determines how strong the effects of it will be.
Short Term Effects of Marijuana Use and Weed Addiction
There are immediate effects of marijuana, as well as long term effects. The immediate effects from smoking marijuana include:
Sensory distortion
Panic
Anxiety
Impaired hand eye coordination
Problems with memory
Lower reaction time
An initial "up" followed by feeling sleepy or depressed
Increased heart rate and blood pressure (and risk of heart attack)
Weed addiction can lead to anxiety and fear. When smoked, the effects of marijuana are almost immediate and can last anywhere from 2 to 3 hours. When the drug is used to cook in food, the effects may be delayed but last for longer periods of time. The strength of marijuana depends on the way the plant has been grown. If the plant has been watered, given the certain climatic conditions, has enough of sunlight, and if it is harvested at the right time, the marijuana will be more potent. Plants are being bread by growers to contain higher levels of THC. The strength of the plants that are grown today is almost ten times stronger than those in the recent past.
Marijuana Addiction and Treatment
Symptoms of Weed Addiction
The article below was written by a Sober College student. He shares his first-hand experience with the progression, symptoms and consequences of weed addiction.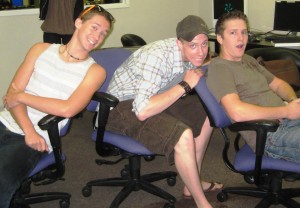 Marijuana is a very controversial topic these days. Teens and some parents agree that the fact about it is everyone knows somebody who is smoking weed. Marijuana is very prevalent and readily available in high schools and has taken over college campuses. Recent decriminalization in California has the made the problem even worse. So everyone does it, but how do you know if its becoming too much of a problem. Parents are often left in that sticky situation of not knowing when or if their kids are going to cross that invisible line from recreational use to substance addiction. It's hard to tell, because smoking pot is one of the most cunning addictions especially in young adults. Adolescent use is widespread and acceptable in schools, but at what point does that just become another justification for an untreated addiction?
Marijuana addiction is often just the tip of the iceberg. Cannabis is a gateway drug to using other more serious substances. These often accelerate the addiction symptoms and thrust the addict to his or her bottom even faster. I however, intellectualized my addiction. I only was only smoking marijuana so it's not that big of a problem right? I thoroughly convinced myself that harder substances would be too detrimental to my athletic ability. So instead I smoked, and I smoked some more, and then oh just a little bit more before bed. You get the idea.
Somewhere along the line, my recreational usage stopped being just fun on the weekends. Soon it was after school. Homework isn't that important right? I'm living the high school dream. Everyone else is doing it! Except I never realized other people were doing their work. I was just smoking while I waited for them to be done so they could come smoke more with me. I am an addict. I can't regulate my addiction. If I want to go home after school to do finally do some work that I know I need to do, and someone offers me a ride to go smoke with a few people, I want to say no but I can't. Pretty soon I decide that the classes I am failing were too hard anyways and a couple open class periods would be relaxing for senior year. The plan was to use those open class periods to get caught up in my other classes and get extra sleep. For an addict like me, the plan almost never happens. Instead I was smoking even more and going to class totally baked out of my mind, thinking it was hilarious and loving the reputation I was getting with my classmates. I never stopped to look at the consequences.
For me weed had no short term consequences so it was really easy to justify how much I used. Nothing wrong ever happens! Except for the amount of potential I threw away. All of my consequences were long term. Long term grades plummeted. Long term athletic performance down the tube. Long term family relations gone. Long term friendships shallow at best. I was bored, I was lonely, I was sick, I was tired, I was demotivated and I never saw it coming. Then I came to Sober College and got my life back plus some.
By Jordan B.
Sources
http://www.drugfreeworld.org/drugfacts/marijuana/short-and-long-term-effects.html