Alcohol abuse is a very serious problem that affects millions of people around the United States. Despite being underage, teenagers can even struggle with alcohol abuse. Like adults, teens who abuse alcohol have to deal with serious, sometimes fatal consequences that can impact not only their lives, but also the lives around them forever. However, the right treatment and support for teens abusing alcohol can promote change.
The Number of Teens Abusing Alcohol and Their Drinking Habits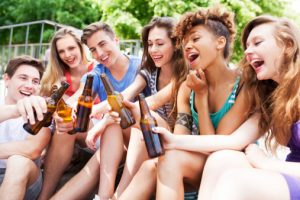 Teenage alcohol use is fairly common throughout America. In 2015, 7.7 million people between the ages of 12–20 said that they drank alcohol in the previous month. Although millions of teens drink, teenage alcohol consumption only accounts for about 11% of all alcohol consumed over the course of a year.
Although the percentage of alcohol consumed by teens is low, the risks can still be high. Teens abusing alcohol often binge drink, which involves drinking a lot of alcohol in one sitting. Around 5.1 million teens reported that they binge drank at least once in the past month. Almost 1.4 million said that they participated in binge drinking over five times in the same amount of time.
Click to Learn More About Alcoholism
The Risks Involved with Teens Abusing Alcohol
Because the human brain continues to develop throughout early adulthood, teens abusing alcohol risk altering their brain's functions and structure. Such changes can cause learning other cognitive difficulties. It can also make teens far more susceptible to alcohol dependence and alcoholism during adulthood.
Developmental problems aren't the only risks, though. In almost all cases, drinking impairs judgment, which can lead to risky behavior such as unprotected sex, drunk driving, and violent behavior. This behavior can get them in trouble with law enforcement, cause themselves or others physical harm, or even lead to a fatality. From 2006–2010, over 4,000 people under the age of 21 died in a situation that involved teens abusing alcohol.
Getting Sober Is a Possibility for Teens Abusing Alcohol
No matter how long a teen has been abusing alcohol, getting sober is always an option. However, it can't be done alone. Seeking recovery at a professional addiction treatment center will provide teens with the engaging programs and support needed to start and maintain a sober life. Sober College in Los Angeles, California can be that supportive place.
At Sober College, we offer teens and young adults addiction treatment programs and professional care. Along with our traditional programs that address different types of addiction, our clients are able to take college courses, socialize with peers in similar situations, and start developing enriching habits that will keep them sober for years to come.
Have questions regarding teen alcohol abuse treatment for yourself or a loved one?
Call 877.634.7849 to speak with an admissions counselor.