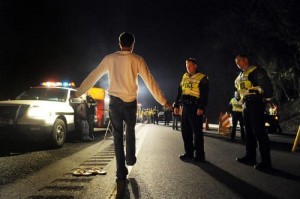 Marijuana and alcohol are two of the most commonly abused substances among young adults. When used together, the consequences of abuse can be more detrimental.
According to a recent study published in the May issue of the Journal of Studies on Alcohol and Drugs, teens who use marijuana and alcohol together are at an increased risk to drive while under the influence. Teens that use these two substances were found to be 50 – 90 percent more likely to drive unsafely than those who do not drink or smoke pot.
While the substances alone have many negative side effects, simultaneous use can increase risky behavior, leading to more dangerous outcomes. Popular media often portrays marijuana and alcohol abuse in more positive light, leading many to underestimate the consequences of use. For many, education about the risks associated with experimentation is critical in combating the false depictions showcased by the media. It is important to educate teens on the risk factors of abusing these substances alone as well as simultaneous abuse.
The simultaneous abuse of marijuana and alcohol can cause some to look for alternative ways to achieve and surpass their effects with other illicit substances. Many use drugs and alcohol to relate to their peers and as a way to enjoy themselves. These behaviors can quickly dominate the daily activities and interactions of young adults as they develop dependencies, causing addiction and experimentation to grow. Sober College focuses on not only helping young adults abstain from substance abuse, but also in helping them develop the tools they need to maintain a sober lifestyle. Through the development of emotional intelligence, students learn what sobriety is and how to enjoy it. In achieving sobriety, students regain control of their lives and develop a new outlook on life.
Sources
https://www.sciencedaily.com/releases/2014/04/140428074801.htm