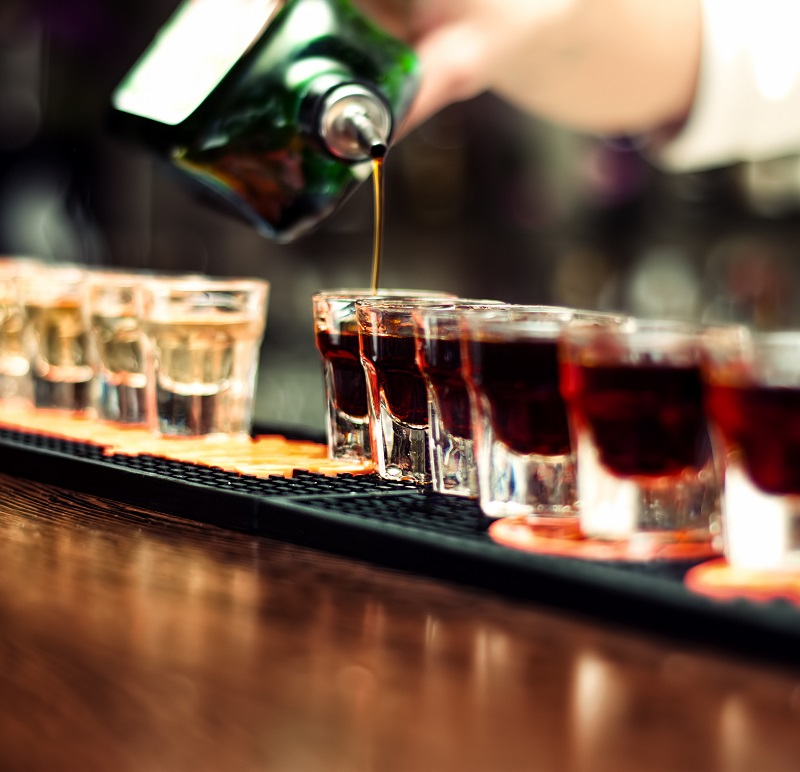 Alcohol is one of the most commonly abused substances in the United States.
Nearly one in six individuals consumes too much alcohol. With the perceived normalization of regular alcohol consumption, it can be difficult to identify whether or not an individual is struggling with alcoholism. If you find yourself wondering if you have a drinking problem, here are five symptoms to be aware of.
You regularly engage in binge drinking. Consuming alcohol regularly does not necessarily mean an individual is a binge drinker, but there are a growing number of adults who regularly consume alcohol to the point of excess. According to a study recently released by the CDC, more than 38 million adults binge drink four times a month, on average. While those aged 18 to 34 are more likely to engage in binge drinking than any other demographic, a growing number of adults over the age of 65 drink excessively. For women, this translates to roughly four or more drinks within a short period of time and for men, it is five or more. Excessive consumption of alcohol is responsible for nearly 80,000 deaths per year, and while not everyone who binge drinks should be classified an alcoholic, many are putting themselves at an increased risk for injury or death.
You begin to neglect your responsibilities. Excessive alcohol consumption can cause an individual to neglect responsibilities and things that are important to them for the sake of drinking. Your normal day-to-day tasks may lose priority to drinking, which can cause relationship problems, financial burdens, or health issues. You may perform poorly at work, fail classes, overspend at the bar, or neglect your friends. You may continue to drink even though you know it will cause problems in your relationships and with those closest to you. Excessive alcohol consumption can also cause an individual to become more susceptible to getting sick, which in turn interferes with the responsibilities of daily life.
Alcohol is your go-to method of relaxing. If you regularly use alcohol as a method of de-stressing, you may develop a dependency. You may choose to have alcohol after a long day at work or a fight with a loved one. Rather than engaging in activities and hobbies that you once found enjoyable, alcohol consumption takes priority. Alcohol is one of the most commonly abused substances because many use it as a form of self-medication. You may feel that you have to drink alcohol in order to feel "normal," and you become agitated if you cannot have it. Relying on alcohol as a method of relaxation can lead to the development of a dependency that can worsen an individual's overall condition over time.
You have to consume large amounts of alcohol in order to feel its effects. One of the most obvious signs of developing alcoholism is increased tolerance. You may begin to experience physical withdrawal symptoms when you do not drink. Generally, withdrawal symptoms may present themselves 6 to 12 hours after alcohol consumption has stopped. This may include symptoms of nausea, sweating and shaking. In more severe cases, withdrawal symptoms can cause fever, hallucinations and seizures.
You are more likely to engage in dangerous behaviors. Problems with alcohol often lead to trouble in other areas of life. This may begin by telling lies about your activities and whereabouts, and can escalate over time. As drinking becomes more of a priority, individuals are more likely to put themselves in dangerous situations. This may include driving under the influence, engaging in physical altercations, and engaging in behavior that would seem out of place if one were sober. Increased alcohol consumption often leads to poor judgment, and may put an individual in legal trouble.
The definition of an alcoholic is very fluid and is different for every person that struggles with addiction. Signs and symptoms of alcoholism vary from person to person based on numerous biological, environmental and social factors. Understanding many of the common behaviors associated with alcoholism may help you better identify a need for an alcohol addiction treatment program and the steps necessary to recover from alcohol dependency.
Sources
http://www.mayoclinic.org/diseases-conditions/alcohol-use-disorder/basics/definition/con-20020866?reDate=29042016
http://www.prevention.com/health/binge-drinking-how-tell-if-you-have-alcohol-problem