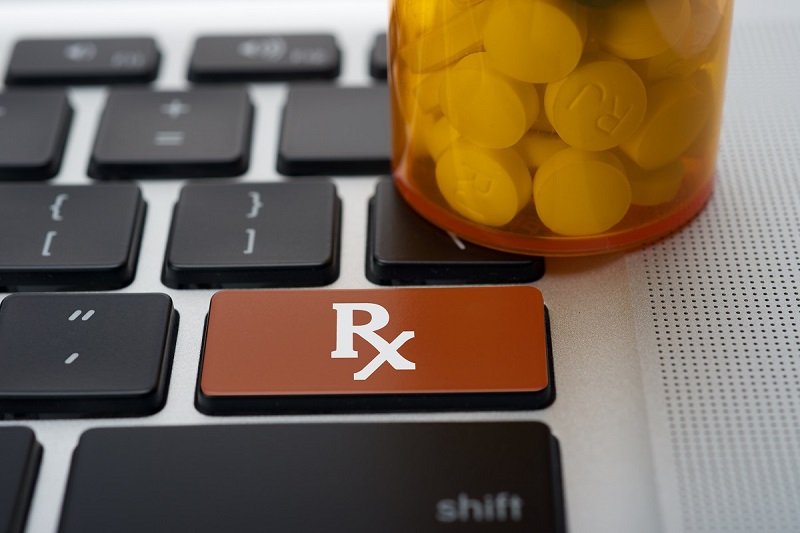 Prescription drug abuse is one of the fasting growing problems in the United States and across the globe.
As more prescriptions are written for a wide variety of conditions, their presence in many households is becoming increasingly common. Even if a person does not have a prescription, they likely have a friend, family member, or acquaintance with access to prescription drugs. The ease of access to prescription drugs is problematic enough, but it is worsened due to their availability online. With a simple online search, countless prescription drugs can be ordered through the Internet without a doctor's signature. All a person needs is a credit card and Internet access and they can get these drugs delivered straight to their door.
Countless online retailers, many based abroad, make it easy for a person to self-medicate for symptoms and conditions that may or may not require treatment by medication. Online purchasing makes it easy to acquire large quantities of prescription pills for a cheap price with varying levels of strength. Without care or guidance from a medical professional, what may begin as an attempt to relieve symptoms of stress, anxiety, and other conditions can quickly turn into misuse, dependency, and addiction.
Benzodiazepines and Online Sales
Benzodiazepines are some of the most commonly purchased prescription drugs. These are a class of psychoactive drugs used to treat a variety of conditions including anxiety, insomnia, seizure control, and alcohol withdrawal. They are also some of the most commonly prescribed medications in the United States. There are many benzodiazepines, but some of the most common medications include Xanax, Valium, Librium, and Versed.
Benzodiazepines are known for their varying properties that treat a wide range of conditions. These medications act on the Central Nervous System (CNS) to produce sedating, hypnotic, anti-anxiety, and muscle relaxing effects. With short-term use, benzodiazepines are incredibly effective and generally safe, but long-term use has been met with much controversy due to their potential for abuse, dependency, and other adverse side effects.
Even when taken as prescribed, benzodiazepines can produce a number of side effects including:
Drowsiness
Confusion
Headaches
Grogginess
Feelings of depression
Impaired coordination
Vision problems
Weakness
Difficulty breathing
Coma
Benzodiazepines can also cause amnesia, causing many users to lose their memory or recollection of certain events. Because of these side effects, benzodiazepines are often used as date rape drugs. A person under their influence is largely unable to resist sexual aggression or assault. In many cases, benzodiazepines are added to a person's beverage in liquid or powder form and are difficult to taste. Recently, convictions related to benzodiazepines and sexual assault have increased dramatically.
In many cases, abuse of benzodiazepines develops unintentionally. A person may begin taking the medication as prescribed, but then starts to take more than what is recommended. As a person continues to up the dosage, tolerance develops, which means that person must continue taking larger amounts of the drug in order to achieve the same effects. This ultimately leads to dependency and addiction. If a person develops a dependency on benzodiazepines, suddenly stopping the drug can have life-threatening consequences. A person may experience seizures, tremors, and muscle cramps if they quit using the cold turkey method. In order to stop using benzodiazepines safely, it is important to do so by slowly tapering dosages with professional help.
Prescription Drug Addiction Treatment
The Problem with Online Purchasing
While it may seem easy and convenient to purchase prescription drugs online, there are many potential dangers with using medications purchased through the Internet. Some websites that sell prescription drugs may actually be an illegal operation that puts buyers' health at risk. When a person buys prescription medication online from a company they do not know, there is no way to know if they are receiving what they actually ordered. The Food and Drug Administration (FDA) cautions consumers about purchasing prescriptions online. While there are many legal, legitimate businesses that sell medications conveniently and safely, there are just as many rogue operations that sell potentially dangerous drugs. While a site may look professional and legal, it could be run by an illegal operation selling drugs that have not been checked for safety or effectiveness.
Illegal operations often sell drugs that have not been approved by the FDA, contain the wrong active ingredients, contain varying amounts of the active ingredient, or contain altogether dangerous ingredients. The FDA has recently identified cases of consumers attempting to purchase legitimate prescription medications (Ambien, Xanax, and Lexipro), but receiving a foreign version of Haldol, a powerful anti-psychotic drug. While the drug looked exactly like the FDA-approved drug they ordered, these customers needed emergency medical treatment for unexpected side effects including muscle spasms, muscle stiffness, and difficulty breathing.
In addition, some online retailers sell counterfeit drugs instead of the medication a person intends to purchase. These drugs are often deliberately mislabeled, leading consumers to believe they are authentic while they're actually contaminated. Using these drugs can produce adverse effects that may be harmful. In addition, there can be a greater potential for misuse and addiction.
Protecting Yourself Online
Before purchasing a new medication, it is important to discuss your needs with a health care professional and understand the steps necessary in order to refill prescriptions. Refilling prescriptions online can be convenient and safe if the proper precautions are taken. When ordering medications online be sure to:
Check the physical appearance of the medication, including the color, size, texture, shape, and packaging
Check to make sure the medication tastes and smells the same as the medication you've taken previously
Contact your health care professional if something seems different about the medication
The FDA has also published ways to protect yourself when purchasing medications online. They state:
Only purchase medications from a state-licensed pharmacy in the US
Only purchase medications from a website that has privacy and security policies that are easy to understand
Do not purchase medications from sites that do not require a prescription to buy
Do not purchase medications from sites that sell medications without a physical exam or only require an online questionnaire
In addition, it is important that you purchase medications from a website that does not sell your personal information. Do not purchase from a website that requires personal information, such as your social security number or credit card information, unless you know your information will be safe and secure.
The FDA works around the clock to protect consumers from counterfeit drugs and illegal online operations. They proactively work with manufacturers, retailers, and wholesalers to identify and prevent the sale of counterfeit drugs online. Currently, the FDA is working to incorporate new technologies and other measures to make it more difficult for counterfeit drugs to be deliberately sold in the place of legitimate medications.
Sources:
http://www.webmd.com/mental-health/addiction/benzodiazepine-abuse
http://www.fda.gov/ForConsumers/ConsumerUpdates/ucm048396.htm
http://www.narconon.org/drug-abuse/effects-of-benzodiazepine.html
http://www.medicalnewstoday.com/articles/262809.php