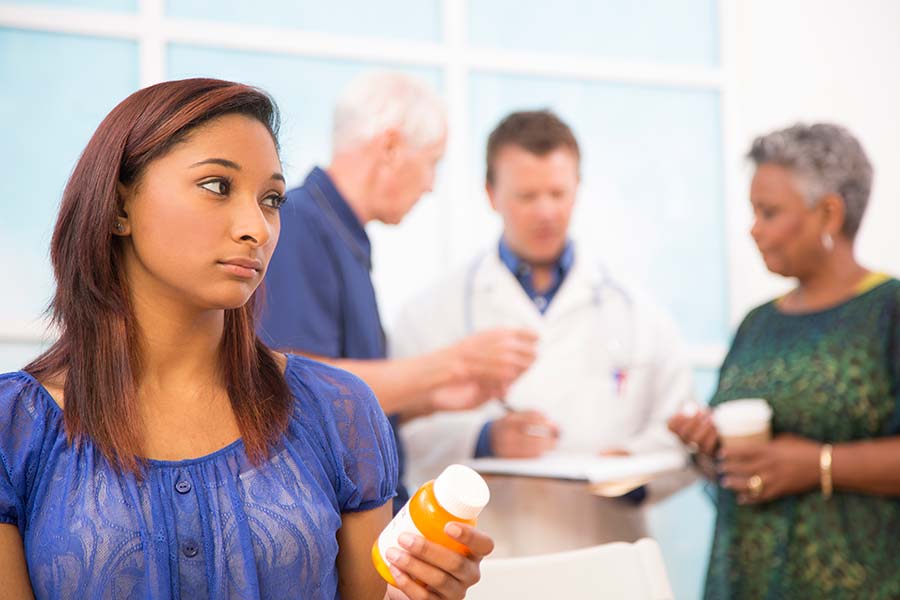 Both Concerta and Adderall activate certain areas of the brain responsible for maintaining focus, but contain highly addictive properties. It's important to understand what makes them different so you can make the right choice. Prescribed by physicians to treat ADHD and narcolepsy, both medications can produce feelings of relaxation and a euphoric high by stimulating the central nervous system.
Continue reading to learn the differences between Concerta and Adderall in addition to the risks associated with each.
What Is Concerta?
Concerta is a prescription stimulant used to treat narcolepsy and ADHD. The generic form of Concert is methylphenidate. Concerta works by stimulating the central nervous system, producing a calming effect and is useful in helping users focus and control their behavior. It is available in extended release pill form and is ingested orally.
What Is Adderall?
Adderall is also a stimulant, however, it is a mixture of many different amphetamine salts:
Amphetamine aspartate monohydrate
Amphetamine sulfate
Dextroamphetamine sulfate
Dextroamphetamine saccharate
Amphetamines suppress the CNS by increasing the amount of dopamine and norepinephrine in the brain. This creates a relaxed feeling within the user, which is why it is also used to treat narcolepsy and ADHD.
It is important to note that the DEA considers both of these medications Schedule II controlled substances, which means they have highly addictive properties.
Concerta vs. Adderall Side Effects
Concerta and Adderall produce similar side effects because they work similarly on the brain. Common side effects include:
Decreased appetite
Headache
Nervousness or agitation
Anxiousness
Dry mouth
Nausea or vomiting
Sweating
Insomnia
Because of the fact that Concerta is a methylphenidate while Adderall is an amphetamine, side effects can feel milder with Concerta. Additionally, Concerta is known to have a greater effect on mental activities vs. motor activities.
Appetite suppression is a common side effect of both Concerta and Adderall, which is why it is commonly abused by those looking for a quick way to lose weight. Any type of abuse of either of these drugs is incredibly dangerous and can certainly lead to addiction and other health risks.
Contraindications Of Concerta and Adderall
There are a few contraindications to both Concerta and Adderall. Those suffering with any of the following should likely avoid both drugs in order to decrease the risk of negative side effects:
Experience easy agitation
Are dealing with anxiety or depression (or are currently taking MAOI antidepressants)
Have glaucoma
Those with the following should avoid Concerta specifically due to the fact that it does not affect motor skills as much as it affects mental skills:
Tics
Tourette's (or a family history of Tourette's)
Those with the following should avoid taking Adderall due to the negative effects it can have on the cardiovascular system:
Cardiovascular disease (symptomatic)
Arteriosclerosis (advanced)
Hyperactive thyroid
A history of drug addiction
Concerta vs. Adderall Dosage
Concerta is only available in extended-release tablets while Adderall is available in both immediate and extended release forms. Effects of extended-release doses will last longer and side effects will feel milder than those of instant-release doses.
Concerta is available in four different dosages (18 mg, 27 mg, 36 mg, and 54 mg) while Adderall comes in many different increments ranging from 5 – 30 mg. Factors influencing dosage include your age, overall health, and how your body responds to the medication.
Price of dose largely depends on factors such as insurance, location, and actual dosage. However, brand names like Concerta and Adderall typically cost more than their generic counterparts.
Concerta vs. Adderall High
While Concerta and Adderall are both effective in treating those with ADHD, the euphoric high experienced with both drugs make them prime candidates for abuse. At high doses, the increased dopamine in the brain can increase feelings of self-confidence, energy, pleasure, and other positive feelings. This is more commonly experienced with Adderall as the opposite is said to occur with high doses of Concerta.
Long-Term Symptoms of Concerta And Adderall Abuse
Overtime, abuse of Concerta and Adderall can lead to more serious side effects such as:
High blood pressure
Cardiovascular issues
Involuntary movements or tics
Mental problems and psychosis
Depressive or manic episodes
Aggression or hostility
Hallucinations
Seizures or fainting spells
Shortness of breath
Fingers/toes that are cold or numb that can become white or blue
Due to the highly addictive properties of these drugs, if any of the above symptoms are observed, it's a good time to start looking for treatment options in order to stop further damage to the body. Learn more about prescription drug treatment options.
Concerta and Adderall Abuse in College Students
Adderall and Concerta are commonly abused by those looking to increase their focus for long periods of time in order to improve performance at work or in school. This is why they are most commonly abused on college campuses where taking the drugs recreationally to stay on top of grades can seem normal.
For students without a valid prescription, risk of addiction is very high. Those abusing drugs like Adderall and Concerta would benefit from mental health counseling to help them learn how to cope with the stresses of college life without a dependency on drugs. If abuse has escalated to addiction, a dual diagnosis addiction treatment center can provide an adequate focus on mental health while also treating the addiction.
Bottom Line: Difference Between Concerta and Adderall
Some people respond differently to Adderall than they do to Concerta. Additionally, if you have any pre-existing conditions that are contraindicated for either of the drugs, your doctor might recommend one over another. Adderall tends to be favored more by those who are looking to relieve motor symptoms of ADHD vs.Concerta, while Concerta could be favored for those looking for longer relief due to it's only available in extended-release form.
Both contain highly addictive properties that should be considered prior to experimentation with Concerta or Adderall whether it be recreationally or validated by a prescription.
Young Adults Struggling With Concerta or Adderall Abuse
If you think you know a young adult who could be abusing Concerta or Adderall, feel free to give us a call at 800.465.0142 or fill out a contact form to talk to an admissions counselor about whether they could be trending towards addiction.
At Sober College, our young adult rehab helps individuals regain control in their lives and beat addiction in a safe, therapeutic environment. Thanks to our partnership with Woodbury University, we offer a truly unique rehab experience that includes therapy and transferable college courses. Continue reading to learn more about the college and rehab aspect of our unique program.
Have questions regarding Concerta vs Adderall and their accompanying addictions?
Call 877.634.7849 to speak with an admissions counselor.