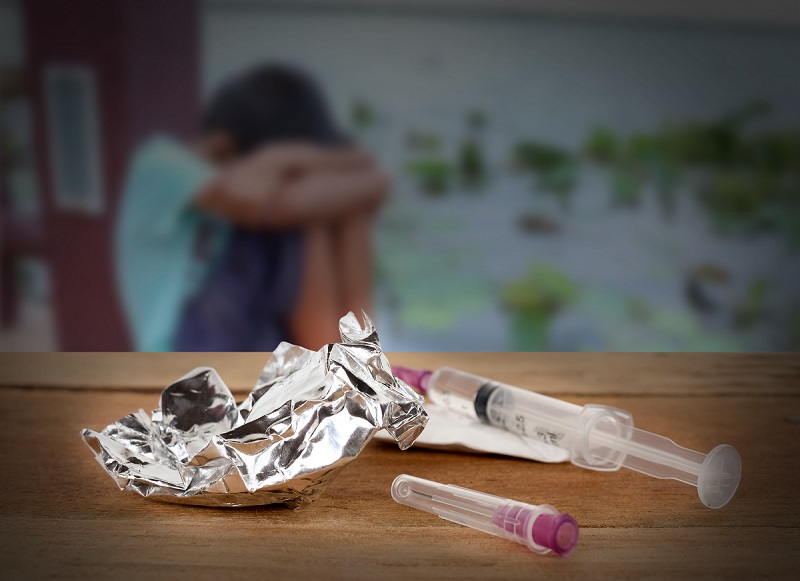 Heroin use has increased exponentially in recent years. Since 2007, heroin use in the United States has nearly doubled. In 2011, 4.2 million Americans over the age of 12 admitted to using heroin at least once during their lifetime. In 2013, 500,000 Americans admitted to using heroin in the past year, which represents a nearly 150 percent increase over the past six years. With this increase in use has come an increase in heroin-related deaths, which have nearly tripled between 2010 and 2013.
Heroin—also known as tar, smack, horse, brown, black tar, and H—is an opioid drug that is derived from the opium poppy plant. It is a recreational drug that is often abused, thanks to the feelings of euphoria it provides users. During initial ingestion, users feel a rush of joy and pleasure that leaves just as quickly as it is experienced. The strong effects of heroin and its short-lived duration often leave users wanting more, creating a cycle of abuse that leads to increased tolerance, dependency, and a full-blown addiction. Understanding the signs and symptoms of heroin addiction, in addition to what makes a successful heroin addiction treatment program, are important for spreading awareness of this growing problem.
What is Causing the Rise in Heroin Abuse?
With this dramatic increase of heroin abuse in the United States, many are asking why. One of the greatest factors in the rise of heroin addiction is the increase in prescription drug abuse across the United States. Studies have shown that nearly 80 percent of current heroin users were abusing prescription drugs, and almost all current heroin users report using more than one drug, sometimes at the simultaneously.
Opiates such as Oxycontin and Vicodin are prescription painkillers used to treat severe pain. When taken as prescribed, opioids can be incredibly beneficial and help effectively manage discomfort. But due to their addictive nature, it is easy to become hooked on opioids if they're taken in any way other than how they are prescribed. Opioids can produce powerful highs that relieve anxiety and produce feelings of euphoria. Prescription drugs can be ingested using a variety of methods, including consumption, crushing and insufflating pills, or via injection. Due to the increased availability of prescription drugs in many households, it is easier than ever to obtain and abuse these drugs without a prescription and without putting oneself in a dangerous situation. As a result of this increase in prescription drug abuse, manufacturers of drugs like Oxycontin have changed the formulation of the drug to make it harder to abuse. This has led many to seek alternatives that provide similar highs with the same instantaneous effects. Heroin is a popular dangerous alternative, and many say that it is easier to obtain and cheaper than prescription drugs. These factors all contribute to the rise of heroin addiction in recent years.
Although prescription drug abuse has been the primary culprit in recent years for the rise in heroin abuse, there are other factors to be aware of when determining whether or not an individual may be at risk for developing an addiction. This includes:
Genetic predisposition: If an individual has a family member who has struggled with addiction, especially a closely-related relative, they may be more likely to develop an addiction themselves. While family history of substance abuse does not mean an individual will necessarily become addicted as well, they are at an increased risk.
Environmental factors: Individuals who grow up in a home where drugs are readily available are at greater risk to begin abusing substances, especially if they witness drug use. An unstable home life may also influence the development of drug abuse as a way to cope with stress and other negative emotions. The earlier an individual begins using drugs, the more likely they are to use more dangerous drugs, such as heroin.
Psychological factors: Individuals who struggle with a co-occurring mental health disorder are often times more at risk to use substances as a means of self-medication. This is especially true in cases where an individual struggles with an undiagnosed or untreated condition. It is suggested that 6 out of 10 individuals who struggle with addiction also struggle with a co-occurring disorder that often fuels addictive behaviors.
Click here to learn more opiate addiction and opiate addiction treatment methods.
Signs & Symptoms of Heroin Addiction
Heroin abuse quickly evolves into addiction in a short period of time. As tolerance builds over time, the user must take more of the drug in order to achieve the same effects. Signs and symptoms often vary based on an individual's history, frequency of use, dosages, and level of dependency. Since many drugs contain opioids, symptoms can range in severity. Heroin can affect an individual physically, emotionally, and mentally, leading to a vast array of symptoms, including:
Depression
Mood swings
Anxiety
Hostility
Paranoia
Delusions
Hallucinations
Nausea
Vomiting
Weight loss
Extreme itching
Scabs/bruises as a result of picking at skin
Constant running nose
Track marks on arms and legs
In addition, those who abuse heroin will exhibit behavioral changes. They may avoid spending time with loved ones and become more secretive. They may exhibit an inability to follow through on responsibilities and may be apathetic or lack of motivation. In addition, they may have periods of extreme hyperactivity followed by bouts of exhaustion and stop caring for their personal hygiene.
Heroin abuse can have a number of adverse effects on an individual's health, and these symptoms generally vary based on individual circumstances. These effects may include:
Liver disease
Skin disease
Itching
Collapsed veins
Blood clots
Kidney disease
Respiratory depression
Seizures
Overdose
Because heroin and other opioids are often injected, abuse of these drugs carries with it additional health concerns surrounding Hepatitis C and HIV. In many cases, individuals may use dirty needles or share needles with others, which leads to the transmission of these diseases and other blood-borne pathogens.
Heroin Withdrawal and Treatment
Heroin withdrawal can be just as dangerous as the addiction itself and should take place only under medical supervision. Many withdrawal symptoms associated with heroin abuse are unbearable, and medical professionals can help make the process more comfortable. Withdrawal symptoms can range in severity depending on a number of factors. Symptoms an individual may experience include:
Extreme sweating
Nausea
Vomiting
Insomnia
Runny nose
Fever
Diarrhea
Extreme pain in muscles and bones
Cramping
Intense cravings
Many withdrawal symptoms associated with heroin abuse are painful, which makes it nearly impossible for an individual to quit the drug without medical assistance. Due to the dangers associated with heroin withdrawal, a medically-supervised detox is often the first step for those recovering from addiction. Detox may include the use of medications, such as methadone and buprenorphine, to control symptoms of withdrawal, but these drugs have the potential to be abused if not carefully monitored. The duration of the detoxification phase varies, and while it helps individuals overcome the physical symptoms of their addiction, they may still struggle with psychological cravings.
After detox is completed, it is important for an individual to engage with a long-term treatment program that can help them develop the life skills that will support a sober lifestyle. For many, stress and other environmental factors can trigger relapse, making it especially critical for an individual to transition to a safe, stable environment, such as the ones available in residential treatment. Drug treatment facilities are able to assess an individual's family history, biological factors, environmental factors, and other aspects of their experiences to create an individualized treatment program designed to help them effectively overcome their addiction. Due to the fact that many individuals with heroin addiction also struggle with a co-occurring mental health disorder, dual-diagnosis programs can help treat both afflictions simultaneously to ensure the best outcome. Some disorders that may need to be simultaneously treated include:
Other substance addictions
Eating disorders
Depressive disorders
Anxiety disorders
Personality disorders
Post-traumatic stress disorder
Bi-polar disorder
Treatment for heroin addiction can vary in duration, but studies show that the longer an individual is engaged in treatment, the more likely they are to maintain long-term sobriety. Many treatment facilities use a combination of therapeutic models to most effectively treat addiction. This includes the use of individual and group therapies, family therapy, dual-diagnosis, and experiential therapy. As an individual progresses through treatment, the treatment plan should transform to match the changing needs of the individual throughout the recovery process. Over time, individuals develop a strong foundation for their sobriety that includes emotional intelligence, confidence, healthy coping mechanisms, and other positive attributes that support a successful, sober lifestyle.
Sources
http://www.deltamedcenter.com/addiction/heroin/effects-symptoms-signs
http://www.theverge.com/2015/7/7/8908073/heroin-abuse-deaths-united-states-cdc